Six Critical Selling Skills
Why Is Sales Skills Training Important?
Salesperson skills training builds a sustainable competitive advantage because it differentiates your team in an increasingly commoditized market.
Selling skills are the "muscles" that give strength and flexibility to sales professionals. They are developed through experience, sales coaching, and training. They must be refined throughout a sales rep's career.
Richardson Sales Performance's sales skills training focuses on building 6 Critical Selling Skills that empower professionals at every level to execute better sales conversations.
Our professional selling skills training builds the following abilities:
Presence
Relating
Questioning
Listening
Positioning
Checking
These critical sales skills work together in a dynamic and interactive manner.
6 Critical Skills Needed for Sales People
The chart below summarises the main competencies built through development of each sales skill.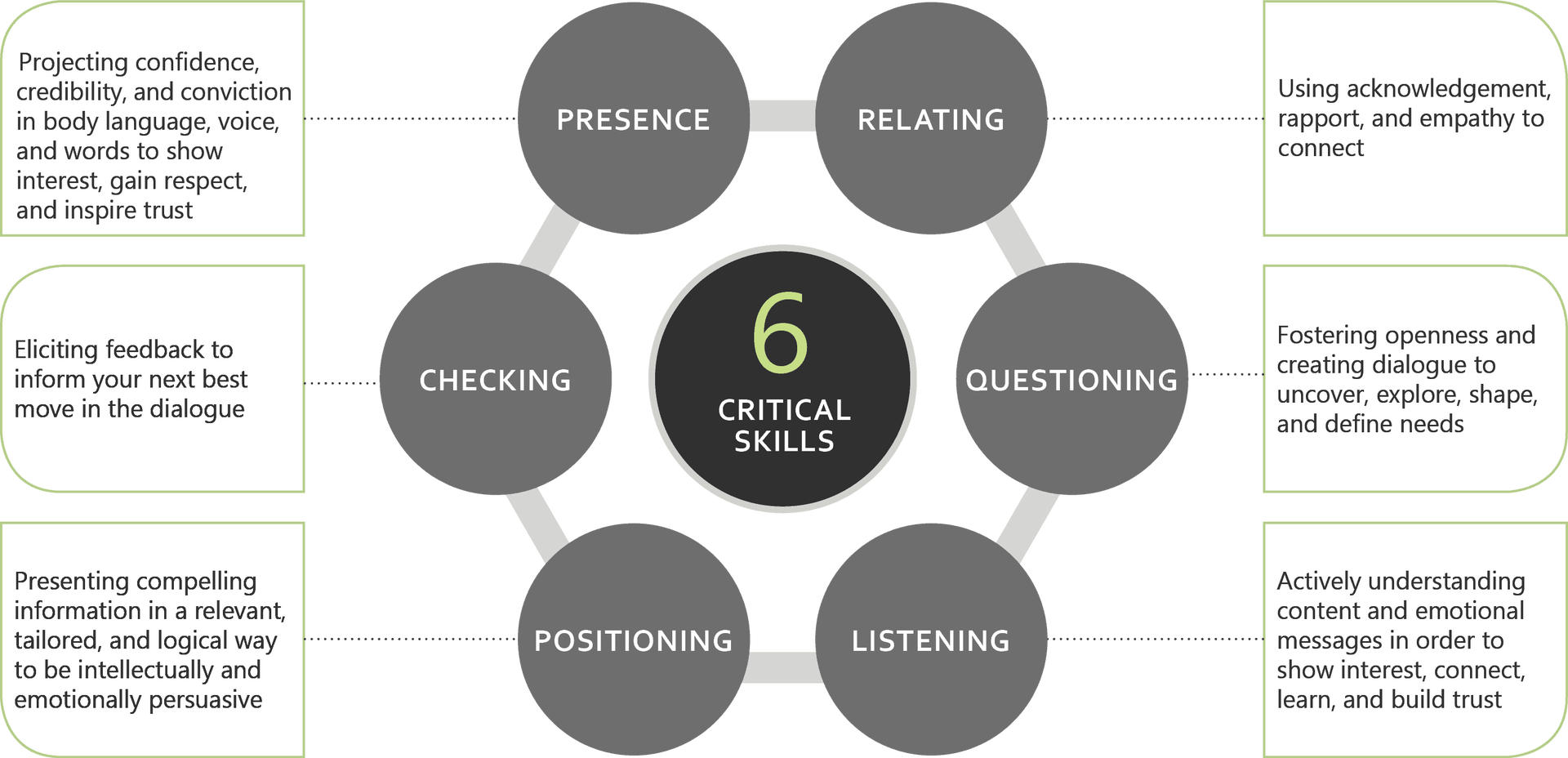 For more information download the complimentary brief, Everything Begins with Soft Skills
1. Presence
Presence refers to a sales person's ability to project confidence and conviction.
Presence builds credibility, respect, and trust between the buyer and seller.
Critical Selling Skills Training in Action: Understanding Presence
Richardson Sales Performance's Accelerate Platform teaches sellers to master professional sales skills using short, video-based learning scenarios. The video below demonstrates the impact a sales professional's presence has on the success of a sales call.
To learn more about Richardson Sales Performance's Accelerate Platform, please contact us to request a demo.
2. Relating
Relating refers to how sales professionals use acknowledgement, empathy, and rapport to connect with buyers.
Although most salespeople feel they are strong at relating, it is one of the toughest selling skills to master.
3. Questioning
Questioning fosters openness and results in a dialogue that explores, shapes and defines the customer's needs.
When sales questions are well-structured they are a powerful tool that deepens dialogues, provides insights, builds trust, and closes more sales.
4. Listening
Listening is the ability to concentrate on meaning. There are three levels of listening: zoned out, efficient, and effective. Listening at the highest level fosters effective client dialogue.
A combination of questioning and listening skills improves sellers' ability to position their solution in a meaningful way for clients.
5. Positioning
Positioning is presenting information persuasively throughout the sales call.
Positioning differentiates products and services by using words to shape client perceptions.
6. Checking
Checking is similar to questioning, but the two skills are not interchangeable. Checking is asking open-ended questions to elicit feedback from the client on what the salesperson has said.
By checking for client agreement, sales professionals can keep the dialogue on track and interactive.
How to Analyse the Skills of Your Sales Team
Technology has made a tremendous amount of data readily available to businesses, but this data is not valuable if it is not used to make informed decisions.
To assess the skills of your sales force, explore the following metrics:
Win Rate
Win rate is a simple gauge of how many new pursuits close with a win status.
Win rates should not be reviewed in isolation. A low win rate is usually an indication of an opportunity for improvement at another step in the sales process.
Quota Attainment
Quota attainment compares performance with expectations.
A sales professional's ability to achieve their quota is an indicator of the individual's skill level. A team's ability to achieve quota indicates the skill level of the entire sales organisation.
Time to Productivity
Time to productivity measures the time it takes to onboard a new team member.
This metric is particularly useful during times of growth or high turnover. Time to productivity measures baseline sales skill levels, as well as the efficacy of the onboarding process.
Attrition
Attrition signals the health of the sales team and, to an extent, the demand for the product.
Attrition is a lagging indicator of other measures, including ramp time, productivity, and engagement. High attrition rates might indicate problems with morale, market demand, or a sales manager's leadership style.
Contract Value
Contract value serves to gauge the effectiveness of a sales professional's ability to realise the full value of an opportunity.
Low contract values are sometimes a result of a sales professional's inability to build strategic relationships and position the value of multiple products and services.
Profitability and Pricing
Profitability and pricing measure a sales professional's ability to maintain the value of a deal throughout the selling process.
Diminishing profitability or frequent price concessions might indicate gaps in your sales team's ability to position solutions or negotiate deals.
Sales Cycle
A company's sales cycle reflects the effectiveness of the sales team's ability to engage buyers and drive momentum throughout the course of a sale.
An increase in sales cycle duration might mean the entire team is in need of training or the cycle is not properly aligned with buyer behaviour.
How to Improve Sales Performance
Underperformance against any one of these metrics might mean there is a gap in selling skills.
It might be the case that only a few sales professionals are underperforming, or it could be a systemic issue.
Investing in training is one way to improve the performance of an individual or a team.
Professional selling skills training should focus on developing one or two select skills at a time. Therefore, it is important to identify which skills will produce the highest return on investment.
Too often, gaps are identified based on hunches, random observations, and instincts. A careful assessment of your team's gaps will ensure your investment delivers the desired results.
Selling Skills Training for Your Sales People
Building the foundation to improve your team's ability to execute the 6 Critical Selling Skills requires building capabilities that can be leveraged throughout every phase of the sales cycle.
Here we explore these capabilities and the types of sales training programmes that will build them.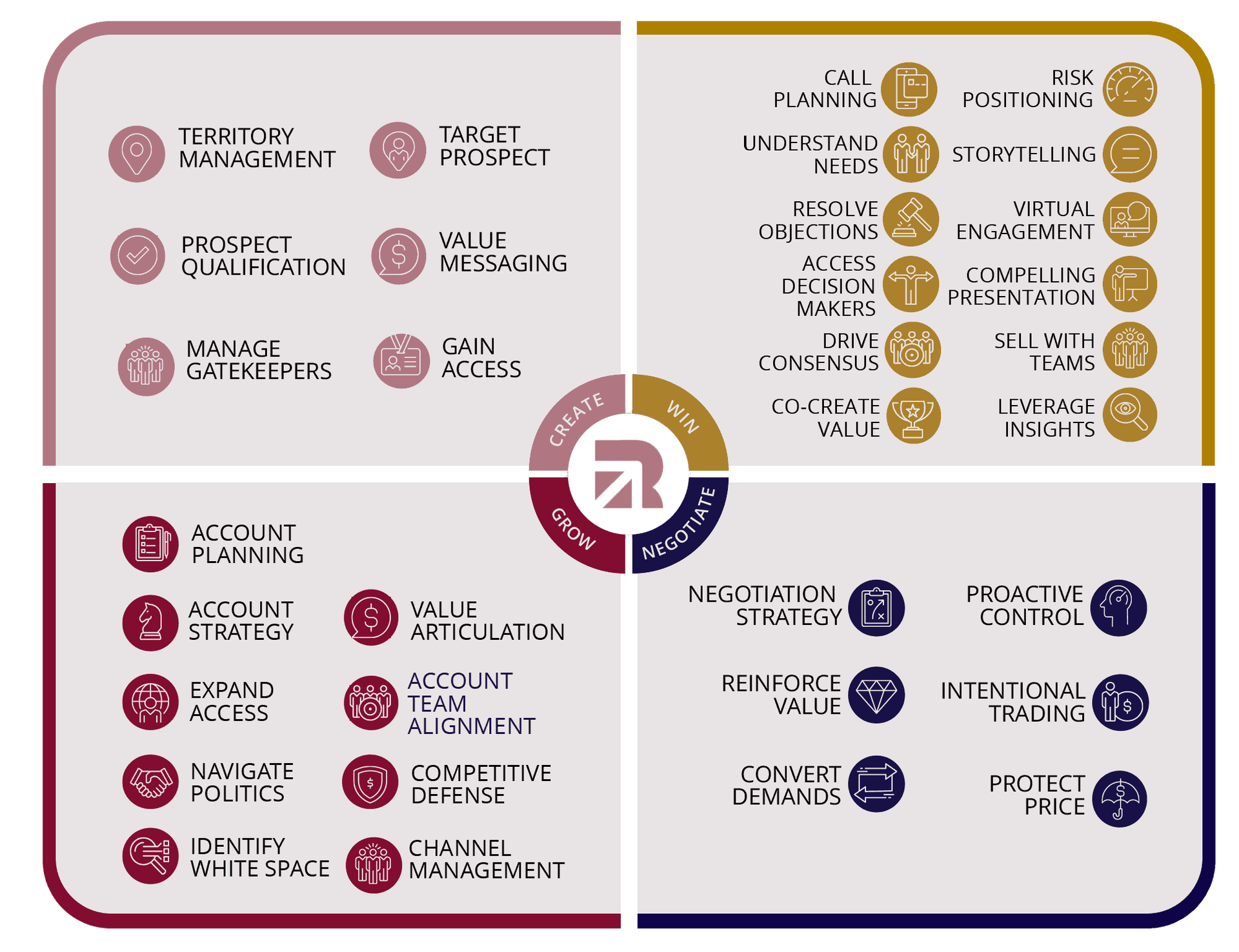 Sales Skills Training to Find New Opportunities
The sales skills that empower professionals to find new opportunities include; knowing the market, targeting buyers, prospecting opportunities, and presenting a value proposition.
Specific selling skills training programmes that build the capability to find new business include:
Consultative Selling: Sales professionals are trained to avoid seller-centric behaviours and leverage insights to earn the right to ask more questions.
Sprint Prospecting: Sales professionals are trained to engage contacts in conversations that help them gain access to key decision-makers.
Territory Pipeline Management Training: Sales professionals are trained to segment a territory by prioritising current customers and prospects to improve productivity.
Sales Skill Training to Win Deals
The sales skills that empower professionals to win opportunities include; planning and strategizing, understanding needs, driving consensus, positioning value, storytelling, resolving objections, presenting effectively, selling with teams, and negotiating to close.
Specific selling skills training programmes that build the capability to win business include:

Sales Skills Training to Grow Accounts
The sales skills that empower professionals to grow accounts include becoming a trusted advisor, establishing relationships, and expanding accounts.
Specific selling skills training programmes that build the capability to grow accounts include:
Prosperous Account Strategy: Sales professionals learn a consistent method for identifying opportunities to expand accounts by getting involved early in the decision-making process.
Exceptional Customer Service Training: Service sales professionals learn to take ownership of customer issues to translate them into new sales opportunities.
Richardson Sales Performance can help you determine the most effective sales skills training solution for your team.
Discover how we can build a 
customised programme
, implement the solution, ensure sustainment and ROI, and track your team's 
performance improvement
.
Are you looking to help your team develop essential selling skills? Contact us today to learn more about how a Richardson Sales Performance sales skills training programme can help.
Six Critical Skills Training Programme Brochure
Learn about our training program that builds the soft selling skills every seller needs to practice and perfect.
Download
Get industry insights and stay up to date, subscribe to our newsletter.
Joining our community gives you access to weekly thought leadership to help guide your planning for a training initiative, inform your sales strategy, and most importantly, improve your team's performance.