Measurement Analytics
Be sure your team gets the results you need by using a reliable method to measure the true impact of your investment in sales training. Richardson uses data and analytics you can trust to accurately measure success over time.
Sales training is an important investment, so you need to carefully measure the impact of your sales training to collect evidence that your investment is paying returns.
Richardson's sales training measurement analytics solutions ensure you're getting the data you need to prove ROI and track your team's improvement in the real world.
Here's how it works.
While your team is completing lessons in our digital learning platform, Accelerate, we're collecting data about their progress, then, we capture information about their application of new skills by embedding processes and seller activities in your CRM, and finally, we connect all the learning and behavior dots to your deal outcomes painting a clear picture of the correlation between learning, application, and results. This is made possible by our data lake measurement and analysis approach. A data lake is like a big storage room where you can keep a lot of different types of data all in one place. It's really good at handling large amounts of information and keeping it safe. It's also set up to make it easy to work with the data once it's in there. Our data lake capabilities enable you to create useful dashboards and track learning progress and financial results before, during, and after training.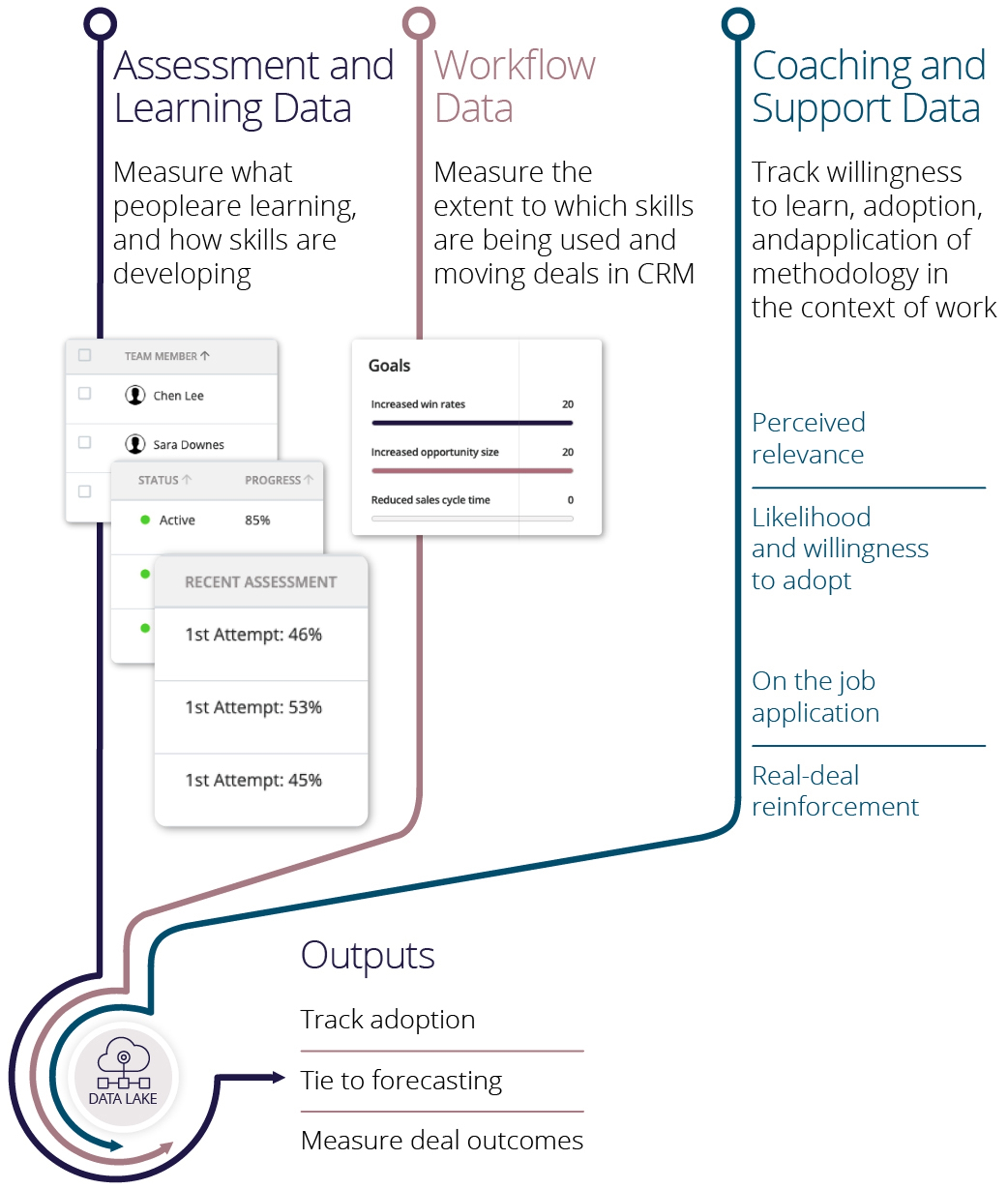 Richardson's measurement analytics approach moves far beyond training, enabling improved performance results at scale.
By combining data about your learners' journey with real-world sales performance, it's easier for you to identify the skills that are most closely correlated with success. This allows you to focus your training and coaching efforts on building the capabilities that truly move the needle for your business.
The key to the effectiveness of this sales training measurement strategy is understanding the relationship between assessment and learning data, workflow data, coaching and support data, and business outcomes.
These data points look different for everyone, so we'll collaborate with you to define and implement a measurement and analytics solution that captures the right metrics, creates useful reports, and visualizes the data that's important for your team.
Click here to contact us to set up a time to chat about the sales training measurement strategy that will work best for your team.
Continue reading the following sections to take a deeper dive into Richardson's measurement analytics solutions.
Assessment and Learning Data
Assessment and learning data tells you what your people are learning and how their skills are progressing.
Importantly, this information is visible to participants which improves motivation and helps them understand their own strengths and weaknesses.
Assessment and learning data are recorded and reported on Richardson Accelerate, our sales performance platform. The platform uses five types of assessments to measure your team's progress:
Sentiment Surveys: Ask participants questions about their opinions and attitudes about training to measure the participant's readiness to learn and uncover potential roadblocks to planned capability building.
Baseline and Final Check Assessments: Collect descriptions of participants' theoretical next steps and reactions to customer scenarios. These measure baseline proficiency at the start of a participant's learning journey against proficiency gained during and after training. Results are visualized against industry and peer cohort benchmarks.
Answer This Questions: One question "pulse check" questions sprinkled throughout learning content to measure how new concepts are sticking.
Knowledge Check Evaluations: Short survey questions woven throughout reinforcement content to measure users deepening knowledge through the learning journey.
Practice Exercises: Video-prompted questions help sellers practice new skills in a gamified experience that simulates real-world selling scenarios where the participant is prompted to provide insights into what they believe is their next best move in a given situation. These modules give participants immediate feedback on their learning progress and measure their ability to apply new concepts in the field.
The data from these assessments help track and measure leading indicators for training success. We know carefully monitoring leading indicators is crucial because long sales cycles often delay collecting information on the bottom-line impact and waiting months to see if your training is working is not an option.
Our ability to move the needle on these leading indicators creates confidence that business results will follow.
Learn more about the importance of tracking leading indicators and how we do it by clicking here to download the brief, Using Analytics to Expose Impact.
Workflow Data
Workflow data tells you how new skills and behaviors are being practically applied in the everyday flow of work.
To measure the practical application of new skills and behaviors your team gets access to CRM-enabled workflow tools. These tools align new skills to processes embedded in your CRM, ensuring your sales team has easy access to everything they need to improve their performance in the field.
We'll help you take the data collected by these tools and turn them into custom performance dashboards that empower individuals at all levels of the sales organization to exercise best practices, identify coaching opportunities, and connect their efforts to revenue.
All this adds up to a comprehensive solution where your sellers are held accountable to executing the skills and behaviors you've invested in building, and you're able to definitively capture and report on the true business impact gained from your investment in sales training.
Click here to request a complimentary demonstration of our CRM-enabled workflow tools in action.
Coaching and Support Data
Coaching and support data show you where there are gaps in skill development and execution.
Information collected throughout the learning journey is converted into manager dashboards that include easy-to-read visualizations of performance These dashboards highlight the most relevant opportunities for individual and team improvement ensuring you and your sales managers can focus on what matters most to the business.
The data also gives your managers tangible figures that help them more efficiently identify coaching opportunities this makes coaching conversations more productive and makes the process of monitoring and measuring progress after a coaching conversation objective.
This data can also serve to inform future decisions your team makes about your sales performance needs. With a clear understanding of your team's strengths and weaknesses, defining opportunities for future enhancements are much more straightforward.
We know that effective coaching takes more than data, that's why we offer a variety of coaching and management training modules that build skills to help your sales management team more effectively lead their sales reps to their next level of success. Click here to explore your options.
Business Outcomes
Business outcomes tell you how much your investment in training has affected your bottom line.
By examining how your business outcomes like revenue growth, share of wallet, win rate, and deal velocity change as your team works with Richardson you're able to see how your investment in training impacts your business in a dynamic way.
Find out how easy it can be to tie business results to your team's performance improvement journey when you take advantage of our connected analytics measurement solution.
Let's get started transforming the way your team sells and the way you measure and analyze performance. Click here to contact us today.
Brochure: CRM-enabled Workflow Tools
Learn how our CRM tools integrate best practises into your team's workflow.
Download