Manufacturing & Industrial Sales Training
Our Industrial and Manufacturing Customers Outperform the Market
Select Manufacturing & Industrial Sales Training Clients
Richardson Sales Performance's industrial and manufacturing customers outperform their industry peers by 21% by investing in building and sustaining their team's selling skills across a range of capabilities to drive revenue growth.
Richardson Sales Performance Client Stock Performance vs XLI Index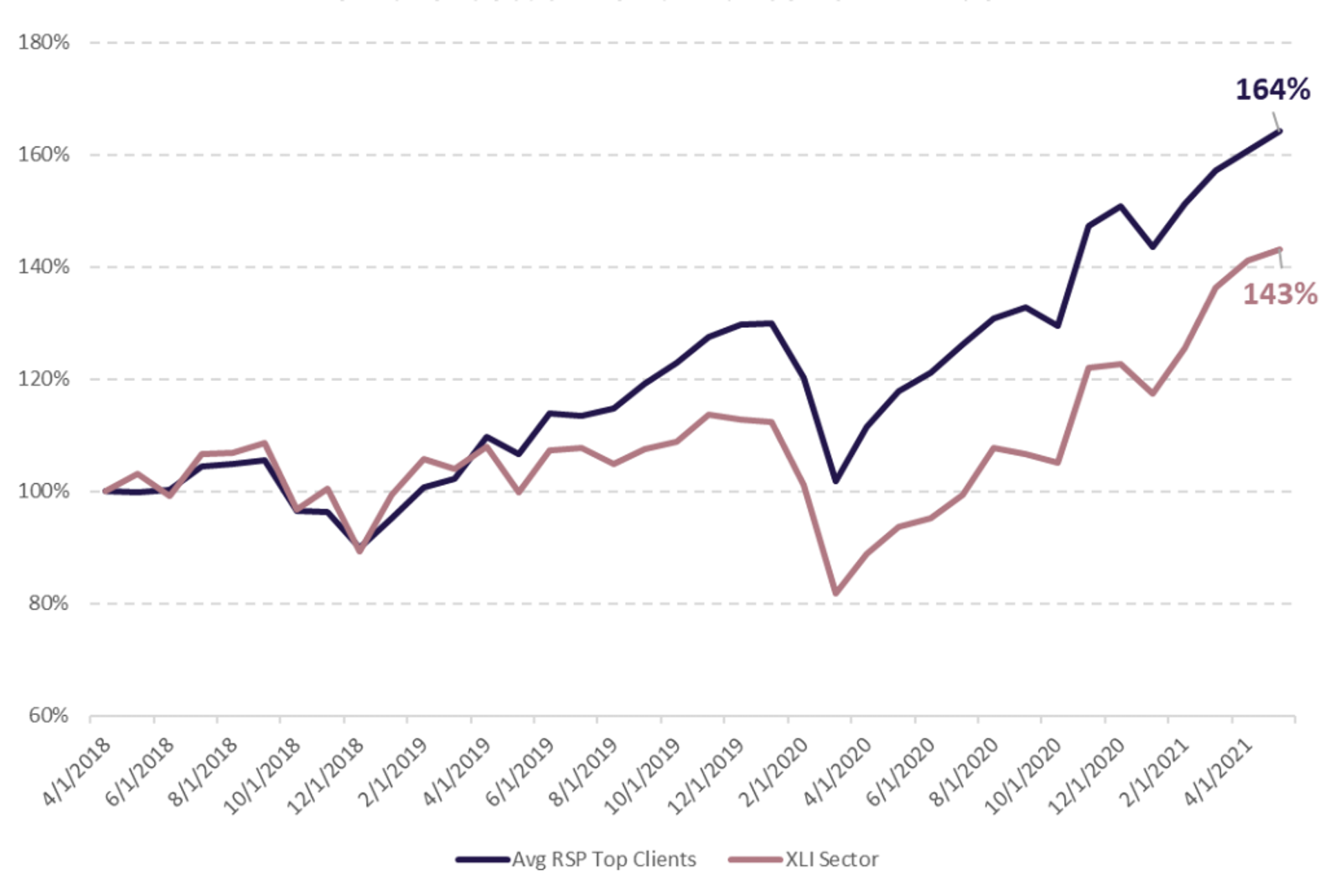 Challenges of Manufacturing and Industrial Selling
Heightened competition and pricing pressures in the manufacturing sector have demanded stronger selling capabilities. However, buyers, capitalising on technology, are equipped with volumes of data before engaging with a seller. This preparation boosts expectations in selling meetings.
At Richardson Sales Performance, we believe sellers in manufacturing can rise to this challenge by uniting more resources.
In recent years, the manufacturing and industrial sectors have seen an increase of new entrants to the marketplace. Often, these competitors seek to commoditise goods with a price-only focus. This practice makes customer expansion difficult for leading businesses to seek growth via acquisition. However, in the long term, growth can only come from driving sales. Therefore, effective companies are placing renewed focus on selling strategies.
Winning the sale today in manufacturing requires a range of skills that go beyond communicating the value of the product. Buyers often come armed with easily accessed information on a variety of solutions. As a result, salespeople face preconceived notions. This dynamic creates new challenges because the seller is entering the process after opinions have begun to solidify. Moreover, varied selling methodologies, fragmented resources, and isolated sales teams further complicate this challenge. Explore more trends in industrial and manufacturing sales training in the brief: Selling in the Manufacturing Industry.
Consistent Messaging Effectively Positions Solutions
Many businesses find growth through strategic acquisitions. However, getting these disparate parts to work in unison requires new skills. Different selling teams have contrasting abilities among differing channels. This variety can lead to inconsistent messaging. Sellers must centre around a common approach to effectively present a solution to a buyer.
Manufacturing and Industrial Sales Training Impacts the Bottom Line
Uniform processes must develop around verifiable outcomes. Without measurable results, new initiatives never rise above an aspiration. At Richardson Sales Performance, our industrial sales training clients have enjoyed some significant quantifiable results:
Post-training revenues increased by 30%
Revenue growth of 90% within the first full year after training
Reached 139% of annual goal with 44% year-over-year growth
Average increase in new opportunities per quarter of 12%
Many of our clients discover they have the resources to win the sale; they just need to pull them together into a cohesive approach. This strategy is how one seller "closed a 905,000-pound sale with a large client, mainly by listening better and positioning the value of our products."
We're teaching sellers in the manufacturing and industrial sectors how to engage today's buyers with skills that are "relevant, effective, and applicable," as one seller remarked. Teaching clients to fully use all of their resources starts with defining the critical selling behaviours specific to an industry. Next, we show sellers how to develop customer-focused selling skills, which ultimately changes their selling behaviour. Finally, we measure outcomes using lead indicators and revenue metrics.
We align teams by focusing different skill sets on a common goal. To learn more about the impact our training has on the performance of manufacturing and industrial sales teams view our case study on our work with Cummins.