Richardson Accelerate™ Sales Performance Platform
Learn, apply, win, repeat with the Accelerate Sales Performance Platform
Organisations are experiencing an unprecedented level of change in rapidly shifting markets. Many sales organisations are unable to adapt to this level of change and sellers are struggling to sell in an increasingly fast paced and complex environment. Introducing Richardson's new Accelerate™ Sales Performance Platform, a digital learning platform that enables sales professionals to develop and apply the right selling skills at the right moment to win the sale and drive revenue.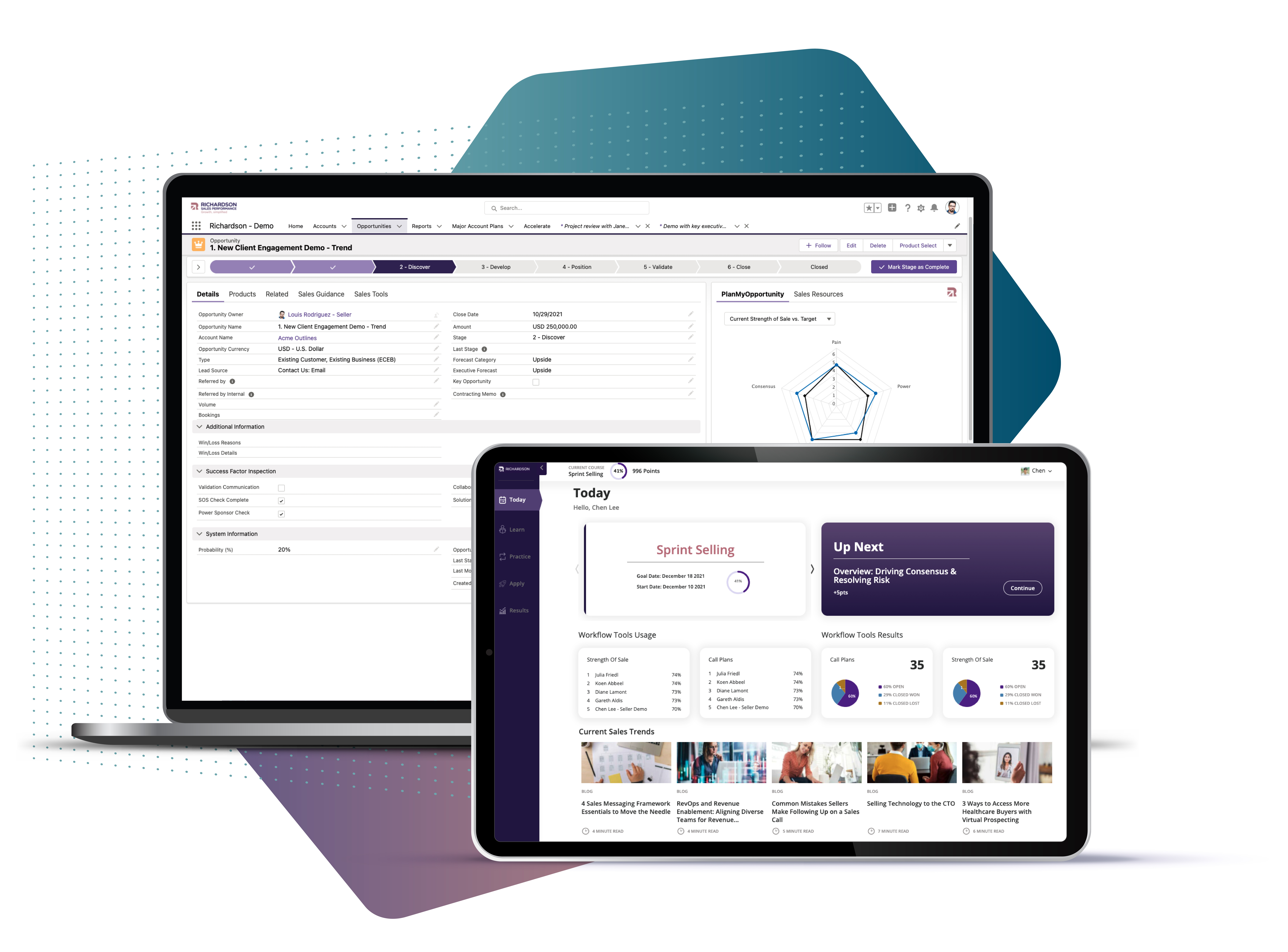 The learning architecture that powers Accelerate is designed to engage sales professionals of all backgrounds and selling styles so that a consistent set of skills become visible across a distributed, multi generational sales team.
Our simplified interface guides users through a performance journey supported by a learn – practise – apply – coach structure. This personalised learning experience delivers content in a variety of mediums to ensure that concepts stick.
Quick, bite-sized modules make it easy to learn and remember.
Integrated surveys and assessments allow users to see where more practise is needed.
The power of Accelerate comes from an intuitive design that rapidly builds the selling skills that have already empowered over 3 million sales professionals across 900 global clients. The streamlined design brings the most effective selling skills into the flow of work for results that can be seen where they matter most: in front of the customer.
Learn, Practise, Apply, Coach performance sprints support true adoption of skills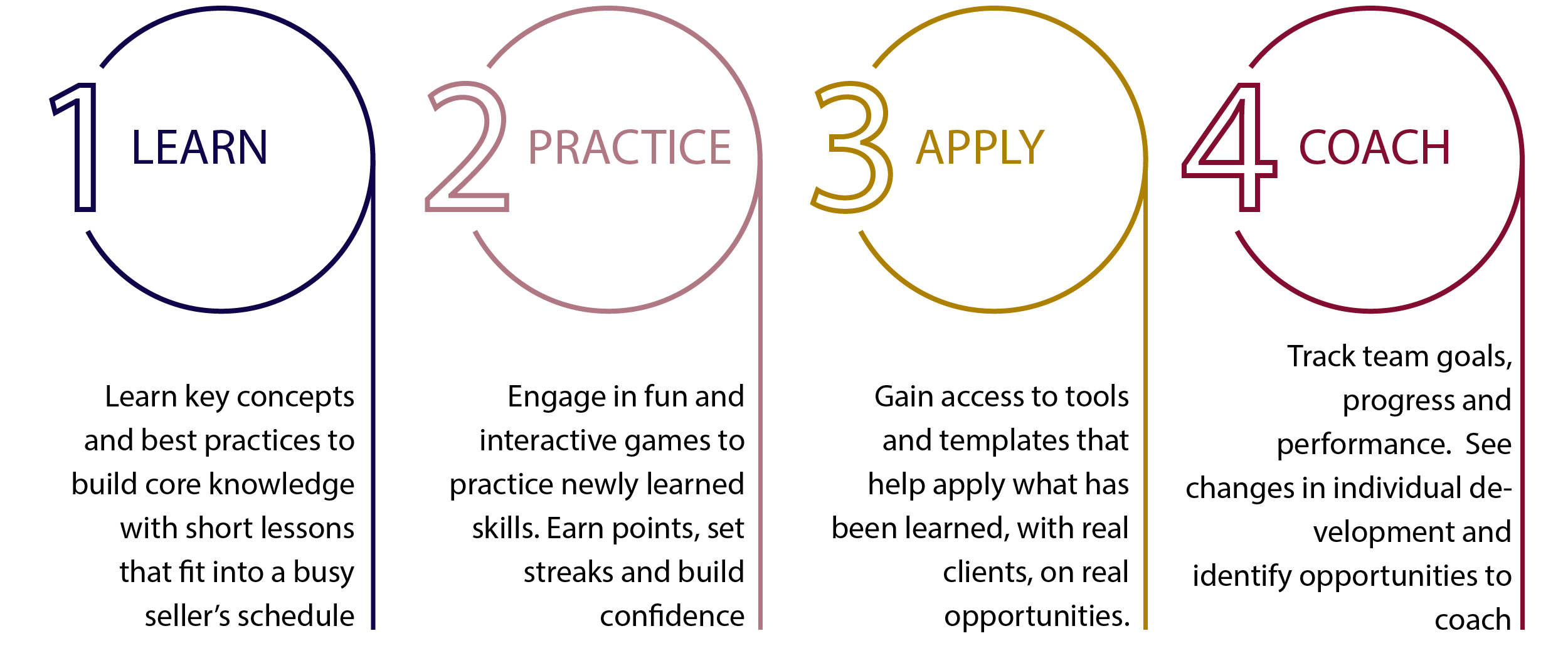 Real time visibility into engagement, progress & performance with integrated surveys and assessments
Accelerate™ Sales Performance Platform includes technology to empower users and managers to track progress which inspires participants to commit to training and helps managers have more effective coaching conversations.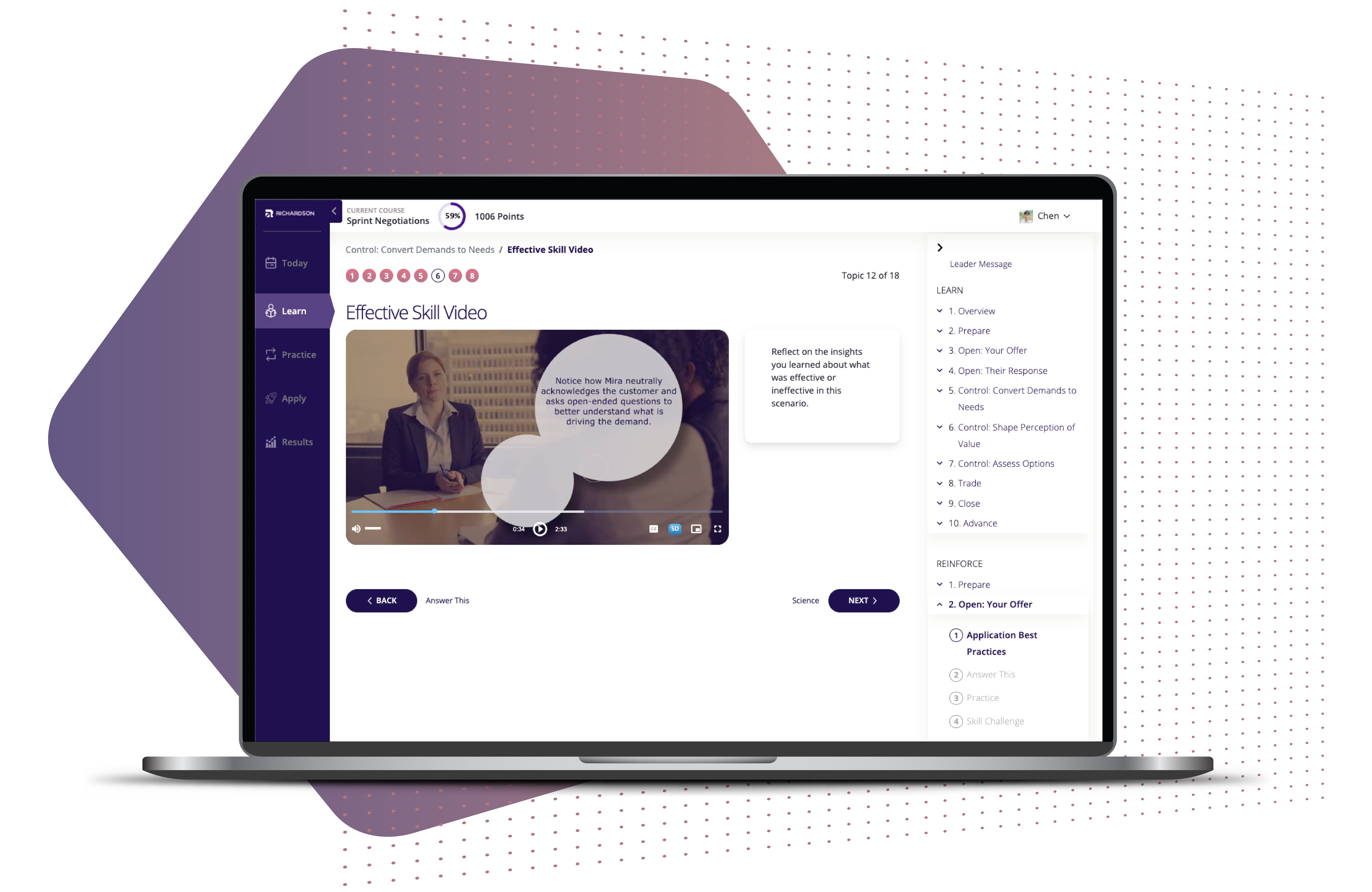 SENTIMENT SURVEY
Gauges seller's readiness to learn at the beginning of their performance learning journey.
BASELINE & FINAL CHECK
Establish a baseline on current proficiency with behavioural assessments using selling scenarios. Identify to improve. Compare to organisation and industry benchmark.
ANSWER THIS
Quick, one question surveys, integrated into lessons as a pulse check to make sure you're tracking with the lesson. Get immediate feedback.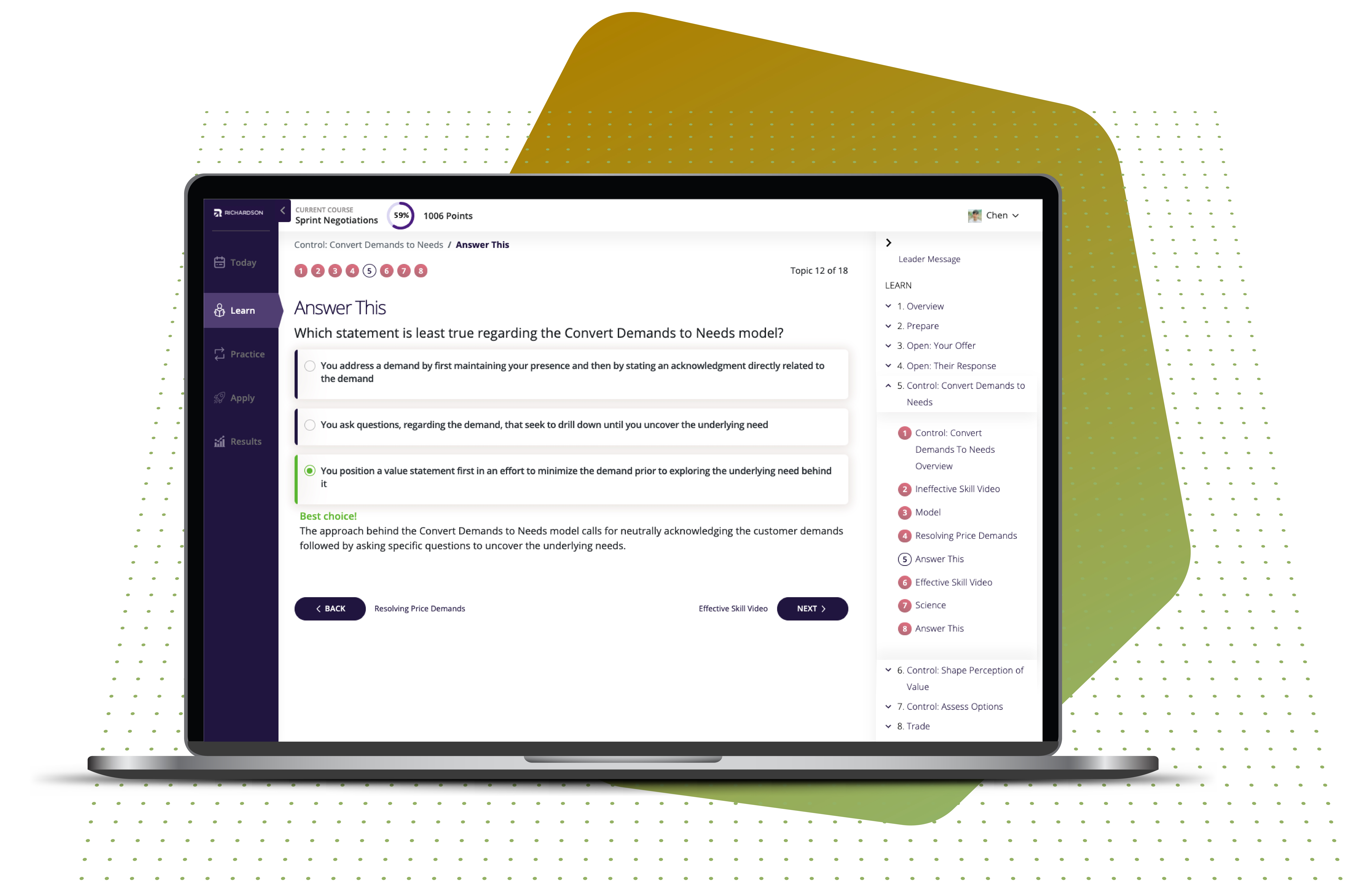 KNOWLEDGE CHECK
Short surveys to see how your skills are improving as you navigate content. Understand progress towards mastery of best practises and selling skills.
PRACTISE
Video prompted practise questions with a gamified experience. Simulate real-life selling next best move. Gain points, build confidence.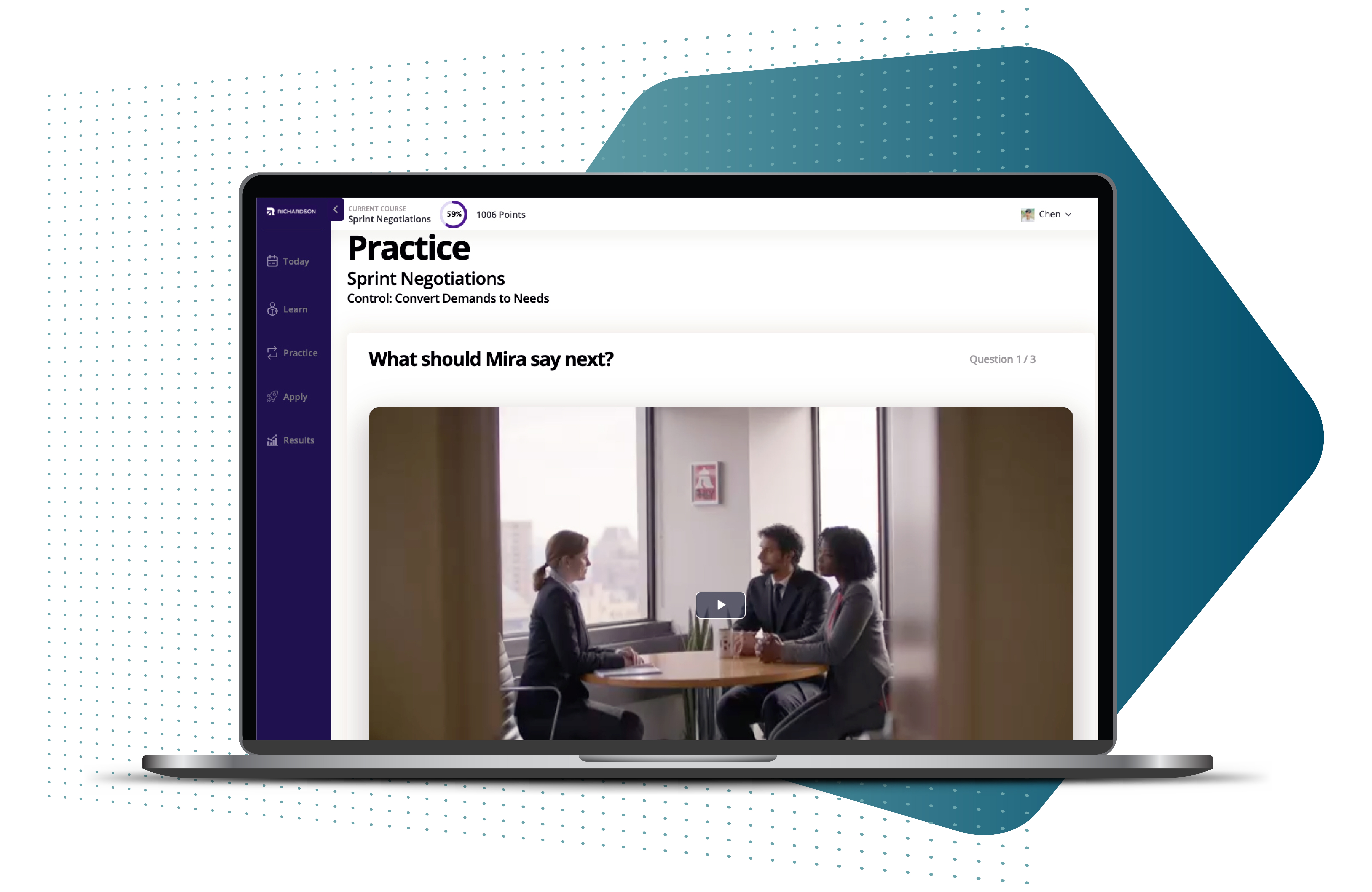 Workflow tools that embed best practises in your CRM
Transition learned best practises into opportunity pursuit and account management actions inside your CRM to drive lasting behaviour change
SCORE OPPORTUNITIES
Use the Sales Formula to assess progress on each opportunity, uncover risks and plan your next best move
PLAN YOUR CALL
Collaborate with your team on desired call objectives, and call strategy based on retrospective of last interaction
REFLECT & COACH
Conduct structured debriefs against call objectives, align on call outcomes and identify areas for performance coaching to build capability