CRM Enabled Workflow Tools
Discover what the right training and the right tools can do to take your team to their next level of success.
Help Your Team Keep up with the Pace of Selling
In an environment of increasingly fast-paced change, disconnected systems hinder a sales organisation's ability to adopt a selling framework that delivers business results and drives lasting performance improvement.
To succeed sales professionals need the right combination of selling skills and tools to stay organised, be accountable, and deliver a differentiated customer experience. We support our clients beyond the classroom by offering powerful yet easy-to-use CRM-enabled tools that empower sellers to quickly adapt to the needs of their buyers and capture the robust data needed to make strategic business decisions and ensure the sales organisation is driving business strategies forward.
The Accelerate CRM-enabled Workflow Tools Suite
Many organisations have made significant investments in sales training and performance development, only to watch their sales organisation fall back into old habits, limiting their ROI.
Accelerate Workflow Tools offer a solution to attrition by embedding learned best practices and skills into the natural flow of work. These tools are simple and powerful, and they allow organisations to directly: measure the business impact that applied skills are having on the organisation.
The video below provides an overview of how the four key components of the Accelerate Workflow Tools keep sellers committed to the selling skills that win.
Visualise How To Win with the Opportunity Health Check Tool
Having a visual and clear path forward is critical to executing an agile selling strategy.
Our Opportunity Health Check CRM-enabled workflow tool provides an objective assessment of opportunities to guide a seller's strategy to win and provides managers with clear areas of opportunity for coaching.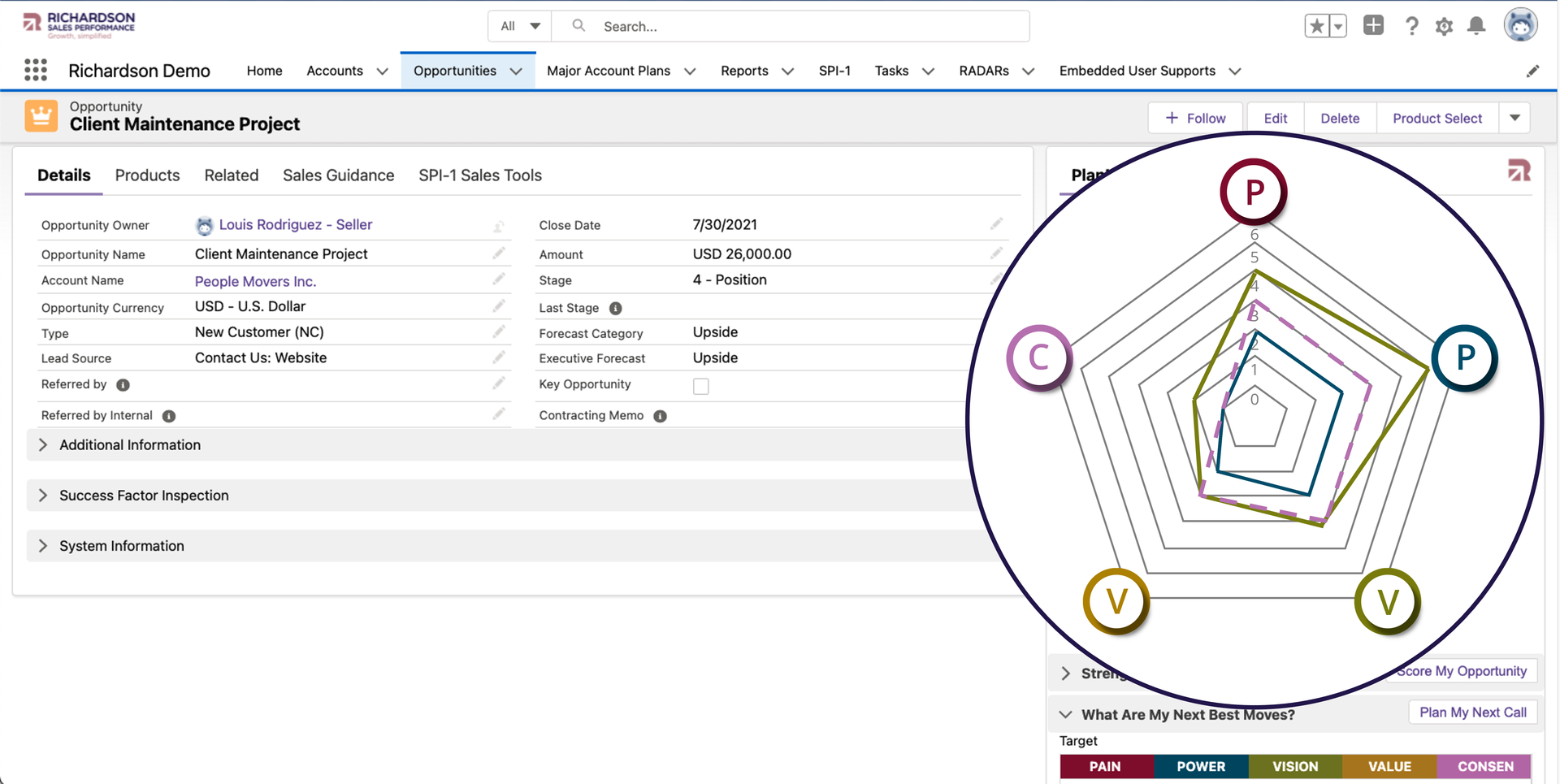 One of the challenges of selling is that sellers can get caught up in pursuit and rely on assumptions based on experience or "gut feel." But in today's environment, sellers must be more rigorous and accurate in order to forecast correctly and ensure they are taking the right next steps to win the deal. In short, sellers must work from facts, not assumptions. The Opportunity Health Check tool drives an objective assessment of deal progress against the most critical pursuit factors: understanding of customer pain, access to power, creation of a buying vision, articulation of value, and driving consensus.
The Opportunity Health Check tool is based on the Opportunity Vitals framework taught in the Sprint SellingTM programme. Opportunity Vitals are an objective set of criteria to measure progress.
The Opportunity Vitals are pain, power, vision, value, and consensus.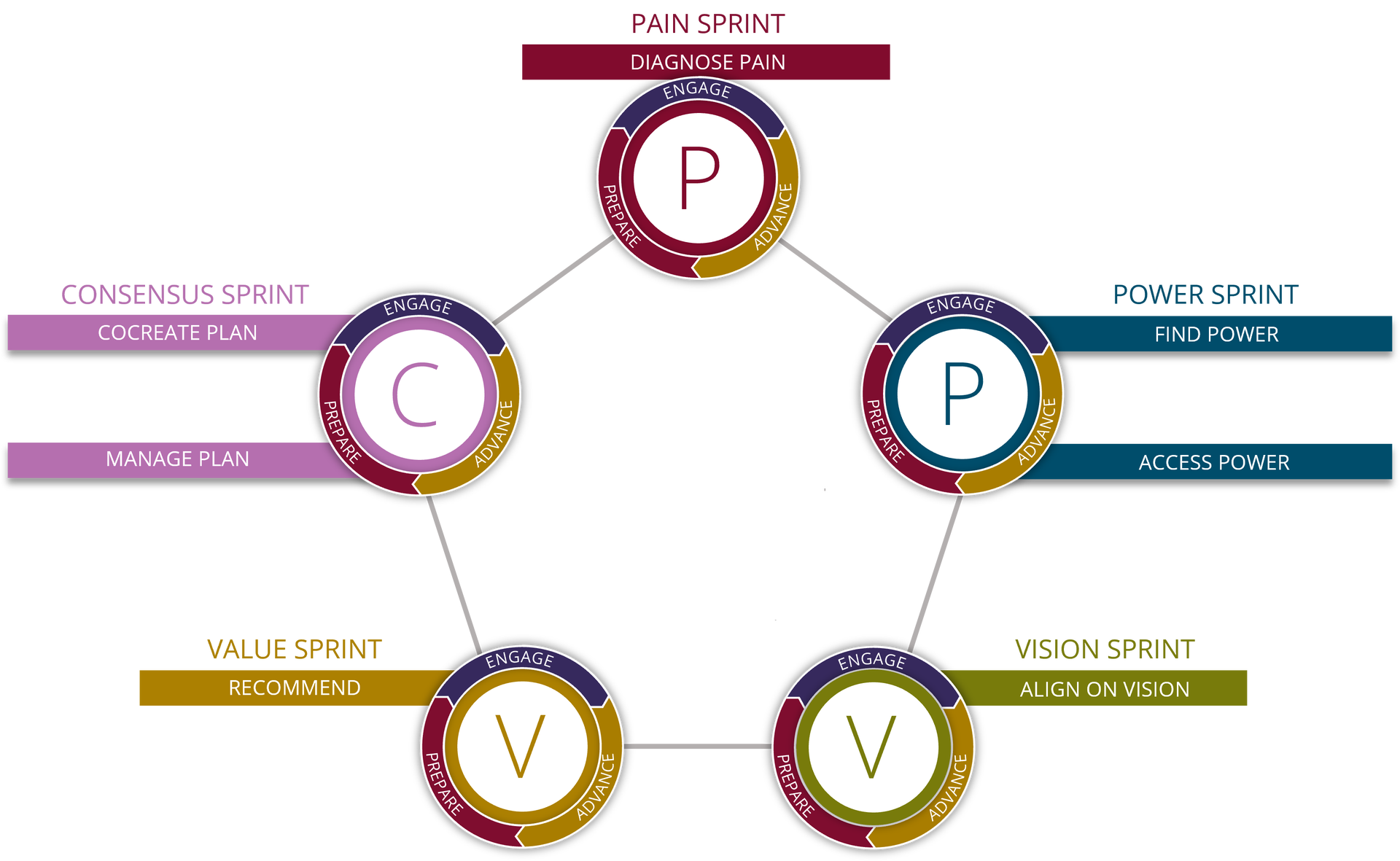 PAIN: Pain is defined as a critical business issue or missed opportunity.
POWER: Power is a person or group of people who have the influence and/or authority to determine the outcome of the sale.
VISION: Vision refers to the creation of a compelling buying vision for the pain the customer must solve and the capabilities required to do so.
VALUE: Value represents the economic and intangible benefits explored, positioned, and/or delivered to the customer.
CONSENSUS: Consensus is the act of establishing broad agreement with all customer stakeholders while mutually progressing through a buying journey.
If we are going to make informed decisions about the best next move in an opportunity, we need to be able to visualise where we are at any given point in time. Ignoring any of these factors will greatly jeopardise the chances of winning the opportunity. Opportunity Vitals help sellers and sales managers to assess the probability of successfully winning an opportunity. Our Opportunity Health CRM-enabled workflow tool shows the progress of an opportunity as we objectively score the 5 elements of the Opportunity Vitals framework.
Plan to Win: Call Planner
Planning is one of the most essential skills to drive improved opportunity execution. Yet planning is not a one-size-fits-all activity, instead needs to adapt to the needs of each unique client engagement
The Accelerate Workflow Tool suite includes a simple but powerful approach to planning for critical client engagements. The Call Planner provides visual prompts, coaching recommendations, and is scalable - to adapt to each meeting's unique objectives. This tool helps ensure sales professionals are prepared to make the most of every opportunity to move their deals forward.
Coach to Win: Actionable Performance Dashboards
To ensure new selling skills become the cultural norm, organisations need tools to support how the skills are used to impact performance results.
The Accelerate Workflow Tools include simple models that both sellers and managers can use to determine if meeting outcomes were achieved and a clear path on how to improve sales execution. Further, managers are empowered with dashboards and reports to manage ongoing coaching with their sellers.
The Prosperous Account Strategy Tool
Empowering your team to grow their strategic accounts is one of the best ways to ensure ongoing revenue. Richardson's Prosperous Account Strategy tools help account managers execute a repeatable and practical methodology for winning more business in strategic accounts and elevating the level of relationship within those accounts.
The Prosperous Account Strategy Tool is a Salesforce native, highly visual, and collaborative application designed to support all phases of the account planning process. In the Prosperous Account Strategy training programme workshop, users learn to create account plans directly in Salesforce. After the workshop, account managers and sales professionals use the application to support the ongoing effective execution of their current and future account plans.
The Prosperous Account Strategy Tool strategically captures critical account information that helps account managers grow their existing accounts.
Some examples include:
Account Performance: Account teams can visualise their revenue, year over year, within the account, to determine the additional opportunities needed to achieve their revenue goal
Product Mix: Visualise the key solutions that have been sold within the account to build a solution-based strategy with your account team
Assess Stakeholders: Allows the visualisation of the key stakeholders, their lines of reporting, and influence within the account to provide account teams an at a glance view of potential relationship weakness within the account
Business Initiatives: Enables the team to capture the key strategic initiatives that the account is focusing on, to ensure all your team's opportunities are supporting the account to achieve their goals
Strategy and Action Planning: Records the seller's strategic objectives for the account, the actions and resources required to achieve the objectives
Dashboards and Reporting: Visualise the impact account planning is having on the business with an interactive dashboard and robust suite of reports
The video below provides a short overview of the tool in action.
Benefits of Using the Prosperous Account Strategy Tool
Teams that regularly use the Prosperous Account Strategy tool improve performance because the tool helps them to better:
Plan for maximising value in an account
Identify tactics for (further) penetrating an account
Identify and prioritise opportunities for new business within the account
Create a plan to achieve revenue and relationship objectives
Navigate the decision-making politics within an account by using visual tools
Develop higher levels of relationship with account stakeholders
Brochure: CRM-enabled Workflow Tools
Learn how our CRM tools integrate best practises into your team's workflow.
Download