Top Sales Challenges in 2021
Exploring Today's Top Sales Challenges
We asked sales professionals and managers to indicate what they anticipate their most pressing selling challenges will be in 2021. The results provide a panorama of the selling industry and the ways it is changing.
Many sales professionals saw their pipelines diminish in 2020 as a direct result of the global pandemic. Therefore, "finding new business to fill my pipeline" was a key goal for selling organizations in 2021 and the most cited challenge across respondents.
Meanwhile, sales professionals in industries that grew in 2020 now face the challenge of meeting higher selling targets this year. While many are adapting to this new set of circumstances, "selling in a virtual environment" remains the second most common challenge among our survey population. These findings suggest that existing processes and methodologies need to be updated or supplemented with virtual selling adaptations, skills, and techniques.
Here we look closer at these and other challenges revealed in our research. We seek to understand the "why" behind the challenges, and we offer the insights sales professionals need to overcome each one.
1. Accessing the Right Stakeholders in a Virtual Setting Remains a Challenge
Sales professionals are struggling to adapt to industry changes arising from the global pandemic. The breadth of these changes has been so wide that sales professionals have been forced to reevaluate every area of the sales cycle, starting with prospecting.
When we asked our respondents to cite the primary challenges associated with finding new business to fill their pipeline, the majority (22%) indicated that prospecting in a virtual setting was the most significant hurdle. Breaking through to the customer across digital channels during the distractions of a pandemic was a major challenge. Sales professionals often failed to connect with prospects and, as a result, struggled to "gain access to the right stakeholder," which was the second most cited response to this question.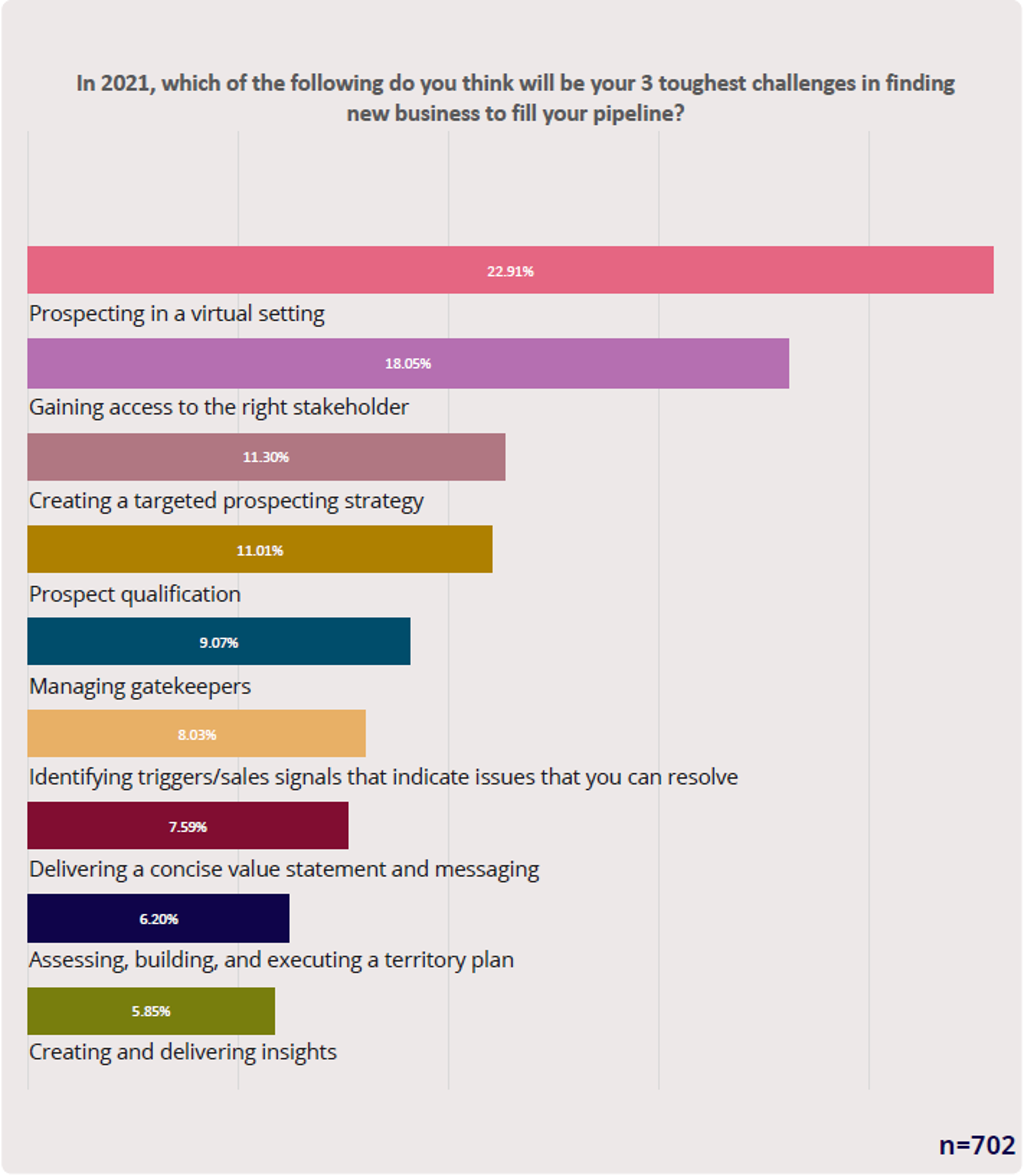 The net effect of these challenges is that sales professionals must find a new way to access the right people while using the right messaging.
The sales professional must answer the question "So what?" Answering this question establishes the value of the solution and helps earn an appointment.
Doing so is not only labor-intensive but is also a high-stakes challenge because customers need to see early value that is customized to their unique challenges. The most effective sales professionals are responding to this challenge in three ways:
Revise the value statement to address new challenges
Build incremental value over time
Deliver messaging with pinpoint focus
For more insights into how to execute these three skills download the complete 2021 Selling Challenges Research Study.
2. Winning Active Opportunities Means Engaging Customers and Building Consensus from a Distance
The challenges associated with working in a virtual environment loom large even among active pursuits. Nearly 19% of our respondents cited "engaging with customers in a virtual environment" as one of their top three challenges when pursuing in-play opportunities. The second and third most common challenges were "accessing decision makers" and "driving consensus among various stakeholders," respectively.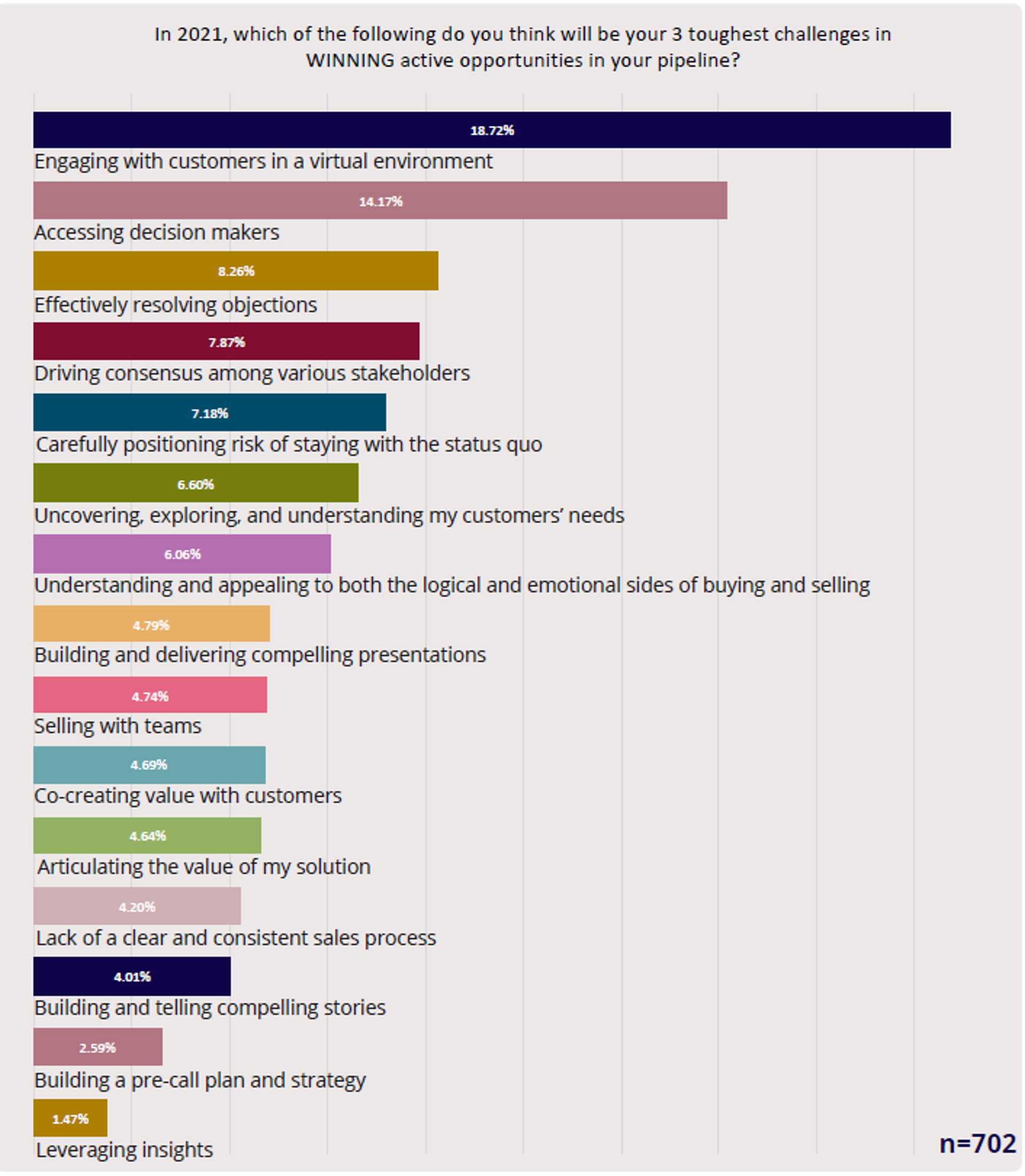 Customer engagement, accessing decision makers, and consensus building have always presented challenges. However, today these selling activities demand more of the sales professional's time and focus for several reasons. First, the customer's organization is becoming flatter, which results in a moving consensus. Second, increasing information has added to the risk in decision making for stakeholders because the data underpinning decisions constantly changes. Third, many businesses are midstream in their digital transformation efforts, which has divided their attention.
The increased work of building consensus and engaging customers is not just the result of adjusting to a virtual medium but is also tied directly to the pandemic. COVID-19 has forced many customers to redefine their business model. This abrupt change has left many uncertain of their needs, and now sales professionals must gain clarity on issues that are opaque, even to the stakeholders. Redesigning the sales conversation to address these challenges means focusing on the following:
Understand the ROI factors that resonate with the customer
Become the coach of the buying process
Keep communication open and candid
3. Successful Negotiations are About Preserving the Scope of the Sale
When asked about challenges in negotiations, nearly one-quarter of our respondents cited "protecting price and maintaining profitability," making it the single most common difficulty among our participants. Preserving the financial value of the sale has long been a challenge.
However, today that challenge has intensified as customers look for ways to minimize spending while recovering from the economic fallout of the global pandemic.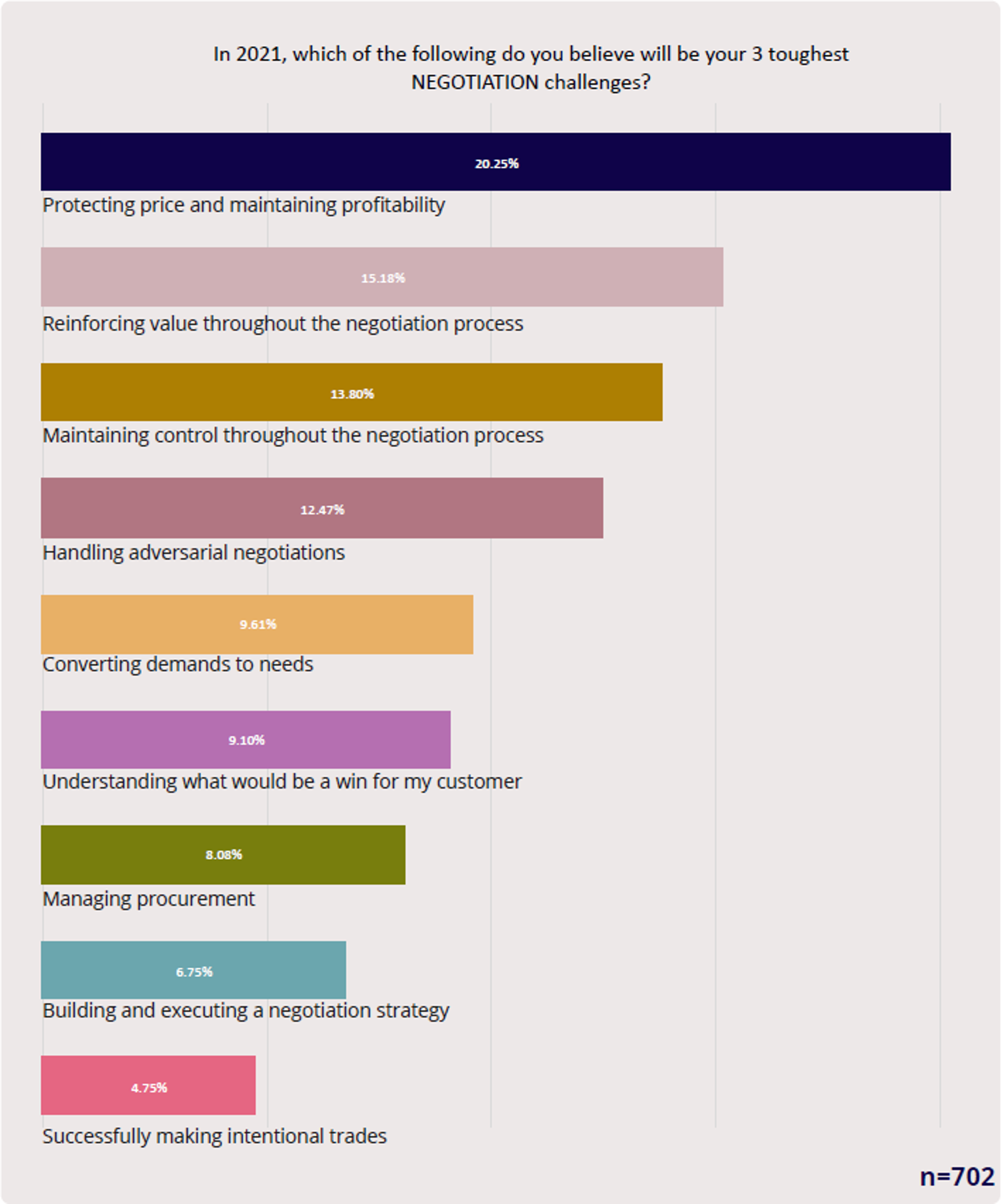 While the effects of the pandemic will eventually recede, it is likely that customers will remain resolute in their drive to preserve cost saving measures long after the pandemic. There are several broad, long term factors that will enable customers to do so.
First, the leveling effect of technology has lowered the barriers to entry for new competitive entrants giving customers an improved negotiating position. Second, the customer has become more sophisticated in their purchasing behavior and can leverage information in their drive for value. Third, customers are taking advantage of the rising commoditization of solutions, which tends to lower prices. The sum of these conditions is an environment in which customers are well-armed and advantaged by a wide availability of solutions.
Sales professionals can prevail if they enter negotiations with an awareness of these threats. Fortunately, our research shows that some are already developing this awareness. The second most cited negotiation challenge at nearly 15% is "reinforcing value throughout the negotiation process," followed by "maintaining control throughout the negotiation process." These high-ranking challenges indicate that sales professionals are developing an understanding of what they need to do to protect pricing. What remains elusive for many is how to do it. The answer to this question means committing to three practices:
Anchor value when making the offer
Convert demands to needs
Share perceptions of value
4. Managing and Defending Accounts Means Defending Against Competitors
The global pandemic has invigorated competition. Dramatic cost cutting, coupled with the burden of having to pivot or completely change a business model, has forced competing sales organizations to get aggressive in their approaches to the market. Therefore, it is no surprise that the most frequently identified challenge — at 19% — in managing and expanding existing accounts is "defending against competitors." Though the economic recovery is underway, the share of available business is considerably smaller than it has been in recent years. Additionally, as virtual engagement quickly normalizes, more competitors are beginning to access a wider circle of customers once thought to be out of reach.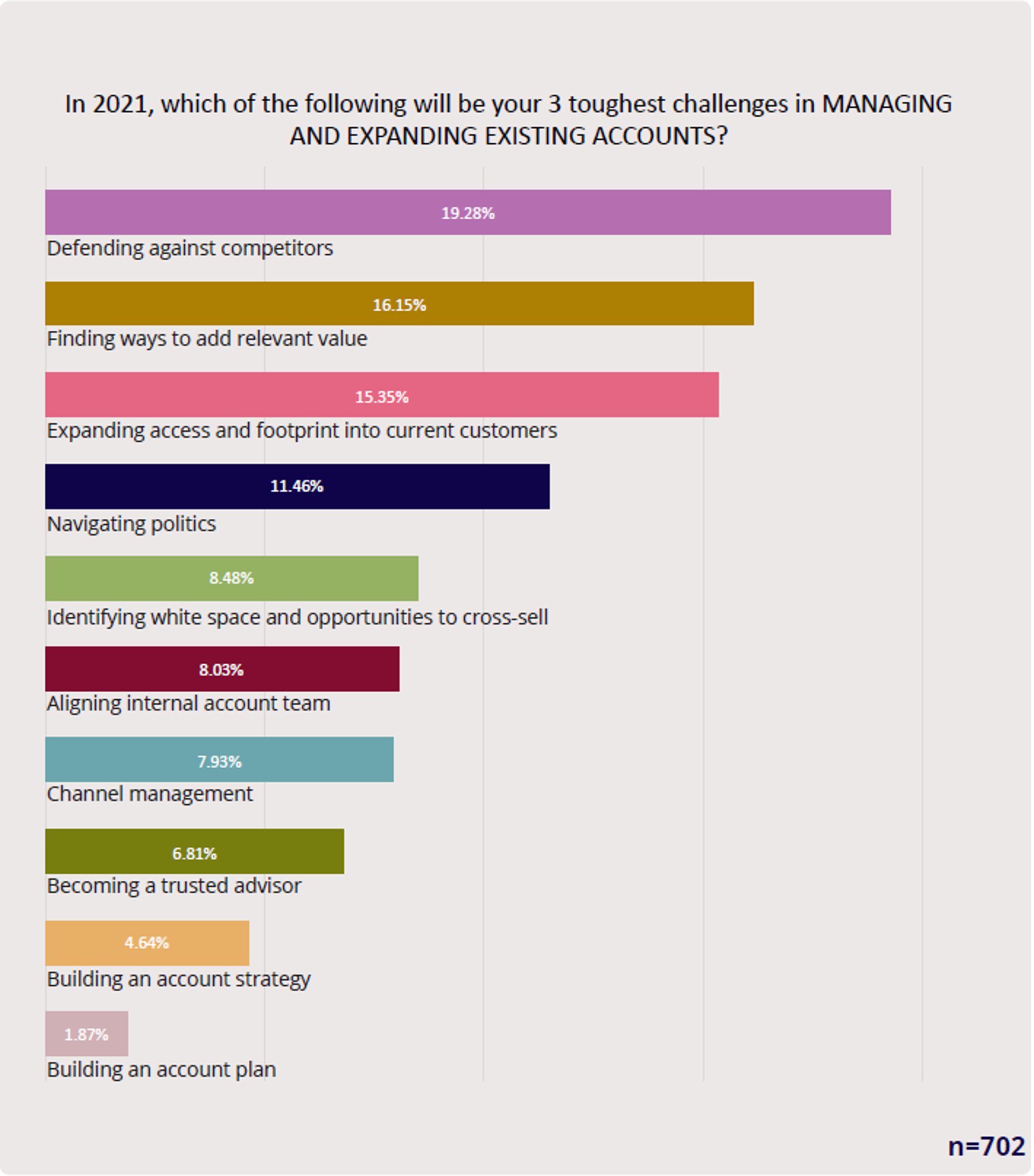 The next two most cited challenges, both at approximately 16%, are "finding ways to add relevant value" and "expanding access and footprint into current customers." These two related challenges likely stem from the fact that many existing accounts are fundamentally different than they were just months ago. Every organization has reprioritized their needs and objectives in reaction to COVID-19. As a result, sales professionals must first acknowledge that their original understanding of customer needs is outdated and then seek to understand the new set of needs.
The fourth most cited challenge — "navigating politics" — echoes the changes within the customer's organization. It is common for divisions to form during difficult economic circumstances. Leaders facing an uncertain future often have different perspectives on how to confront high-stakes challenges. The sales professional often finds themselves trying to track these dramatic day-to-day changes. Adjusting the account management process to these new circumstances means adopting three practices:
Revise the value positioning and address risks
Clarify the account plan methodology
Create a proactive response team
5. Pandemic Uncertainty Looms Large Among Buyers Making Decisions
Across all questions, our respondents were never more united than when they were asked about the biggest challenge buyers face when making a purchasing decision.
Overwhelmingly, sales professionals and sales leaders believe that "dealing with uncertainty brought on by the pandemic" is the single greatest challenge stakeholders face when considering a purchase. Just over 41% of our participants cited this as the buyer's largest burden. At 16%, the second most cited challenge sales professionals believe buyers face is "managing constantly shifting priorities." These top two challenges are connected because heightened uncertainty often leads to inconsistent priorities. Simply, as the road becomes more winding, the wheel must turn more dramatically.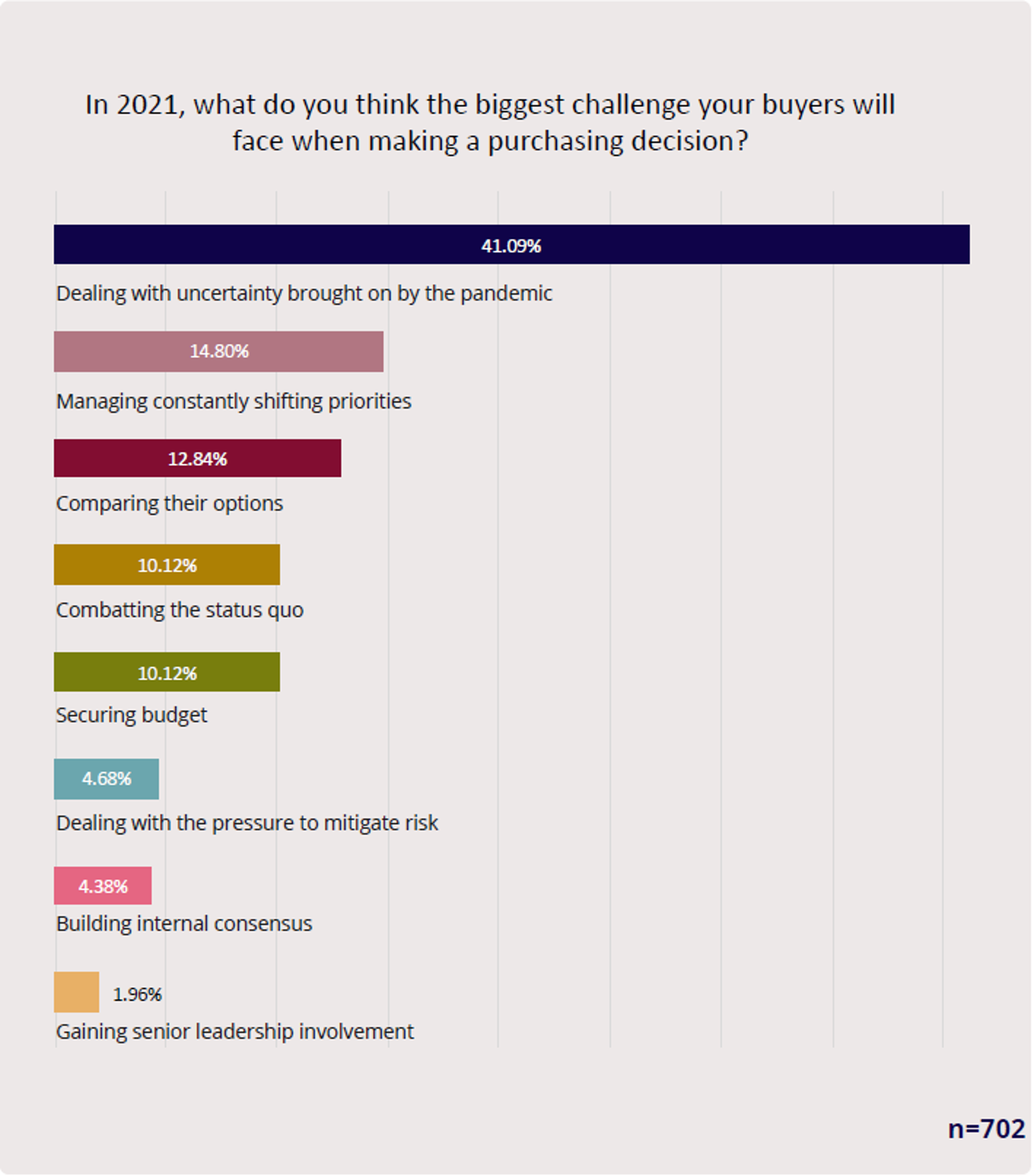 The third most cited challenge facing customers was "securing budget." This result illustrates the intensified scrutiny placed on purchases as business remain committed to cost-saving measures put in place in early 2020 when the pandemic was rising. Since the close of the first quarter last year, most businesses have gradually become more accustomed to sustaining their operations with less financial resources. Even when economic conditions improve in H2 of 2021, it is unlikely that businesses will want or need to return to pre-COVID practices because so many inefficiencies have been eliminated.
Uncertainty weighs heavily on purchasing decisions because it influences both the logic and emotion of buying. When conditions are uncertain, it is difficult for executives to use historical data for decision making because even the recent past was such a different setting. At the same time, the knowledge that what lies ahead represents such a vast array of outcomes takes an emotional toll as decision makers must gird themselves for volatility. Helping customers in this setting means doing three things:
Understand how short term emotions drive long term decisions
Become a better listener
Investigate the customer's decision process
Access a more detailed exploration of our tips for combatting the status quo by downloading the complete research study.
Major Account Planning Tool
The Major Account Planning (MAP) Tool is a Salesforce native, collaborative application designed to support all phases of the account planning process for ongoing effective execution of current and future account plans.
Learn More
6. Developing Personal Connections Virtually Presents Difficulties
Since the earliest months of the pandemic, most people have made great strides in adapting to the virtual medium. Despite this, challenges remain. Overwhelmingly, our respondents indicated that the predominant challenge of selling virtually is that it is "more difficult to connect personally." Physical distance prevents sales professionals from gaining a close reading of customer emotions that comes from physical cues that are difficult to perceive on screen.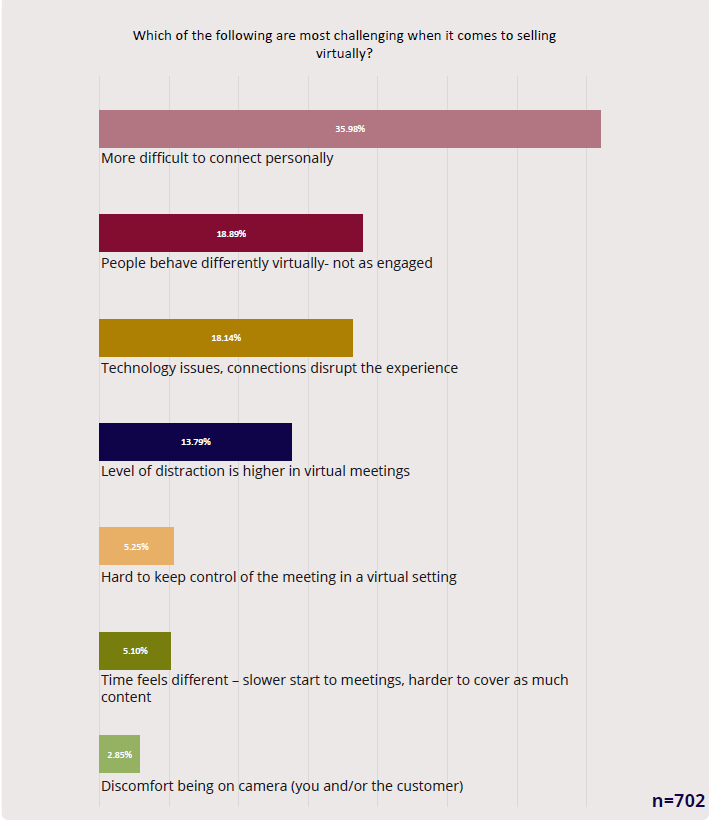 Adding to this challenge is the fact that these traditional cues are changing as a result of the medium. The second most cited challenge when selling virtually is that "people behave differently virtually." Simply, they are not as engaged. Customers can more easily hide the fact that they are distracted. Email notifications and the off-screen environment are invisible to the sales professional. Therefore, it is difficult for them to know when they have the customer's attention and when they do not. The result: there is more guesswork involved in understanding the customer's genuine reaction to the solution.
Moreover, there seems to be a norm developing in which distractions are more acceptable when conversations are virtual. The kind of distraction considered unprofessional in person is tolerated when the interaction is over a screen. This may be due to the fact that many sales professionals are trying to accommodate the customer's complicated work/life balance demanded by the pandemic. It is no surprise to learn that the third most cited challenge in virtual selling is that the "level of distraction is higher." The good news is that flexible sales professionals can adjust to this new setting by making a few changes:
Develop an approach around authenticity and transparency
Make trust building priority
Develop communication practices that earn the customer's attention
Contact us today
to learn how Richardson Sales Performance can help you overcome your team's challenges in 2021
Get industry insights and stay up to date, subscribe to our newsletter.
Joining our community gives you access to weekly thought leadership to help guide your planning for a training initiative, inform your sales strategy, and most importantly, improve your team's performance.