Sales Capabilities Required to Compete Today
Build Agile Sales Skills to Engage the Modern Buyer
The Right Sales Capabilities Differentiate Your Team
Developing diverse selling capabilities helps sales professionals become more agile in their pursuits. They are equipped to move with the increasing pace of change and adapt in the moment to their customer's needs.
Types of Sales Capabilities
Every sales capability falls into one of four skill categories that link to a specific part of the selling process:
Create opportunities
Win deals
Negotiate to maximize value
Grow accounts
Here, we break down the specific skills that form each of these four capability categories.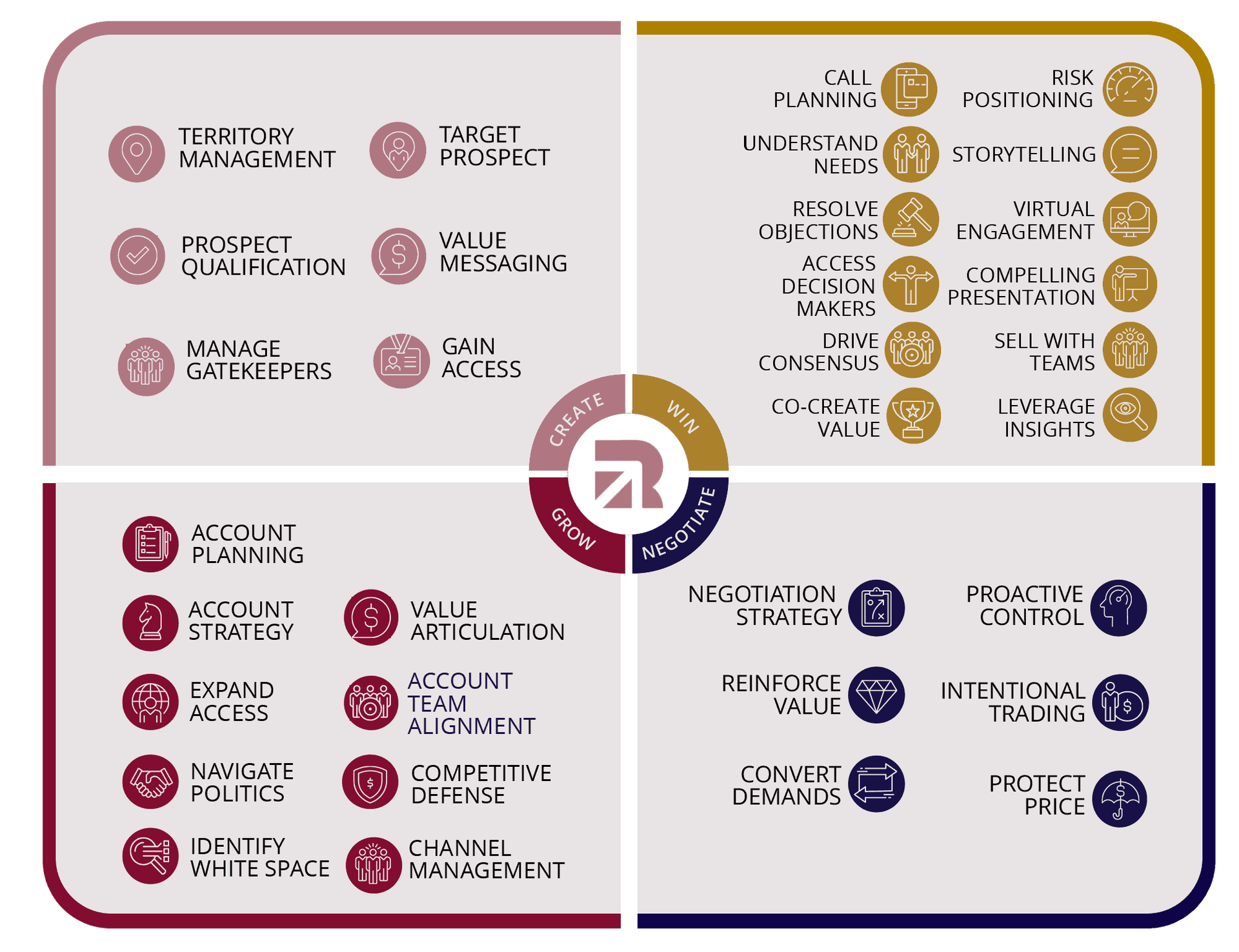 Create Opportunities
Prospecting into new or existing accounts is one of the greatest challenges facing sales teams today. Gaining access to decision-makers and earning the right to a target customer's limited time is increasingly competitive.
To effectively create new opportunities sales professionals need to develop the following capabilities:
Territory Management: Identify territories with the greatest potential, prioritize current customers and prospects, and create a schedule that commits to a set of actions
Target Prospects: Understand common buyer profiles and identify key prospects
Value Messaging: Articulate the solution's value in ways that make the product or service feel at home in the context of the customer's business
Manage Gatekeepers: Build trust with influencers and researchers to gain access to higher-tier decision-makers

Win Business
The primary goal of sales reps is to win new business. To do this they need to build competencies to agilely respond to their customer's changing needs, effectively engage and communicate, and build momentum towards the close.
These competencies include the following:
Call Planning: Prepare for sales calls to ensure value is delivered early in the conversation.
Risk Positioning: Help customers define and evaluate the risks associated with decisions including the status quo.
Understand Needs: Use questioning skills to understand and then convert customer requirements into insightful positioning points.
Storytelling: Appeal to the customer's emotional side by articulating the meaning of their solution within a narrative flow.
Resolve Objections: Embrace objections as an opportunity to get to the root cause of an issue and use that knowledge to reinforce the value of the solution.
Virtual Engagement: Communicate with customers across digital mediums
Access Decision Makers: Earn access to the right decision-makers who have control over the different levels of the buying process
Compelling Presentations: Compellingly articulate value in accessible, clear language.
Drive Consensus: Identify and address the concerns of diverse stakeholders and drive alignment towards a decision
Sell with Teams: Build and lead selling teams comprised of sales and non-sales roles to answer buyer questions and describe the full scope of the solution
Co-Create Value: Collaborate with buyers to define the aspects of the solution they believe are valuable and connect their priorities to the solution.
Leverage Insights: Reframe the customer's thinking to help them explore challenges and solutions from a different perspective
Negotiate to Maximize Value
The last mile of a deal is negotiations. This is often where great opportunities fail. Sales professionals need to build their confidence and ability to successfully negotiate deals to mutually beneficial conclusions. The skills required to execute this critical step include:
Negotiation Strategy: Confidently navigate the negotiation conversation by strengthening relationships, emphasizing value, and avoiding any adversarial moves
Proactive Control: Preserve the scope of the sale by finding ways to address the customer's needs without reducing the size of the potential sale
Reinforce Value: Build trust and credibility, even when negotiations are complete to strengthen relationships and lay the foundation for account growth.
Intentional Trading: Avoid making concessions in favor of collaboratively trading with buyers
Convert Demands: Address customer demands by treating them as unmet needs and highlight how the solution addresses them
Protect Price: Understand the levers that can be used to protect pricing like flexible payment terms or value reinforcement

Grow Accounts
Selling into a customer's white space is critical for ensuring positive customer lifetime value and improving relationships with clients. The competencies sales reps need to build to proactively grow and expand accounts include:
Account Planning: Optimize account coverage with effective planning to maximize revenue and customer lifetime value
Account Strategy: Deliver differentiated value with high-quality solutions and even higher quality customer engagement
Value Articulation: Meaningfully articulate the ROI of solutions to different stakeholders
Expand Access: Build rapport and credibility with multiple stakeholders in an account by maintaining and expanding relationships within the account
Account Team Alignment: Ensure customers have a consistent experience with all members of the selling organizations team
Navigate Politics: Tailor value conversations to different buying personas to develop broad buy-in for solutions
Competitive Defense: Act as a trusted advisor by constantly looking for opportunities to add value to defend against competitors
Identify White Space: Identify the white space within accounts to uptier and cross-sell additional solutions
Channel Management: Engage different channel partners to maximize coverage and provide value to different kinds of customers.

Building Sales Capabilities with Richardson Sales Performance
The competencies listed above create a comprehensive list of selling capabilities required to compete today, however, our team recognizes sales reps in different roles need different levels of mastery across each competency. Further, there are scenarios where focusing on building one or two skills will deliver more immediate results than a more generalized program that's why our solutions are always highly customized.
We help you to define what good looks like for each role within your team, assess gaps in capabilities, guide learning journeys, and provide tools to ensure ongoing coaching, adherence to best practices, and continuous development.
We work with you to map the competencies required and the proficiency level needed for each sales role to bring your competency framework will come to life as seen in the example below.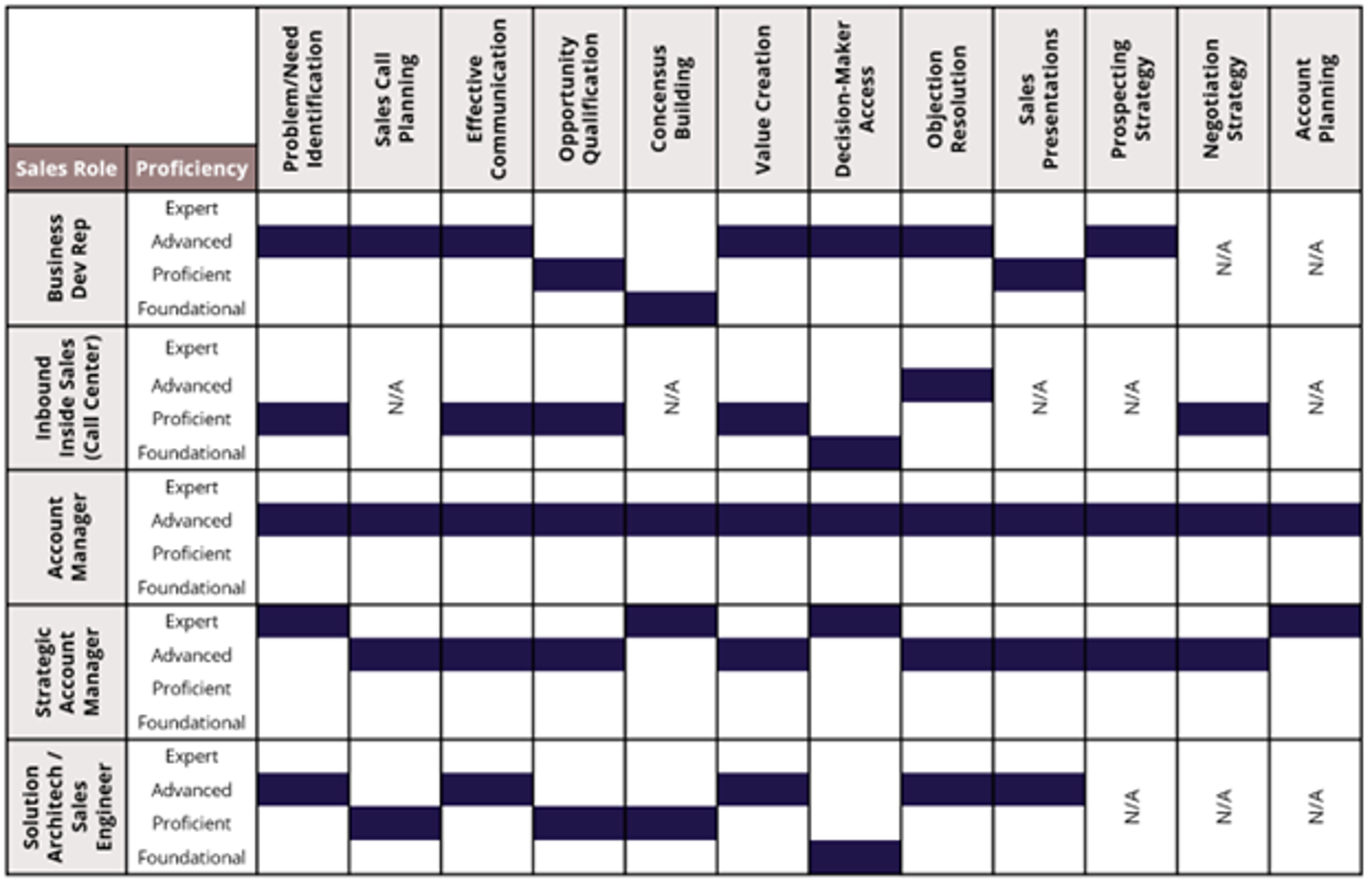 Take a deeper dive into the process of building a sales competency framework in the blog Defining a Sales Competency Framework to Drive Top Performer Behavior
The result of these efforts is a complete skill development roadmap that strategically drives meaningful return on investment now and in the future.
Brief: Multi-Role Sales Training Curriculum
Learn how to build the right selling skills for every role in your sales organization.
Download
Deep & modern sales curriculum enables you to develop your individual sellers against role-based competencies while achieving consistency across teams.
Our customization approach ensures we fully reflect your unique selling environment while leveraging best-in-class training content to ensure efficiency and relevancy.
A modern delivery approach that includes live and virtual training workshops in which participants learn and practice skills complemented with a digital, blended learning journey that reinforces, sustains, and certifies desired behaviors.
Build agile selling skills within your sales teams so that they can lead customers through a new, dynamic and digital buying journey. Agile selling skills and an outcome-focused pursuit plan are the future of selling.
Our technology provides visibility into performance so that we can measure progress and deliver real-time insights.