Sales Culture Playbook
You Own the Sales Culture, Make it Great
A strong sales culture supports collaboration, fosters trust, and develops a high-performing sales team.
Who's responsible for creating a high-performance sales culture? Well, everybody – but as a sales leader, it's your job to create and nurture an environment that enables your team to succeed. This doesn't happen by accident, so it's important to be deliberate in shaping it. Let's look at the 'what' and the 'how' of a winning sales culture
'What' are the Components of Your Sales Culture?
There are four key components that make up the 'what' of sales success – Focus, Activity, Pipeline, and Results. Let's review in a little more detail: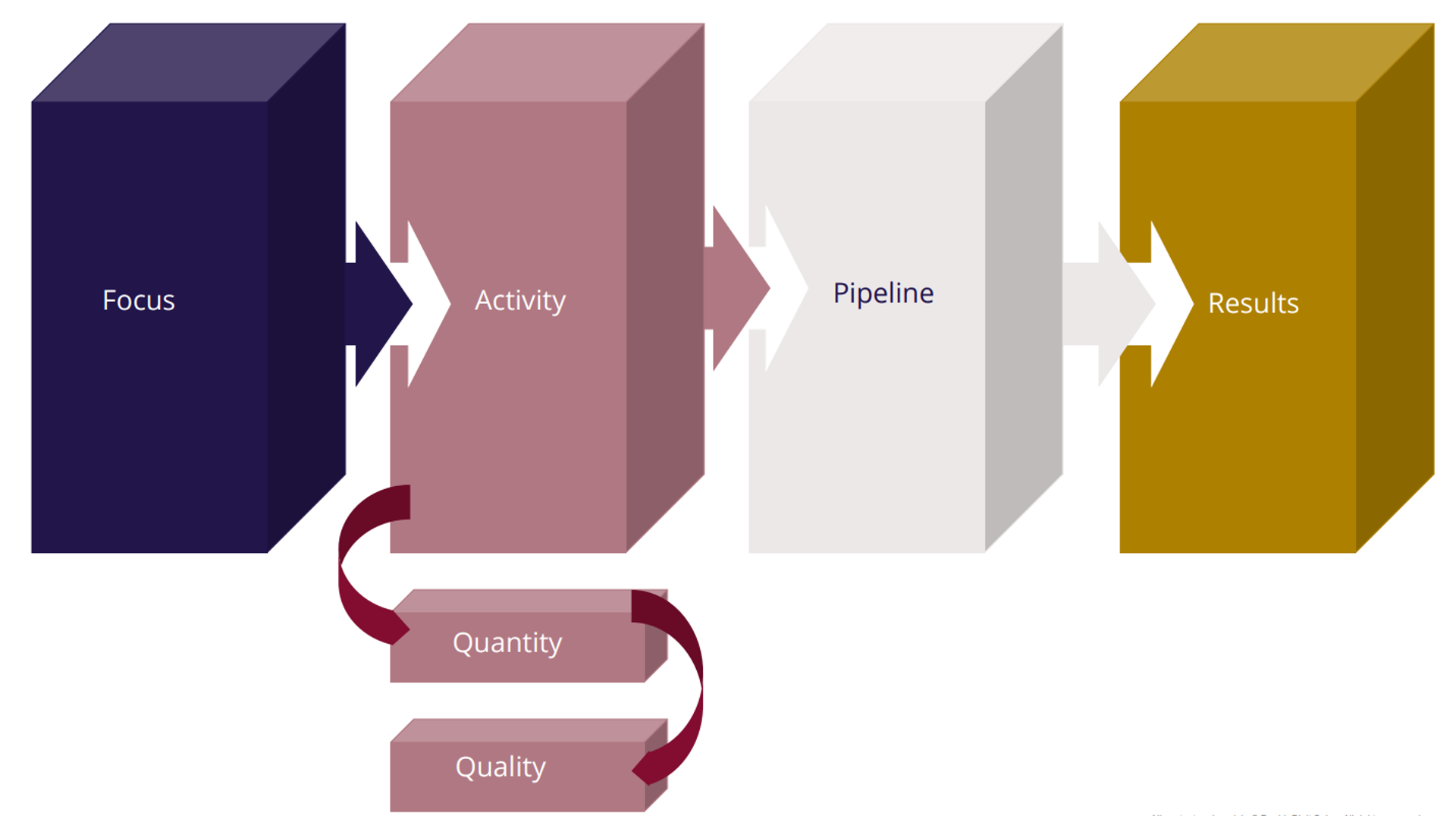 Focus: Your coverage and account strategy. Who is your target market? What are your A, B, and C accounts? Where should the sales team spend time (and where should they not)?
Activity: Prospecting, Customer Meetings, and Proposal Writing are our activities. What 'quantity' is required and how do we ensure 'quality' in each activity.
Pipeline: Opportunities need to be recorded and managed.
Results: Closed and won and delivered with excellence.
You can't manage what you can't measure… a strong sales culture is clear on the measurements in all four categories. These metrics are clear for the salesperson (what are my daily, weekly, and monthly targets), the sales leader, and the sales executive.
The goal:
A clear focus that leads to strong activity that creates a healthy pipeline that delivers over-plan performance.
"How" Do You Create a Strong Sales Culture?
The what (Focus, Activity, Pipeline, and Results) will not create a strong sales culture. In reality, you could actually have great numbers across the board and have a poor culture – think of a sales organisation that says "results at all costs".
A strong sales culture has the sales leadership discipline that surrounds the numbers and creates lasting, sustainable performance using four critical elements: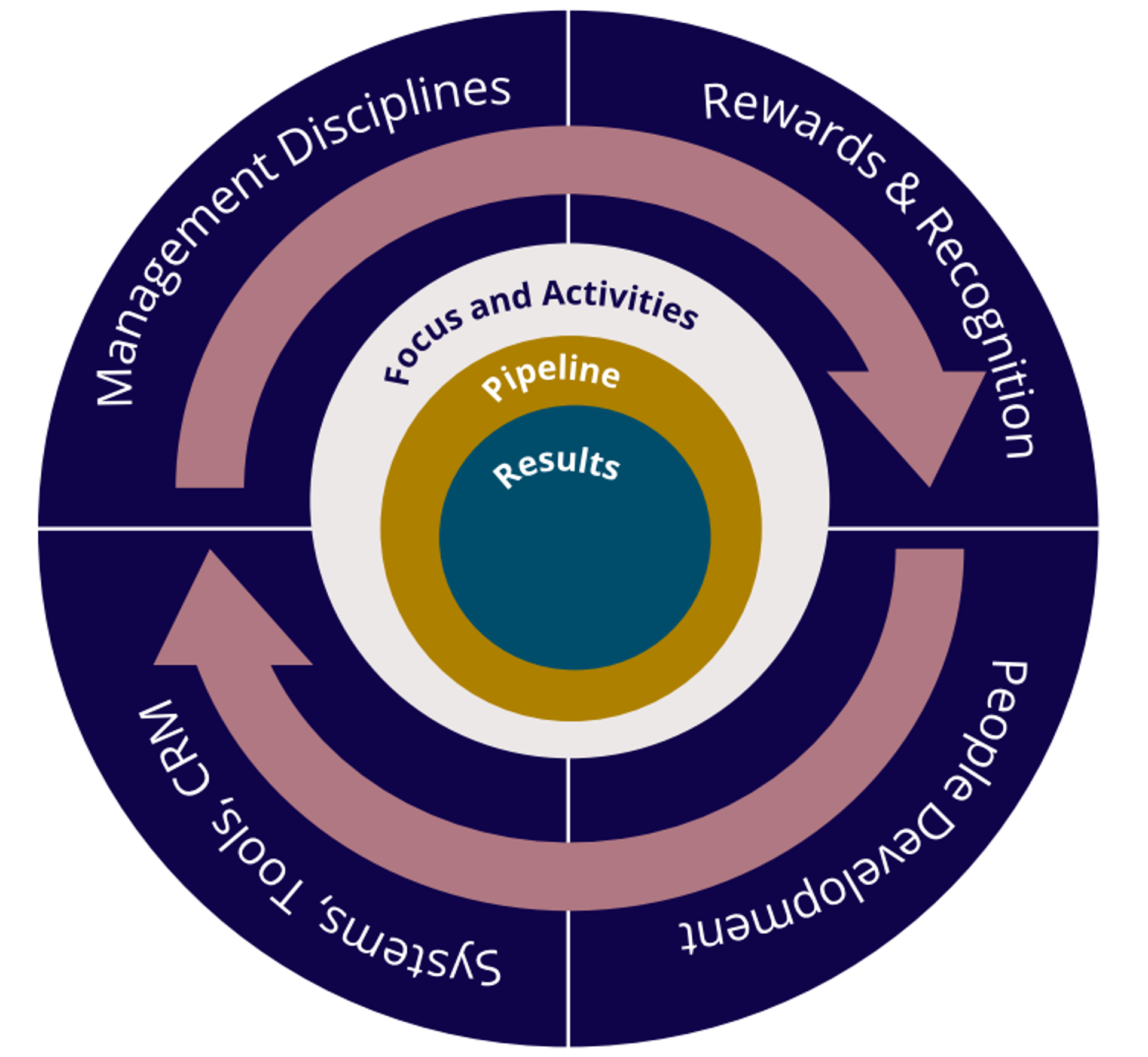 Management disciplines: One on ones, Team meetings, Pipeline Reviews, Observational Coaching, and Team Proactive Calling
Rewards and recognition: Structured daily, weekly, monthly and annual R&R that is systematised.
Systems, tools, and CRM: Technology that works, is used, and is coached.
Recruiting, onboarding, and development: Investment in new sales team members and most importantly, investment in all team members.
Let's review the four components that create a winning sales culture in more detail.
Management Disciplines
Management disciplines are very similar to the activity of your salespeople – we need quantity and quality.
Team Meetings: Weekly or Bi-weekly and they must educate and motivate. Sales team members are talking 70% of the meeting (sales leader 30%)
One on Ones: Monthly and they are about the team member and about their performance. They need to be so valuable that if you miss it, your salesperson will reschedule (and you should not miss it!).
Pipeline Reviews: Every week or two. Fast (10 to 15 mins) and engaging. Discuss YTD performance, Pipeline Volume (total $), number of opps, Pipeline Shape, and deep dive on overall and key opps
Observational Coaching: A picture tells a thousand words. See your people in action (calls, meetings, proposals, etc.) and coach them.
Team Proactive Calling: Make it a team sport as well as an individual sport. Great chance for fun and prizes.
Rewards and Recognition
Make it Simple
Make it Fun
Make it Matter
Make it Repeatable (without a lot of effort)
Systems, Tools, and CRM
You have them, is your team using them? Are you using them? Do you review, discuss, coach, reinforce and support the criticality of these tools? Sales and marketing automation are critical to a strong sales culture.
People Development
Winning sales teams have the capability to bring on new team members, onboard quickly and successfully. They also know that all sales team members need growth and development. Sales conferences, sales training, stretch assignments, new accounts, and territories are all a part of continuous improvement.
The What and the How of a Great Sales Culture
You have Focus (it may poor or clear), you have activity (it may be weak or strong), you have a pipeline (it may be thin or healthy) and you have results (they may be below plan or over-plan) and to change the culture, do not go after these "numbers", go after the true components of a great sales culture:
Management Disciplines
Reward and Recognition
Systems, Tools, and CRM
People Development
You own the culture, make it great!
Get industry insights and stay up to date, subscribe to our newsletter.
Joining our community gives you access to weekly thought leadership to help guide your planning for a training initiative, inform your sales strategy, and most importantly, improve your team's performance.