Sales Academy
Create a plan for ongoing training to support performance improvement
At Richardson Sales Performance, we define a Sales Academy as a structured system for training and developing a sales organisation focused on driving business outcomes. A sales academy is comprised of a framework of capabilities for driving the sales professional's performance throughout their career. This learning design offers the consistency and agility needed to improve performance and remain competitive in today's environment.
We help you to create a customised sales academy that addresses the different performance journey needs for a range of sales roles, from Business Development up through Global Account Management, and we've done the research to perfect our formula.
How to Get Started
When creating an agile sales academy to support the ever-changing buyer/seller landscape, it is important that you are applying the following key components: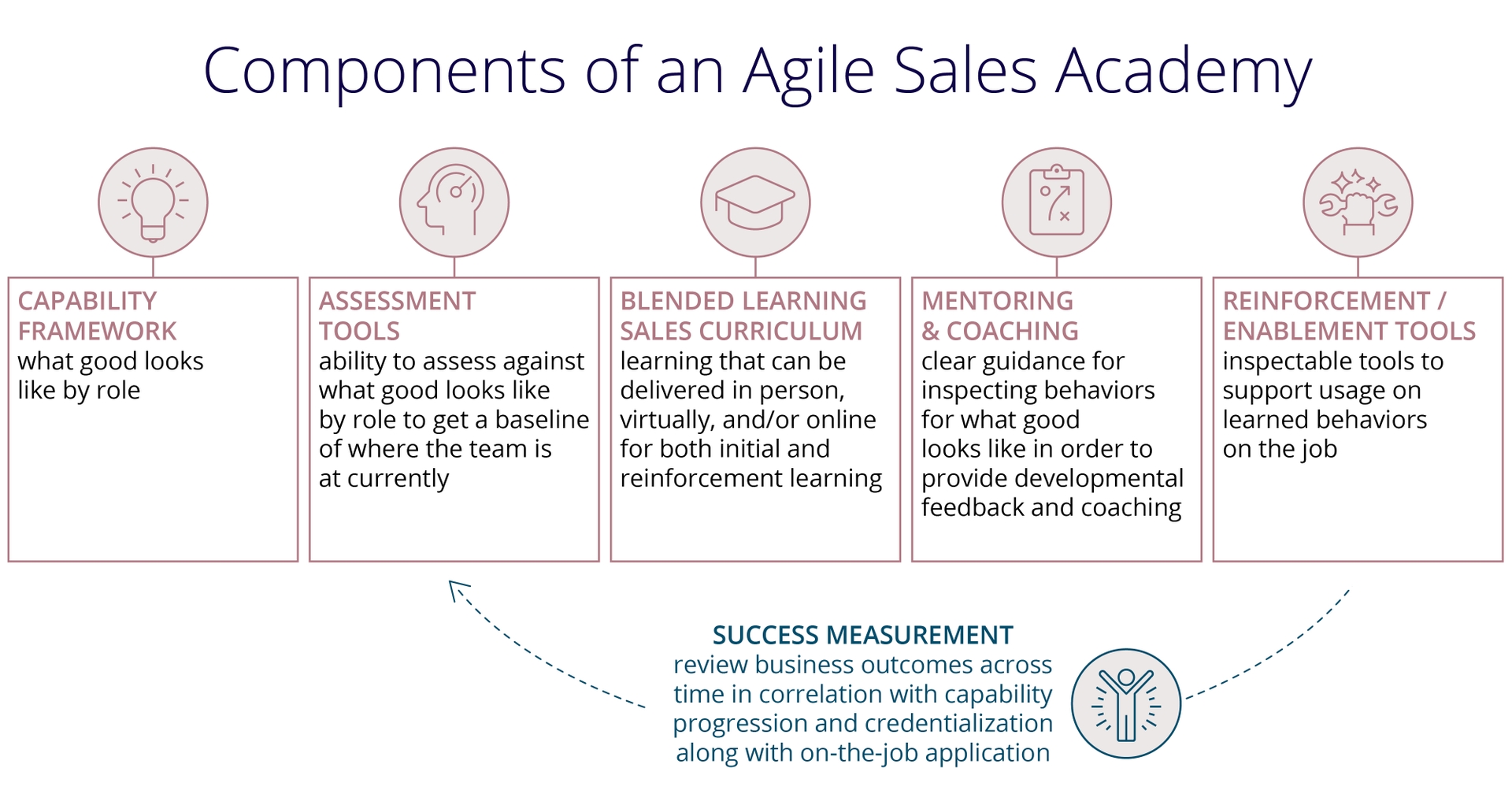 Key Success Factors
As you build your sales academy it is important to remember that in order for it to really be successful company culture around learning plays a big role. Here are a few key success factors to consider:
Create an environment for change by…

Creating a sense of urgency for starting the sales academy and the business problems it will help solve for your organisation by focusing on strategic capabilities that will create a competitive advantage.
Establishing a team with clear roles and responsibilities to help you sell, guide, coordinate, and communicate to others in the organisation. Although L&D or HR may help support in driving the sales academy it should be led/owned by the sales leader.
Aligning with stakeholders on a strategic shared vision that outlines the mission and purpose for your sales academy.

Engage and enable the organisation by…

Communicating your strategic vision using every vehicle possible to create buy-in.
Enabling action by removing barriers to success. These can be inefficient processes or hierarchies that prohibit impactful communication. One way to help is by building a support or champion team.
Generating and sharing short-term wins to energise the team and maintain positive momentum.

Implement and sustain by…

Measuring success by monitoring utilisation, professional growth credentialisation, feedback from participants in correlation with business metrics. In addition to revenue or profitability, you may want to track business metrics such as deal size, win rate, sales cycle length, and the number of opportunities in the pipeline.
Instituting the new habits into day-to-day so they become the new way of working
eBook: How To Build A Sales Academy
Learn how to upskil sales professionals across various roles in your organisation.
Download