Driving Sales Effectiveness
What is Sales Effectiveness?
Sales effectiveness refers to a company's ability to generate sales.
Greater sales effectiveness means driving sales performance by winning the right kind of customers that drive meaningful progress towards broader financial and operational goals.
The term encompasses the various aspects of a business that must perform to create more wins. Therefore, true sales efficiency requires a coordinated effort from not only the sales team but also marketing, operations, and the C-level team.
Check out the following video from Richardson Sales Performance CEO, John Elsey to discover the Keys to Transforming Your Sales Organization.
To learn how Richardson Sales Performance can help you transform your sales organization contact us today!
How Richardson Sales Performance Drives Sales Effectiveness
We stand ready to help our clients achieve their sales outcomes, from new customer acquisition and account growth, through excellence in customer service. We bring a team of sales savvy experts who demonstrate authentic curiosity in learning about your business balanced with a strong point of view on what it takes to drive sales results.
Our commitment to you and your team is a relentless focus on measurable results and long-term impact.

We then focus on engaging your sales organization in a blended learning journey that begins digitally to maximize the live workshop experience.
Practice & Refine: Richardson Sales Performance's Connected Selling CurriculumTM is a collection of sales and service programs built to work together and build upon each other across roles and capabilities to drive a common language and clear approach for sales performance at scale. Grounded in behavioral science, our content has been re-imagined and re-tooled to address the needs of both modern buyers and salespeople.
Every Richardson Sales Performance program is customized so that selling best practices are taught in an exact replica of your organizations' real selling situations. And because we've already taught key concepts prior to class, time is reserved for case studies, exercises, and role plays that provide an immersive environment to practice and refine skills.
Sales professionals leave class with a higher skill proficiency than a traditional approach, ready to use their newfound skills in the field.
Master and Sustain Improvement: To maximize your investment, we have created a robust sustainment suite of just-in-time assets and tools to support your sales team as they continue in the learning journey.
We've built a technology-enabled solution that taps into the competitive nature of salespeople to deliver gamified customer scenarios to sales teams for 12 weeks post workshop. As a consequence, instead of seeing memory recall drop, we actually drive recall rates from 65% to 95% in the three-month period — creating a platform for sustained performance improvement.
Our Accelerate digital platform provides a scalable and repeatable sustainment solution that doubles as an on-demand performance support tool for salespeople in the field.
We ensure that behaviors modeled online and in the classroom are supported by your managers in the field. Your coaches are supported with a best-practice coaching methodology, practical tools for observation and feedback, and expert coaching advisors back on the job.
Sales Academy
Training is not a one-time event, learn how we can help you develop a sales academy approach to support a long-term performance improvement plan.
Learn More
How to Measure Performance
Measurement before, during, and after a training event creates visibility in the value of training and provides actionable data sales leaders can use to ensure continuous performance improvement. Measuring sales effectiveness develops momentum by holding sales professionals accountable and engaged in the initiative.
The data-driven insights we deliver to our clients are anchored in four levels of measurement: Engagement, Knowledge Retention, Behavior Change, and Business Results.
Our technology platforms deliver both milestone assessments, which create baselines and benchmarks for learning, as well as real-time analytics that monitor the performance of the sales transformation at both the individual and organizational level.
Reporting Example: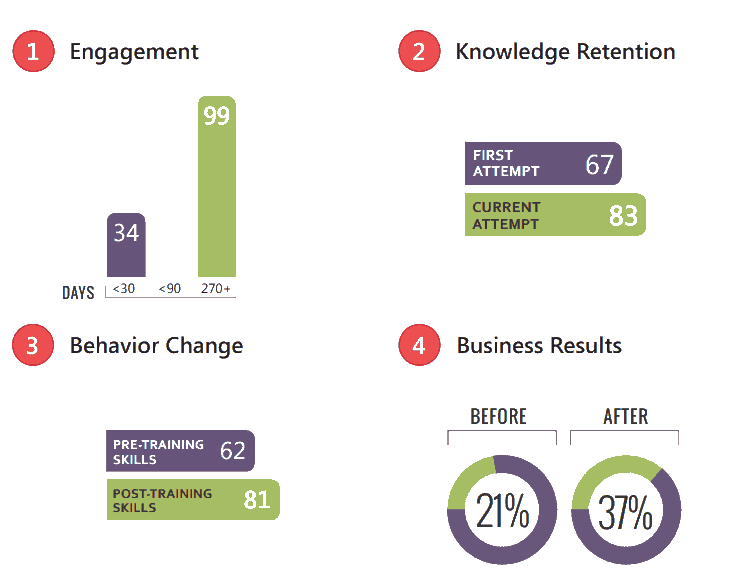 Get industry insights and stay up to date, subscribe to our newsletter.
Joining our community gives you access to weekly thought leadership to help guide your planning for a training initiative, inform your sales strategy, and most importantly, improve your team's performance.