Examples of Role-based Sales Training
There is a well-known quote, which holds its likely origins from an ancient African proverb: "it takes a village to raise a child". The same can be said for "raising" an opportunity; from your business development team identifying and qualifying leads, to your account team working to grow existing accounts – everyone within the sales organization has different roles that are critical to keeping your village running smoothly.
While everyone within your sales organization needs to have a fundamental understanding of how to apply critical sales skills (for example, who doesn't need the ability to be conversational, adaptable, and apply critical thinking?), other areas of skill and professional development are very targeted based on the seller's roles within the sales village, err team. This is where Role-Based Training comes to life.
Defining Role-based Training & It's Benefits
Role-Based Training is a term used to describe training aligned with the needs of specific roles and with a focus on practical, day-to-day application.
Many sellers possess a natural desire to engage in training that is directly related to the functions they perform in their day-to-day. In fact, a 2016 study by Udemy showed that "44% of respondents cite a lack of learning opportunities as a reason they left their last job." Role-based training can be a powerful way of protecting the high investments you have made within your sales organization, especially considering the high cost of employee turnover.
Additionally, it is important to consider time out of the field when it comes to training. By using a Role-Based focused training, you can maximize the efficiency of the time your sellers spend on training, to ensure they are not taken out of the field for training that is not relevant to their specific role.
Building Complementary Skills Across the Team with Role-based Training
While foundational skills will always hold value for all members of your sales organization, other teams may require varying levels of training on specific topics.
For example, you can use a scale, which is based on the level of training required:
Exposure: a general understanding of the core principles of the training concept
Foundational: foundational understanding of the training concept and knowing how it is applied to real-world situations
Proficient: proven experience in the application of the trained concept in real-world situations
Mastery: mastery in the application of the learned concept, whereby they can train, coach, and mentor their peers
Using this scale as an example, we can now take common sales roles and make assumptions, based on typically job functions, on the level of training focus required: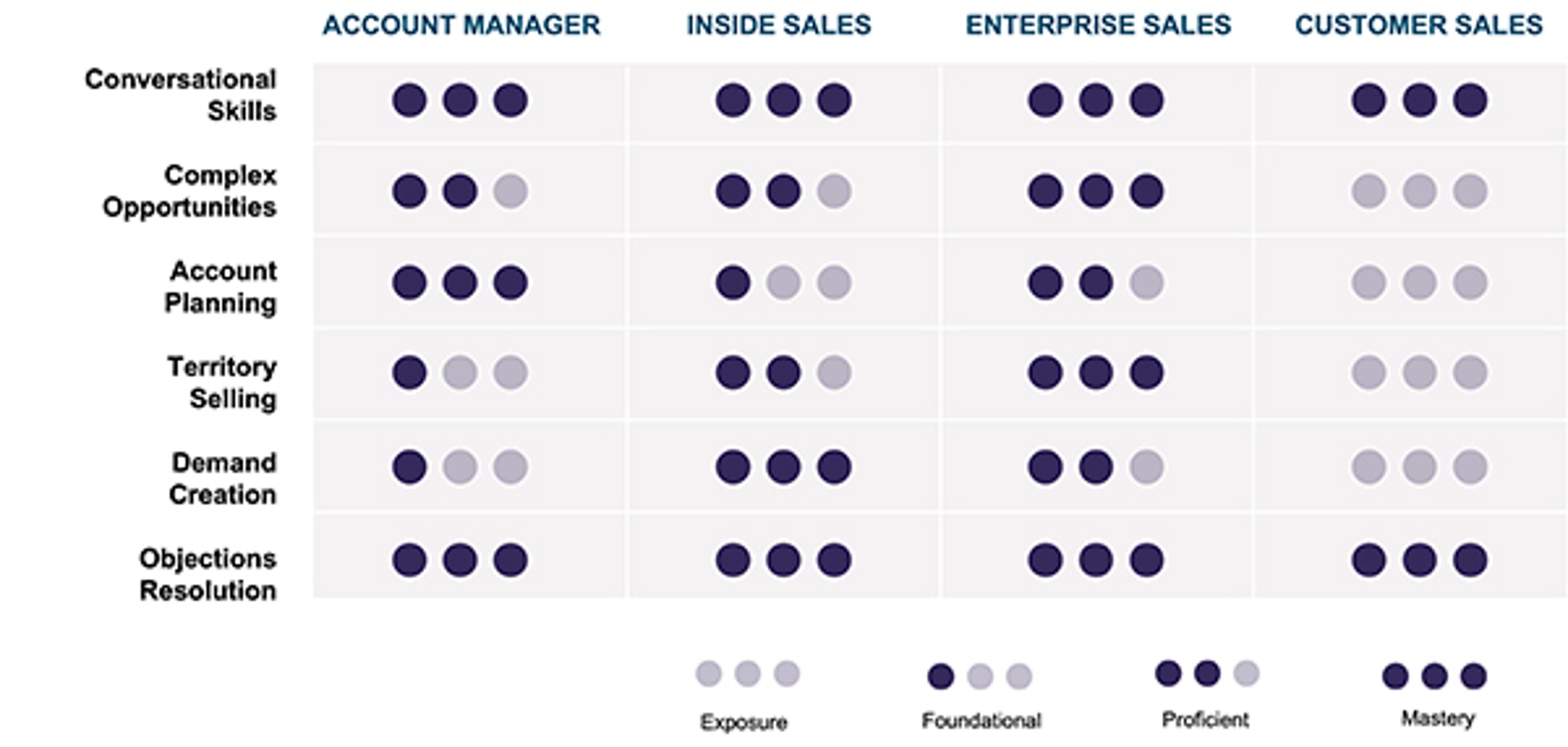 Connected Selling Curriculum
A deep & modern sales curriculum enables you to develop your individual sellers against role-based competencies aligned to needs while achieving consistency across teams.
Learn More
Examples of Role-based Sales Training
Let's explore each of these example roles in a little more detail.
Account Manager Training

In most organizations, the Account Manager's role is to act as a liaison between your company and your customers. Account Managers tackle the day-to-day needs and concerns of their clients and have a strong focus on account growth and development, by way of account planning.
Looking at our chart, above, note that account managers require mastery in concepts such as:
Conversational skills
Objection resolution
These areas of focus will serve your account managers well as they tackle the day-to-day needs of customers, but also have a strong focus on protecting and growing accounts.
Learn how building account management skills helps to identify opportunities for growth in existing accounts by downloading the white paper, Growing into the White Space with Strategic Account Planning
Brief: Multi-Role Sales Training Curriculum
Learn how to build the right selling skills for every role in your sales organization.
Download
Get industry insights and stay up to date, subscribe to our newsletter.
Joining our community gives you access to weekly thought leadership to help guide your planning for a training initiative, inform your sales strategy, and most importantly, improve your team's performance.