Strategic Account Planning Training
Drive more revenue from existing accounts with strategic account planning training
Lower the cost of selling and improve margins with an agile account management strategy
Richardson's Strategic Account Planning training program teaches a customer-centric approach to identifying priority accounts, capturing and analyzing critical information, and developing a strategy to expand existing customer relationships. Participants learn to create value and find the white space in their accounts so that both the sales professional and the customer prosper.
For Who
Sales Professionals
Account Managers
Format
Instructor-led
Virtual instructor-led
Digital Learning
Blended Learning
Duration
2-Day ILT Workshop; Four 4-hour VILT Workshops; Pre and Post Digital Learning
Strategic Account Planning Training Program Overview
This program trains sellers to view account planning as a continuous process. Account managers learn to approach account growth using "sprints" that begin with strategizing based on known factors, then preparing to engage with the customer to validate their thinking and learn more, engaging the customer then reflecting on the conversation to consider how to advance the relationship in the next "sprint."
This strategy ensures the plan becomes a living document. And your team remains agile and customer-focused in their thinking and approach to growing the relationship.
Organize and Execute with the Strategic Account Planning Tool
The Strategic Account Planner tool consists of several elements designed to guide your team through the Assess and Strategize stages of the methodology.
The account planning tool helps your team analyze information, think critically about customer relationships, and develop plans to improve their probability of achieving organizational objectives.
Combining account management training with a structured approach and set of supporting tools helps to ensure your sales professionals don't miss important details.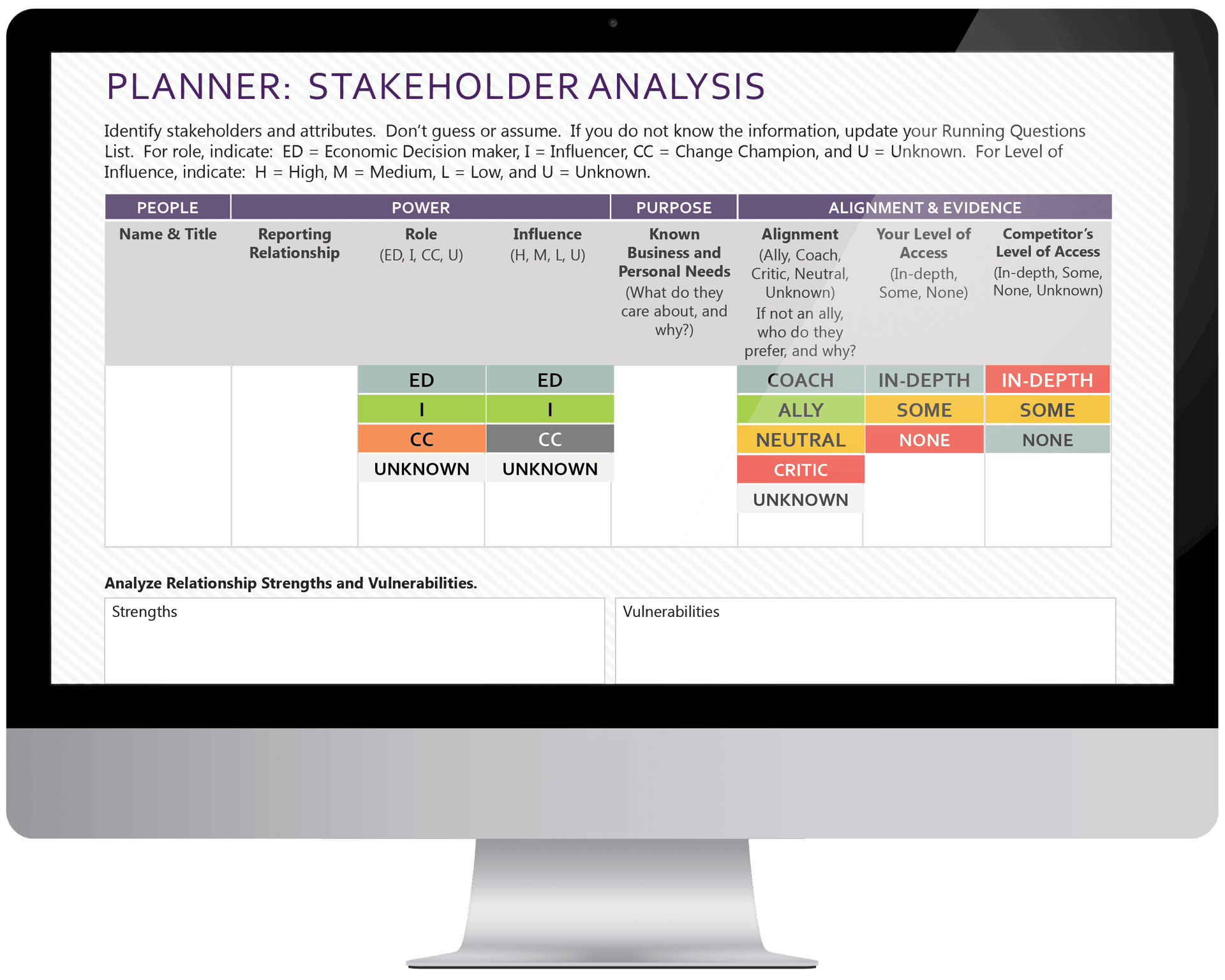 Click here to learn more about Richardson's CRM-enabled workflow tools that embed best practices into your team's flow of work.
Strategic Account Planning Training Program Business Benefits
Upon completing the Strategic Account Planning training program, your sales team will experience the following business benefits:
Close opportunities with existing customers faster, generating revenue quicker than developing a new customer opportunity
Reduce acquisition costs by expanding existing relationships
Retain priority relationships by learning how to protect against competitive threats
Focus on the best accounts by assessing relationships against clear criteria
Strategic Account Planning Program Brochure
Explore a program that builds the skills your sales team needs to deepen client relationships and generate high-value sales.
Download
Key Areas of Content
Accelerate Relationship Growth

Account managers learn a customer-centric approach that improves their ability to expand relationships by analyzing key information to identify opportunities & align with customer goals to create a strong, executable plan.

Build Team Consistency

Account Managers learn a common methodology, process, and language to ensure consistent utilization of tools and adherence to best practices and get access to tools that embed learned behaviors into their daily flow of work.

Identify New Business Opportunities

Account managers learn a model for white space analysis that shows which capabilities create the most value in accounts. By learning how to help clients fulfill strategic initiatives, account managers become indispensable.

Use Tools to Build Account Plans

Account managers learn to use planning tools to evaluate a current account with an instructor to gain insight into individual strengths and opportunities, and get feedback, insight, and ideas to strengthen action plans.