How Sales Teams are Managing Strategic Accounts During the Pandemic
Recently, at Richardson Sales Performance, we asked more than 200 sales professionals and sales leaders how they are handling their strategic accounts during the pandemic. Their responses provided a dimensional picture of current challenges and those expected in the coming months.
To start, we asked participants about their expectations regarding the economic recovery. We wanted to understand the trajectory they anticipate as more businesses resume normal operations and begin to embrace the changed market.
Responders were divided on their answers, but very few anticipate a "V-shaped" recovery, with just 7.8% citing a rapid rebound with a high growth rate as a likely outcome. Instead, 51.5% of the respondents believe a moderate "U-shaped" recovery is the most likely path, and 40.7% believe that a slow "L-shaped" recovery characterized by a long, lowa growth rate is probable.
This consensus among sales professionals largely matches that of economists at Harvard, MIT, Johns Hopkins University, and other institutions, as seen in research conducted by the Initiative on Global Markets at the University of Chicago Booth School of Business. Moreover, in recent weeks, experts reissued the survey, and the latest results showed a broad consensus that we will see "a steep drop followed by a quick partial recovery and a longer period of slower, mixed growth."
Given expectations of a protracted recovery, we asked participants exactly how long they expected the current downturn to last. At 46.7%, the majority believe the downturn will persist for 7-12 months, and 28.0% believe it will last 4-6 months. Nearly one-quarter of our respondents believe the downturn will last more than one year, and fewer than 5% believe it will end within 1-3 months.
These findings, paired with those of economists, present a challenging picture for sales professionals. It is likely that the remainder of 2020 will demand renewed focus on the part of sales professionals as customers wait for the clouds to part.
However, at Richardson Sales Performance, we believe that selling organizations should not resign themselves to the whims of an unpredictable environment. Instead, we believe that these findings serve as a critical and timely forecast, and those who respond with a thoughtful approach to strategic accounts will prevail.
To understand how sales professionals are responding, we asked these three additional questions regarding strategic account planning:
How many strategic accounts have reduced or frozen spending in the last 3 months?
What percentage of your account plans have been updated by your sales team in the last 3 months?
Has your organization established a pandemic response team for managing your strategic accounts?
Here we examine these topics and insights gleaned from participants responses, and the steps that selling organizations can take now to position themselves for the future.
Trends in Spending within Strategic Accounts
When we asked the question, "How many strategic accounts have reduced or frozen spending in the last three months?" Responses landed in one of three areas:
11.9% of respondents said a small number of strategic accounts were reducing or freezing spend.
26% said "some"
28.8% said "many"
28.8% said "most"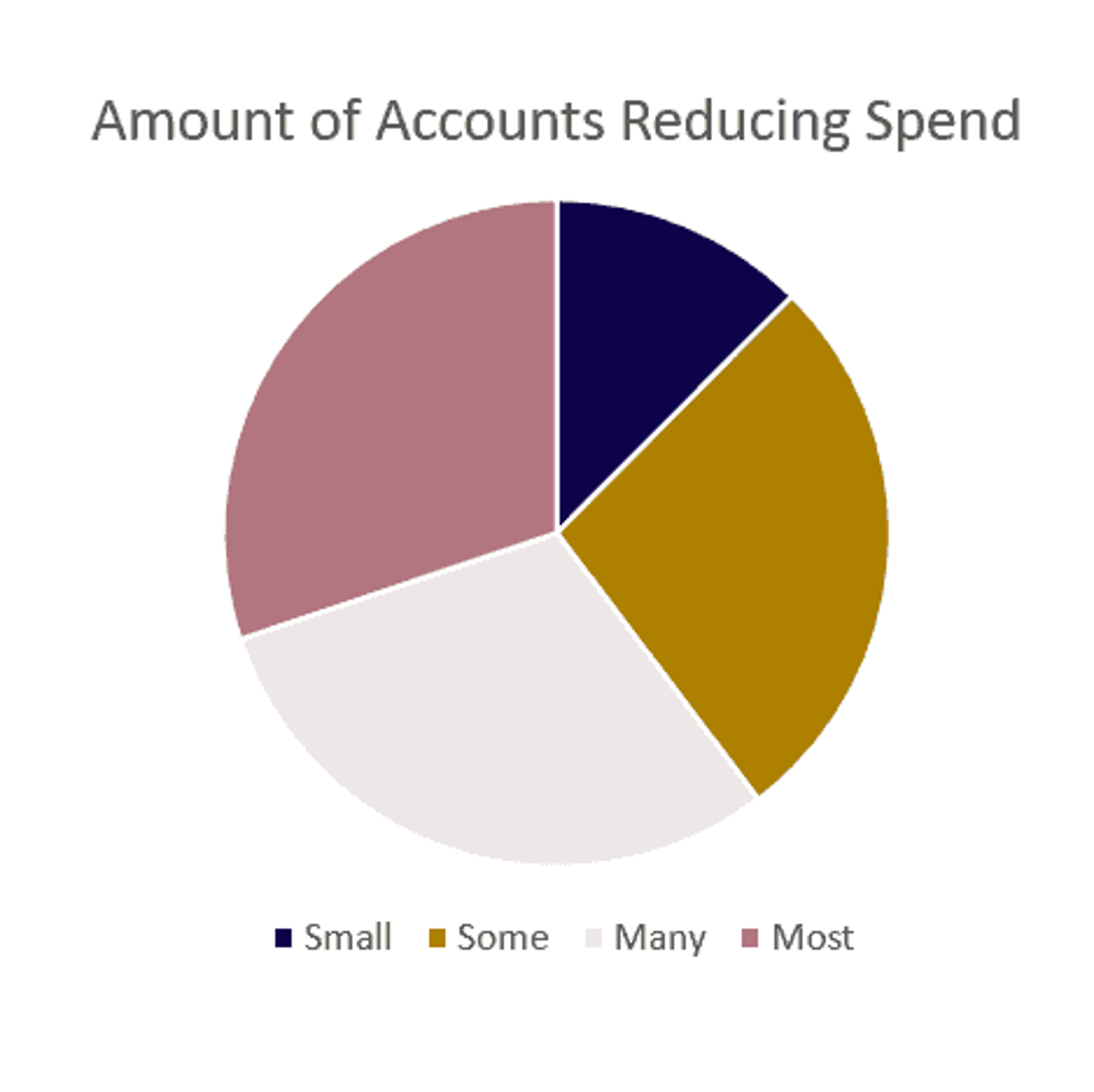 These responses are not surprising as buyers face uncertainty as a result of the global pandemic.
How to Respond
Fear creates inertia. Therefore, the most effective sales professionals get the sales process back in motion by reinforcing the value proposition because it cannot be assumed that the customer is aware of the full value the solution offers. Therefore, many sales professionals find it necessary to initiate a refined value justification analysis for key accounts.
Here, it can be helpful to share financial projections with customers that clearly define expected outcomes. This same data can be used to articulate the opportunity cost associated with inaction, a cost that only compounds over the long term.
However, a strong value proposition and the cost of inaction are still not enough to incite action in today's economy. Sales professionals also need to mitigate perceptions of risk across three areas:
Operational risk
Transitional risk
Financial risk
Solution capabilities must be tied to each of these three, and sales teams need to get strategic when doing so. It is helpful to draft a list of scheduled activities, which, in aggregate, accomplish the ultimate goal of mitigating each dimension of risk.
Activities on such a list should include events like speaking with the procurement professional, conducting an implementation review, and discussing how the success of the solution will be measured. Each of these scheduled items, like so many stepping stones across a river, are a way to preserve the opportunity over the long term.
Account Update Trends
We asked the question, "What percentage of your account plans have been updated by your sales team in the last 3 months?" Based on the responses, we learned that more than half of our respondents have taken significant steps to update account plans to reflect the current environment.
The responses revealed:
30.7% of participants reported they have updated "most" of their accounts
29.8% updated "many" accounts
11.7% updated "all" of their account plans
10.2% updated a "low" amount of their accounts
13.7% said they updated "some"
3.9% updated "none" of their accounts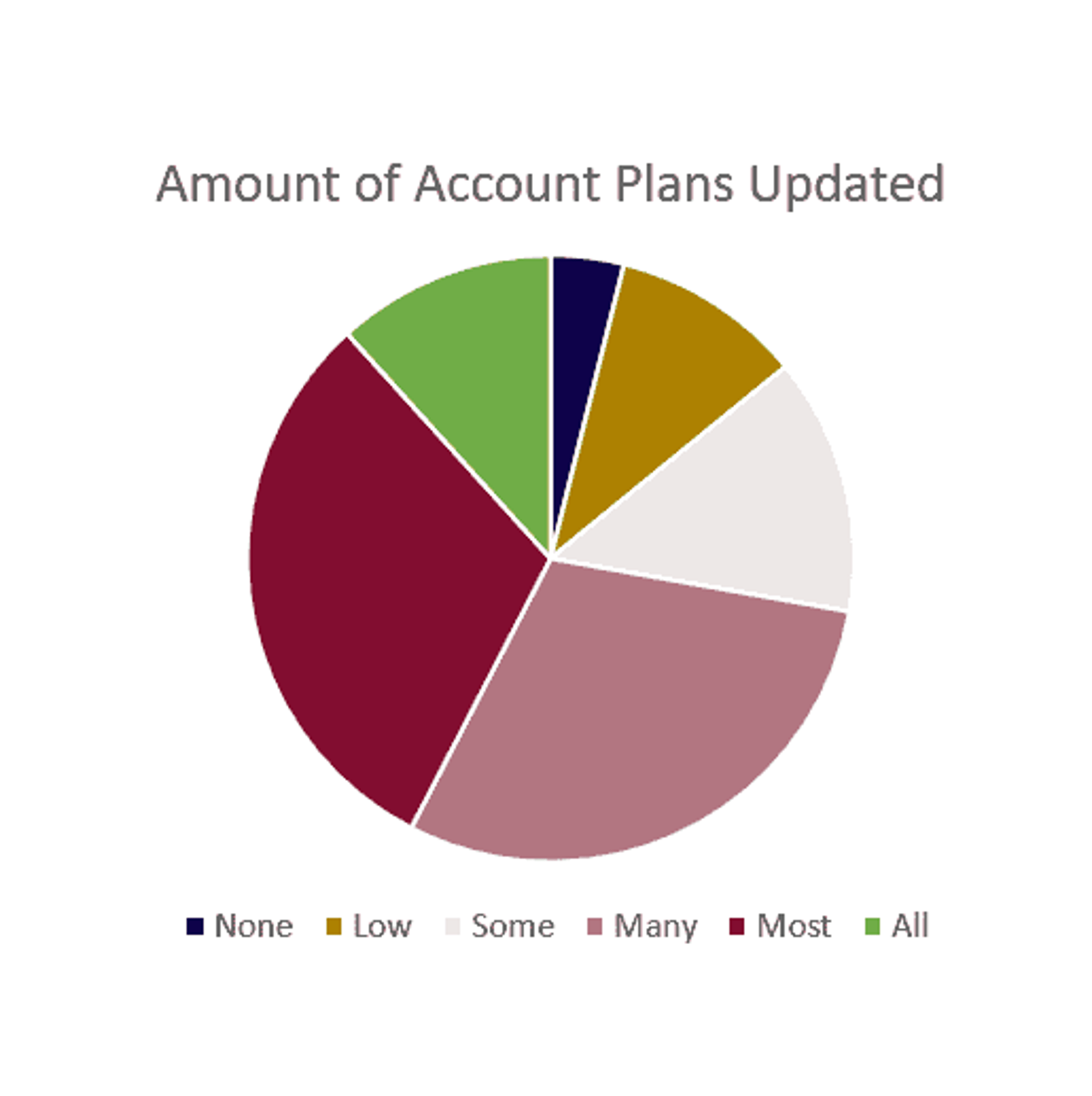 The decision to update most, or at least many account plans, is wise because customers are reconsidering not only what they will purchase, but also how they will purchase. Given that the majority of our responders have opted to update anywhere from 76-99% of their account plans, it is clear that nearly all customers are experiencing at least some degree of fallout from the pandemic and are in need of a revised solution.
How to Respond
Sales teams need to consistently work from a clearly defined account plan methodology. This process means analyzing each strategic account and restarting the process of identifying and ranking each account's greatest pains. This approach is critical because the major pain points have changed for nearly all customers. Discovering the customer's new challenges will not only clarify the most pressing concerns, it will also reveal new white space opportunities, as previously non-urgent issues rise to the top of the list. As a result, opportunities will need to be reprioritized.
Updating strategic account plans, however, is about more than an internal review of customers. Sales teams must also consider how their outward communication will change. This process is also an opportunity to express to customers that their concerns have been heard and that their new challenges have been recognized. Empathy has always been an important part of selling and is even more important during periods of uncertainty and escalating anxiety.
Sales professionals who take a proactive approach to relearning customer needs and expressing empathy while positioning clear solutions will not only strengthen the value proposition of the solution, they will strengthen their standing as a trusted advisor during a confusing time. A fully formed account planning methodology consists of the following eight parts:
Analyze the Account
Identify Business Initiatives and Pain
Assess the Relationship
Assess the Competition
Identify New Business
Prioritize Opportunities
Determine Strategy and Coverage
Manage the Account
Pandemic Response Trends
When we asked the question, "Has your organization established a pandemic response team for managing your strategic accounts?" We learned that slightly more than half of our participants (52.7%) have established a pandemic response team for managing strategic accounts. Somewhat surprisingly, more than one-third (38.2%) indicated that they have not taken such measures. The remaining 9.1% are still in the process of assembling a response team.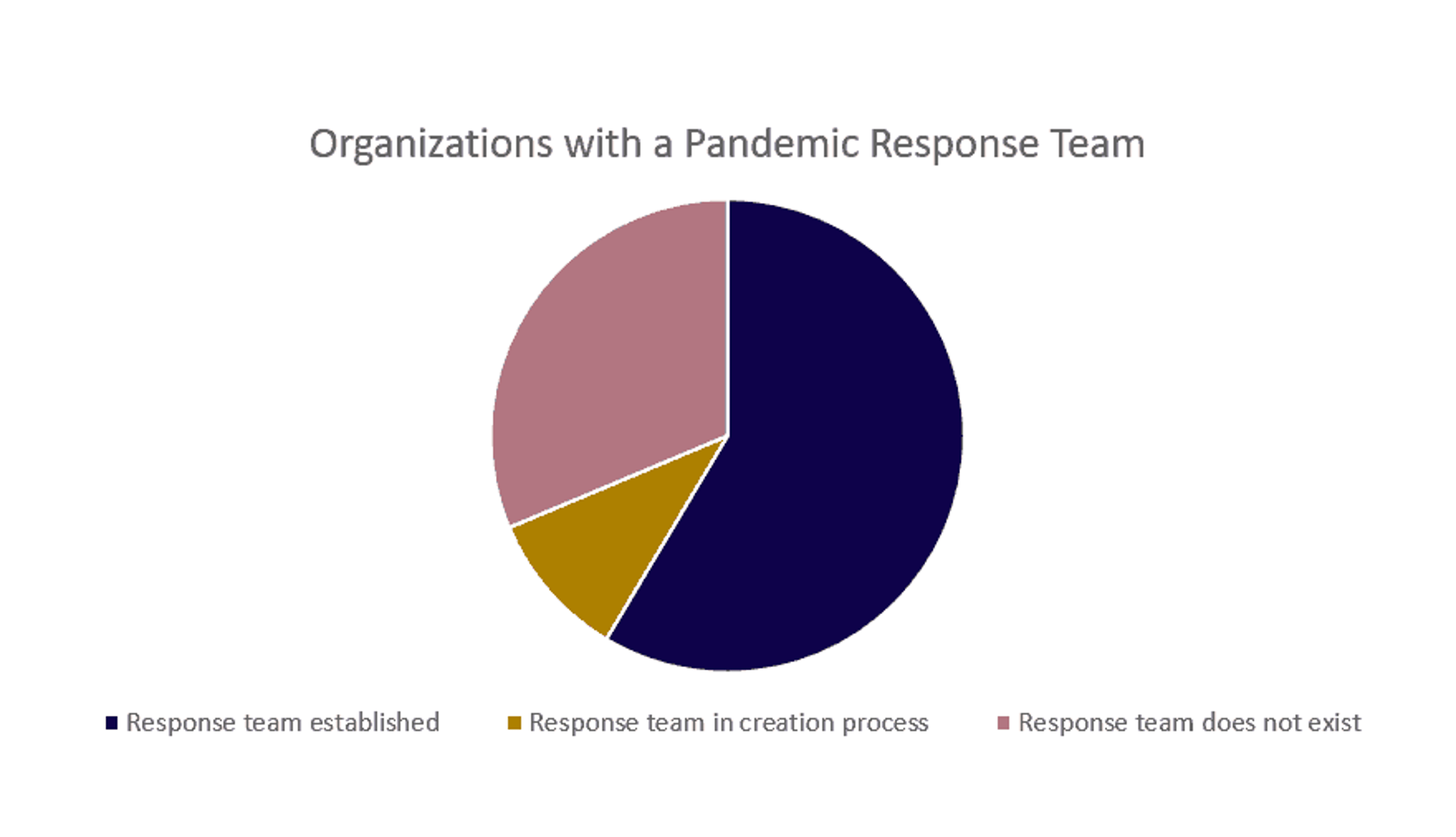 At Richardson Sales Performance, we have learned that those who develop a response team early are among the most successful in facing new challenges and prevailing over the long term. Research shows that too often, companies wait too long to form an adequate response to a downturn.
A study from BCG found that the majority of 439 global participants surveyed "tended to act reactively rather than proactively — waiting until their business was directly affected by the downturn before taking mitigating actions — and were reluctant to take bold steps to protect against the downsides or take advantage of the eventual recovery."
Major Account Planning Tool
The Major Account Planning (MAP) Tool is a Salesforce native, collaborative application designed to support all phases of the account planning process for ongoing effective execution of current and future account plans.
Learn More
How to Respond
Some of the most effective sales teams are preserving revenue by creating a response team. These teams define policies and guidelines for flexibility with strategic accounts. They anticipate accounts' requests and standardize the response to requests for new payment terms and other concessions. While this plan carries the word "response," the ultimate goal is to be proactive. In other words, the response team is not simply there to respond — their purpose is to be proactive by formulating responses in advance of inevitable calls to narrow the scope of the sale, provide additional discounts, or even end the business relationship.
By becoming proactive, the response team is positioned to identify accounts with a high risk of churn, or business renewal reduction. Additionally, the team can review possible supply chain interruptions and resulting impacts on pricing, availability, and delivery. The response team can also be effective in adjusting metrics, goals, and targets. It is important to remember that the response team is not merely a group intended to mitigate losses. Even in a sharp economic downturn, there are opportunities to upsell and expand the scope of business with strategic accounts. For example, some selling organizations might have success in getting customers to commit to long-term contracts in exchange for new payment terms.
The road ahead is unclear. However, effective selling organizations are beginning to regain clarity by developing a standardized, thoughtful, and proactive approach to strategic account planning. Doing so means relearning the customer's new pain points, reasserting the value proposition, and building a response team.
Get industry insights and stay up to date, subscribe to our newsletter.
Joining our community gives you access to weekly thought leadership to help guide your planning for a training initiative, inform your sales strategy, and most importantly, improve your team's performance.