Top Selling Challenges of 2020
Exploring Today's Top Sales Challenges
Richardson Sales Performance and Sales Performance International's 2020 Selling Challenges Study offers a panoramic view of the issues sales professionals face today. The goal of this research is to understand what sales strategies and skills are most relevant in today's market and how to apply them.
The survey respondents represent a diverse group of industries. As a result, their answers reflect the shared concerns of those facing a challenging sales environment.
We asked each participant to rate the intensity of eight different selling challenges. This scale ranged from 1 to 10, with the higher numbers representing the more severe challenges, and the lower numbers representing lesser challenges. This approach allowed individuals to present a more dimensional image of the factors standing between the sales professional and the sale.
Executive Overview
Overwhelmingly, our survey respondents signaled that their most intense challenges bookend the selling process. That is, the greatest difficulties are seen early (e.g., "gaining appointments and filling my pipeline") and in the late stages (e.g., "combating the status quo when trying to close a deal"). These two challenges were significant impediments for sales professionals across industries and levels of experience. Moreover, these two factors are key concerns for those who achieved their sales quota and those who did not.
These problems might be the natural result of the most pressing challenges cited in our 2019 study, namely, navigating the increased complexity of selling today and finding ways to create competitive differentiation. The data also showed that there is a consensus that "managing and expanding relationships within customer accounts" is a major challenge today. This makes intuitive sense as buying decision power is increasingly diffused across organizations.
There is, however, another development underpinning this issue; the buyer's needs are changing faster than they have in the past. This accelerated rate of change is a characteristic of the digital transformation that has become the mission of so many businesses. In this environment, even the customer struggles to seek clarity on what defines success.
Here we look closer at these and other challenges revealed in our 2020 Selling Challenges Study, seek to understand the "why" behind the challenges, and we offer insights sales professionals need to overcome each one.
Challenge 1: The Disconnect between Sales Managers and Sales Professionals
Our data shows a misalignment between sales professionals and managers. This divide can be seen when examining what the two groups cite as the most pressing challenges.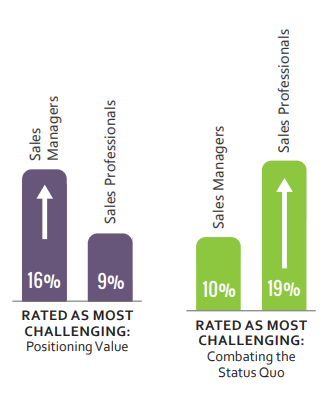 One of the top challenges for managers is "positioning value to customers in a persuasive manner." In contrast, sales professionals indicate that "combating the status quo when trying to close a deal" is one of their most intense challenges.
This finding suggests that the two groups perceive the same problem differently. They both see that customers are reluctant to buy. Sales professionals believe that the cause is inertia. They believe that customers are firmly anchored to existing solutions. Managers, on the other hand, see the problem as one of ineffective communication of value by the sales professional.
Despite these different perceptions, the central challenge is clear: customers are not persuasively compelled to upend what is "normal." Both causes — inertia and communication — are correct. They can both be correct because they occur throughout the sales process. The challenge of positioning value is ever-present because the customer's definition of value changes throughout the sales process. Similarly, combating the status quo is an ongoing challenge because various stakeholders with differing levels of dedication to the status quo enter and exit the picture throughout the process.
Helping customers advance through the early stages means developing a compelling and customized value message. Yet, this alone is not enough. Sales professionals and managers must also articulate why this value is strong enough to warrant the cost and time that comes from implementation. Positioning value in a persuasive manner and combating the status quo means developing three capabilities:
Sell to Logic and Emotion
Coach to Ensure Value is Articulated Clearly
Gain Direct Access to Decision Makers
For more insights into how to execute these three skills download the complete 2020 Selling Challenges Research Study.
Challenge 2: Relationship Management Skills Drive Quota Attainment
The data shows that managing and expanding relationships is less of a challenge for those who achieved quota compared to those who did not. This finding underscores the importance of strategically growing existing accounts in the drive to hit quota targets.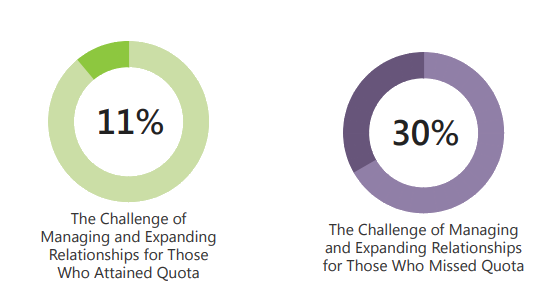 Often, trust-building demands an enormous amount of time in the early parts of the selling process. However, much of this trust is built in when selling to existing customers. As a result, sales professionals are better suited to inhabit the role of a trusted adviser and position solutions that offer meaningful change. Additionally, sales professionals in this scenario can devote more time to customizing the solution to the buyer's individual needs. Therefore, sales professionals need to develop an approach to identifying priority accounts.
The result is more than increased win rates and quota attainment. Finding and developing priority accounts also drives down acquisition costs, accelerates the sales cycle, and improves the pipeline-to-quota ratio. By assessing relationships against explicit criteria, sales professionals can spend their time and efforts on accounts that are most likely to generate results.
Making this happen requires a repeatable framework. For most, the following three-part structure works.
Develop a Profile of  "Hard" and "Soft" Factors Affecting Current Accounts
Focus Sales Conversations on Customer Outcomes
Constantly Collaborate With and Update Internal and External Stakeholders
Challenge 3: Outperformance Requires Superior Negotiation Skills
Survey respondents illustrate that it is not enough to win the sale. Professionals must also be able to protect the sale. That is, they must be able to preserve the complete financial value of the sale through the selling process. Even those who attained quota cited negotiating as a top challenge. This data suggests that becoming a more effective negotiator will help sales professionals exceed quota goals.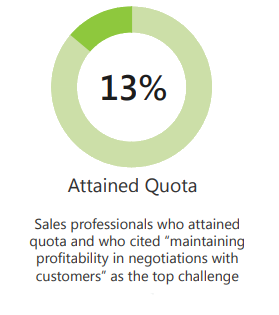 This finding is a reminder that quota attainment is often a function of the value of the deals rather than simply the number of deals. This fact is increasingly evident in selling today as more businesses engage in merger and acquisition activity. In fact, research from Cornell University, among others, shows that "more than 75% of US industries have experienced an increase in concentration levels over the last two decades." Negotiation skills are critical in this environment because more of the sales professional's quota is concentrated within a smaller number of deals.
While many acknowledge the importance of effective negotiation skills, they are without an understanding of what those skills entail. As a result, many risk defaulting to the outdated idea that a negotiation is an adversarial battle of wills.
In truth, effective negotiations emerge when the sales professional adopts the role of a problem solver and strives to reach a mutually beneficial outcome without relinquishing valuable terms. Doing so happens with three skills:
Set a Tone of Cooperation
Control the Customer's Demands
Engage a Trading Strategy
Challenge 4: Despite Perceived Value in CRM Systems, Additional Tools are Needed to Bracket the Sales Process
Those sales professionals who believe that their CRM system is a valuable tool still struggle with responsibilities that reside on either end of the sales process: gaining appointments and expanding relationships. This finding indicates that CRM systems offer value to sales professionals who are already engaged with customers. However, CRM systems appear to have less value for sales professionals who are attempting to start the engagement or take an existing account and expand it.
Top Challenges for Sales Professionals who Believe their CRM System is a Useful Tool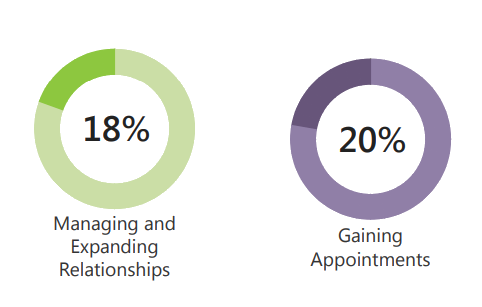 This outcome from the survey underscores the importance of adopting an approach that accounts for the entire buyer's journey. CRM systems can help along the way, but delivering value across the lifecycle of the sale means creating a sales process that relies on CRM as a component of the approach and not the approach itself. Therefore, the challenge becomes one of uniting CRM capabilities with a behavioral framework that earns the customer's attention.
As CRM systems become more sophisticated, it is easier to view them as a singular tool for selling. However, to fully access these considerable capabilities, sales managers need ways to help sales professionals yield better and more actionable insights from the tools they use. Moreover, other critical aspects of selling require skills that work in conjunction with CRM tools. Onboarding methodology, coaching, and account planning are a few examples.
Sales professionals and sales managers can become proactive in fulfilling these responsibilities in several ways:
Build a Structured, Repeatable Account Planning Process into the CRM
Drive Lead Generation through Superior Sales Enablement
Us AI to Expand the Effectiveness of CRM Systems
Challenge 5: Combatting the Status Quo Demands Adherence to a Sales Process
Eighty-six percent of our respondents have a formal sales process. A closer look at the data reveals the importance of not only having a formalized process, but also following it. Consider that 38% of those who attained their 2019 quota "always" follow their organization's process. However, of those who missed their quota, only 16% "always" follow their sales process. The takeaway: it is important to have and to follow a sales process.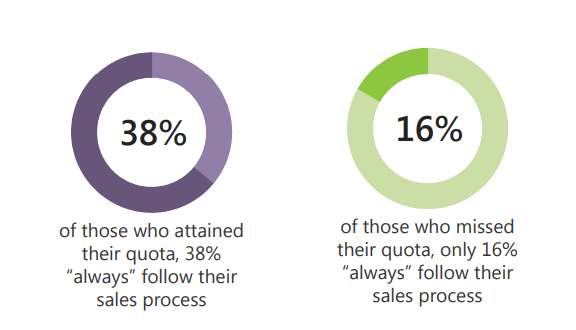 This outcome of the survey suggests that a significant number of sales professionals could rapidly improve their sales performance by committing to the sales process in place. It is not immediately clear why so few respondents follow their process all the time. However, one possible answer stands out: sales professionals and even leaders struggle to translate strategy into executable processes. The link between these two elements has been visibly absent as selling organizations struggle to move from theory to practical application.
Put simply: implementation is the central challenge.
Implementing and sustaining a sales methodology is a daunting task. Many see this challenge as monolithic because they believe it demands constructing an entirely new process from the ground up. In truth, many can find success by using existing resources in a different way. They can apply new measurement routines to existing data sets. They can tap into the manager's professional experience by initiating a practice of coaching. Finally, they can shape the entire culture around sustainment by aligning skills to intended outcomes.
Executing these ideas means committing to the following three practices:
Coach to the Process
Embed Desired Behaviors into the Workflow
Integrate the Sales Process into the CRM
Access a more detailed exploration of our tips for combatting the status quo by downloading the complete research study.
Virtual Instructor Led Workshops (VILT)
Discover the ways VILT - virtual instructor-led training sales training delivery replicates the experience & impact of live training.
Learn More
Challenge 6: Sales Professionals Have Differing Opinions on Asserting Perspective
As customers become increasingly distracted by competing priorities and escalating business goals, sales professionals are learning that they need to assert their perspective to stand out.
This skill requires nuance. The goal is to be assertive without being aggressive. This nuance might explain why so many respondents have such disparate perceptions surrounding the intensity of this challenge. The data shows that a significant number of sales professionals rate this issue anywhere from low to high. This division within the data may indicate that this skill is more important in some industries than others.
Self-Rated Intensity of Challenge for Asserting a Perspective in Sales Conversations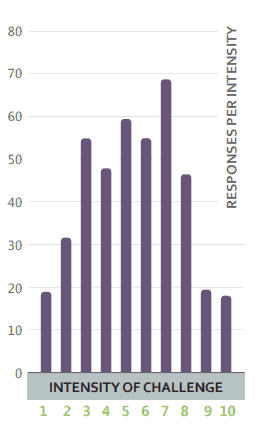 Consider that "asserting my perspective to guide or reframe customer thinking" was cited as a more pressing challenge among those selling financial products and services. This finding tracks with the idea that complex solutions in a highly competitive industry require more assertive selling practices. In contrast, industries like retail require this skill less frequently.
The challenge is that solutions across industries are becoming more complex. As a result, it is only a matter of time before all sales professionals will need to develop this skill. Given this emerging characteristic of selling, it is not surprising that some sales professionals resort to aggressive tactics to earn the customer's attention. This approach is characterized by leading the sales conversation with ready-made assertions designed to push the customer into agreement.
While such an approach may grab the customer's attention early, it lacks the sustainability of reframing the customer's perspective. This method requires three capabilities:
Build Trust through Transparency
Speak using Clear and Specific Language
Track and Respond to Changes in the Buyer's Journey
Our 2020 Selling Challenges Study shows that some of the most intense challenges reside at the outer edges of the sale. Professionals face difficulties early in the process when attempting to fill their pipeline and at the end when seeking to expand existing business with a customer.   Click here to
contact us
and learn how Richardson Sales Performance and SPI can help your sales organization with their current challenges.
Get industry insights and stay up to date, subscribe to our newsletter.
Joining our community gives you access to weekly thought leadership to help guide your planning for a training initiative, inform your sales strategy, and most importantly, improve your team's performance.