Optimising Sales Performance with Competencies
Today's sales enablement leaders are expected to be more strategic than ever before. The focus is no longer just about how often content is used, how many people were trained, how happy sellers were with the content or training, or even how much knowledge was attained. It is imperative that all the efforts by sales enablement now lead to actual business results. 
With the ever-growing tech stack and sources of content, ensuring that sellers are focusing on the things that will drive outcomes aligned to the strategy of your business, should be a priority. As stated by Andy Grove, Former CEO Intel – "It almost doesn't matter what you know. It is execution that's everything."
So how do you execute your sales enablement efforts to drive the greatest results?
Step 1: Identify competencies per sales role to uncover what good looks like
Step 2: Focus on the competencies that are best aligned to driving the key results you want to achieve
Step 3: Reinforce through application in real selling opportunities
Step 1: Identifying competencies per sales role to uncover what good looks like
Over the last 40+ years we have worked with customers of all shapes and sizes. The ones that have seen the greatest success in working with us, are those that understand they cannot take a one size fits all approach to performance development. 
The importance of understanding what good looks like per role is the first place to start and using a sales-specific competency model will provide you with a systematic approach to do this. 
For the sake of this article, we will define sales competency as:
A combination of knowledge and skills which are reflected in job behaviours that can be observed, measured, and evaluated.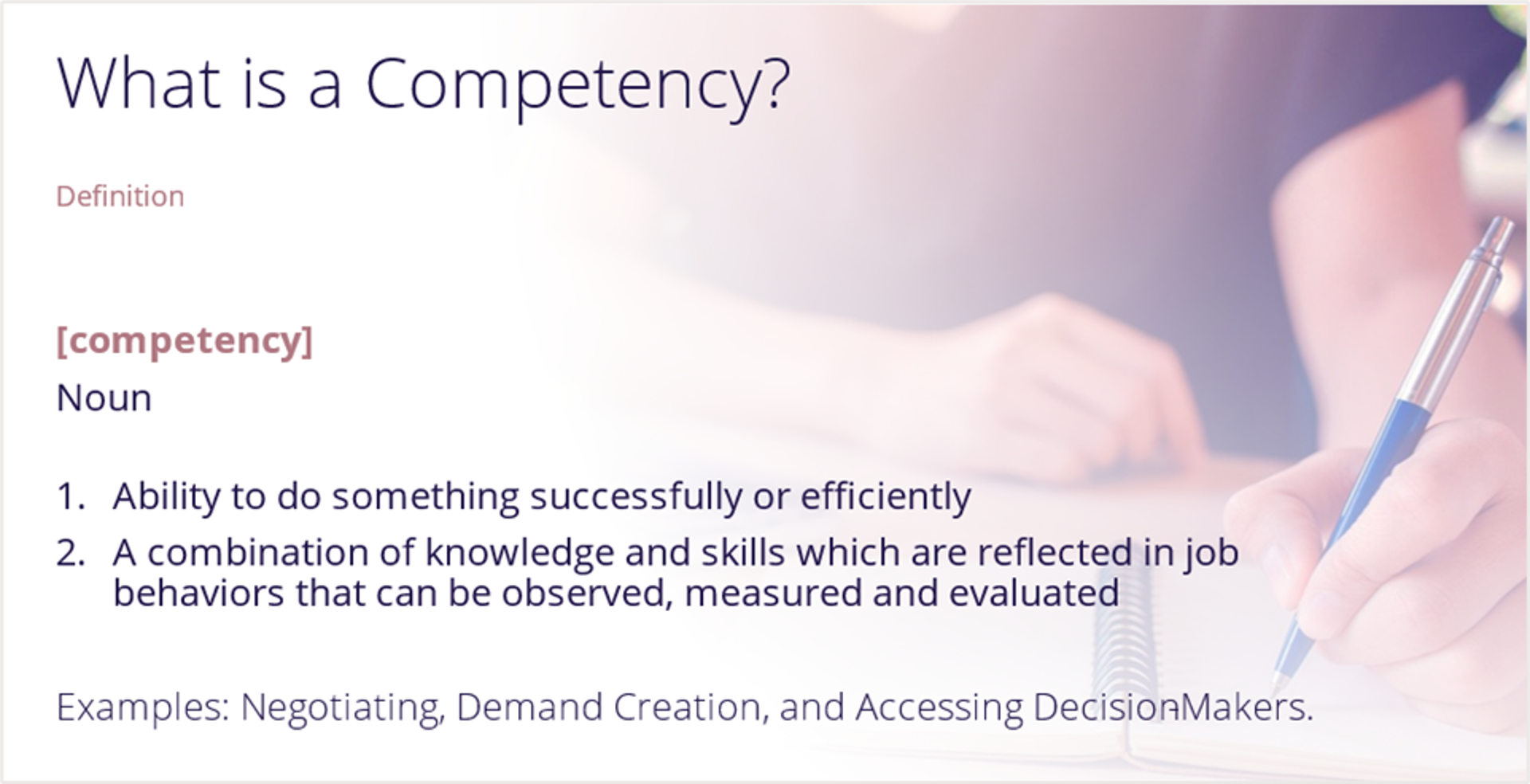 You must identify the set of competencies required and the level of proficiency needed for each sales role. While the competency of Diagnosing Needs is important for both an Inbound Contact Center Rep and an Enterprise Strategic Account Manager, the required proficiency level varies. 
As an Inbound Contact Center Rep, it will be very important that they are able to diagnose the needs of the customer to resolve a potential issue or create an up/cross-sell opportunity. However, for an Enterprise Strategic Account Manager, the ability to diagnose needs must expand to not only understanding the needs of one person but also the interdependency of needs across stakeholders in a customer's business. In addition, they must be able to help coach others on the account team to support them in this effort to help grow the account. 
While some organisations have competency models in place, few intentionally prioritise the development of specific competencies within these models.
Find out how to build a sales training plan that is customised to build the specific competencies different sales roles need to achieve by downloading the eBook: How to Build a Sales Academy
Step 2: Focus on the competencies that are best aligned to driving the key results you want to achieve
Focusing your efforts on the competencies that are best aligned with the strategic goals of your business will produce the greatest results. As said by Larry Page, Co-Founder of Google, "Put more wood behind fewer arrows."
Start by understanding what your overall business objective is and then you can determine how each role will help support that effort. For example, if the company's key objective is to increase revenue by 12% the Territory Sales and Business Development Reps will need to be focused on increasing revenue in new accounts while the Enterprise Account Managers focus on increasing revenue in existing accounts. Looking at trends in KPIs as leading indicators will help you to narrow your focus further.

So, while in step one we may have identified 15-20 competencies needed per role, we must narrow the focus of our efforts based on the business results we are trying to achieve and the specific needs of each role.
CRM Enabled Workflow Tools
We support our partners with a full suite of CRM tools that align with different phases of the sales cycle – from call planning and account growth to ongoing sales enablement and marketing. Each tool complements skills developed in our sales training programs.
Learn More
Step 3: Reinforce learning through application in the real-world
Every competency should have inspectable behaviours that allow you to monitor how well sellers are able to apply what they have learned. However, only 15% of behaviour change is yielded by training alone, so it is vital that your strategy includes reinforcement and application in the real world. 
With new technology and content constantly emerging it is easy for already strapped for time sellers to be overwhelmed. Several studies show that one of the biggest inhibitors to successful training is that people don't have time to dedicate to it. In the words of Josh Bersin, "in learning, the problem is different. We don't want people to be 'addicted' to the learning platform, we want them to learn something, apply it, and then go back to work."
By using technology, you can serve up content, tips, and tools to the seller in their flow of work to ensure they are receiving the right information, at the right time, for the right need. For every competency, there should be observable behaviours that allow you to correlate changes in behaviors to business impact metrics. Focusing on prioritised competencies also allows sales managers to save time and gain results through targeted inspection and coaching.
Discover our suite of tools that embed desired behaviours into your team's flow of work by clicking here.
If you are looking to optimise your sales performance, apply competencies to identify what good looks like per sales role, prioritise learning by focusing on key business results you want to achieve, and reinforce through application in the real world.

Get industry insights and stay up to date, subscribe to our newsletter.
Joining our community gives you access to weekly thought leadership to help guide your planning for a training initiative, inform your sales strategy, and most importantly, improve your team's performance.