5 Reasons Why Strategic Account Planning Matters
Strategic account planning is a customer-centric approach to identifying priority accounts, capturing and analyzing critical information, and developing a strategy to expand and grow existing customer relationships. This approach is crucial, given that it is six to seven times more expensive to acquire a new customer than it is to retain an existing one. In fact, increasing customer retention by just five percent increases profits by 25 to 95 percent.
This strategy seeks to improve business results by analyzing key information about the customer, industry, stakeholders, and competitive landscape. Sales professionals find the "white space" in the customer's account. That is, they identify and create opportunities by positioning solutions that align with the customer's goals, challenges, and initiatives.
Strategic account planning works because it addresses the level of complexity and competition that's increasingly common in sales today.
Here we examine five reasons why strategic account planning is vital to the modern sales professional.
Close Faster
Sourcing and developing new leads requires time. In contrast, finding new opportunities with existing accounts can accelerate the closing process because sales professionals overcame many of the obstacles in the purchasing process when they began the relationship. They likely know many key stakeholders and understand how the customer prefers to buy.
With a direct path, it is easier for sales professionals to gain a clear understanding of customer needs. This knowledge is critical because a survey of more than 1,200 COOs and operational executives found that 63 percent of respondents say that understanding customer needs is a significant challenge. Nearly the same amount (61 percent) "expect that changes in customer behaviors will become a disruptive factor for their industry in the next five years." The result: only one quarter believe that they are prepared to deliver value and distinct experience.
With strategic account development, sales professionals overcome this challenge with a ground-level view of needs as they unfold. This proximity is critical to success. Sales professionals not only get details early, they understand what will influence the stakeholders facing those issues.
Reduce Acquisition Costs
Attracting new customers and moving them through the pipeline is expensive. Many of these costs arise from the work necessary to investigate the details behind the customer's drivers and challenges. The problem is that this research is an attempt to look in from the outside.
Strategic sales professionals avoid this problem by targeting existing accounts, which gives them the opportunity to form insights from the inside. They use their access to the customer's leaders to develop a detailed view of needs.
Reducing acquisition costs offers the additional benefit of minimizing customer churn. Moving from one customer to the next drives costs. Consider the time that contracting requires. Legal work, pricing, procurement, and customization all take time, and these routines occur after the sales professional has reached a deal.
Sales professionals yield more revenue from these efforts when they foster a deeper relationship with one customer, rather than a series of short-lived touchpoints.
Retain Priority Relationships
Relationships are valuable. Losing one represents significant costs. Therefore, relationships cannot be taken for granted; they are always at risk from competitors. With consistent communication, sales professionals have the customer's pulse.
This connection offers real-time information on the changing direction of the customer's initiatives and goals. When sales professionals have this information as it unfolds, they are uniquely positioned to leverage the ultimate driver: the customer's time frame. Knowing the customer's internal deadline helps the sales professional maintain momentum toward closing.
By retaining priority relationships, sales professionals also understand why the customer is seeking a solution and why they need it now. This information reveals the nature of their motivation, whether it's event-driven, initiative driven, or results-driven. This information guides the selling process because it becomes clear which aspects of the solution will resonate most with the customer.
Focus On The Best Accounts
To hit a mark, you need a target. Therefore, sales professionals need to define which customers are a strategic account representing growth potential. By assessing relationships against explicit criteria, sales professionals can spend their time and efforts on accounts that are most likely to generate results.
The process of identifying which accounts are most valuable is where the win begins to take shape. It's not surprising to learn that those who use an analytic approach "achieve up to 10 percent sales growth, up to 5 percent higher return on sales, and a margin uplift of 1 to 2 percent," according to McKinsey.
By combining quantitative and qualitative factors, sales professionals determine which customers represent the highest revenue potential and white space. The value of this approach is found not only in the revenue potential but the loss avoidance.
Dead ends and false starts are costly. Efforts represent sunk costs when a sale fails to materialize. Additionally, targeting high-value accounts that represent a high probability of success boosts morale and motivates sales professionals.
Learn
Strategic account planning is an effective way for sales professionals to learn more about their customer's business. It is a process that trains the thought process.
By following the guiding principles of strategic account planning, sales professionals develop an analytical mindset. They explore the next steps thoroughly and with careful regard for outcomes. Most importantly, they learn how to position value depending on unique customer needs.
The most successful sellers are planners and strategists, as well as being skilled in execution. They are proactive. They think before they act and continually improve their areas of weakness. They balance both short-term and long-term opportunities. They use proven processes and methodologies to ensure that they maximize their time most effectively. By analyzing information and creating goals, objectives, strategies, and action plans, sales professionals gain a deeper understanding of their solutions.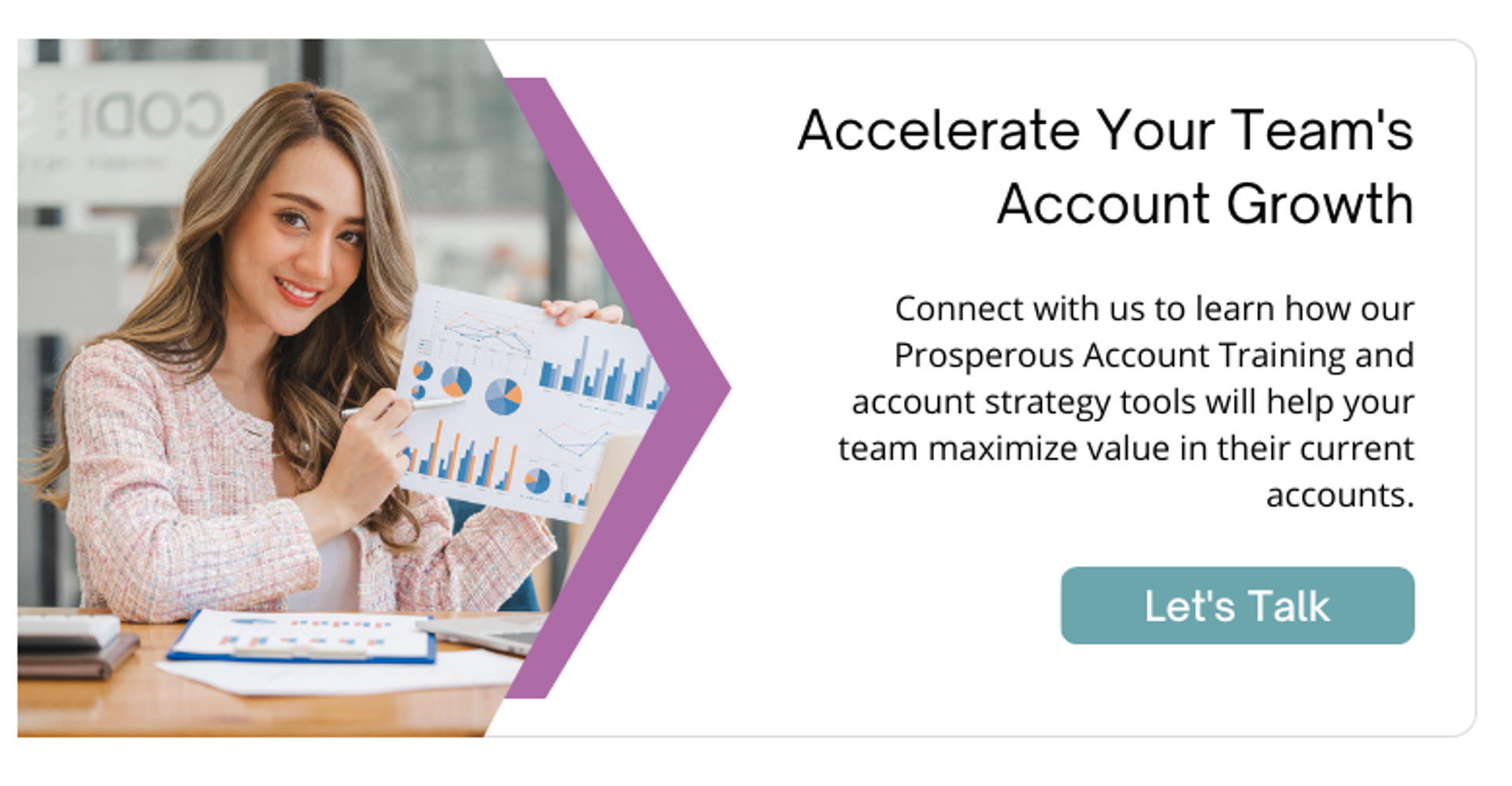 Prosperous Account Strategy Program Brochure
Explore a program that builds the skills your sales team needs to deepen client relationships and more revenue from key accounts.
Download
Get industry insights and stay up to date, subscribe to our newsletter.
Joining our community gives you access to weekly thought leadership to help guide your planning for a training initiative, inform your sales strategy, and most importantly, improve your team's performance.