Closing the Capability Gap with Sales Competency Development
Closing Sales Capability Gaps
As executives evaluate the most pressing workforce needs, addressing capability gaps is at the top of the list. In a survey from McKinsey, they state that "Of more than 400 sales leaders surveyed, 55 percent said that only about half of their sales force has the required capabilities.". However, McKinsey also found that "only one-third of leaders say their capability-building programs achieve business impact." Closing this capability gap is essential and competency development will help you to reskill your team and achieve your business objectives. Follow these best practices to ensure a successful implementation for closing your capability gap.
Use Assessments to Establish a Baseline
Assessments can be used as a great starting point to help you identify the current state of your sales team's capability gaps. There are two types of assessment that you can use to support this effort.
Knowledge Assessments - measure an individual's ability to identify sales best practices across applicable sales and sales management competencies. Scenario-based assessment questions that present common, hypothetical sales scenarios and asks the individual to identify the most appropriate response are especially effective.
Behavioral Assessments - measure an individual's proficiency on a competency by evaluating the frequency with which they demonstrate specific behaviors. In most cases, ratings are made by the person being assessed and by their direct leader.
While both can serve as data points, they each share their own pros and cons. Knowledge Assessments are ideal for providing you with a clear depiction of individuals' and teams' ability to articulate the best practice response to specific situations. Understanding this is important because without being able to identify the best practice, how will they be able to apply it in the real world. Here is an example of what a knowledge assessment question could look like for the competency, Objection Resolution:

As you set up your assessment it will be important to gather participant information such as sales role, manager, business unit, and region/territory. These attributes will be vital to your ability to utilize the results to suggest development paths based on individual, team, regional, or organizational priorities. As shown in the sample results below, if you find there are prevalent skill gaps such as Value Creation across roles and inconsistent competencies you may want to address those in a more structured, holistic way.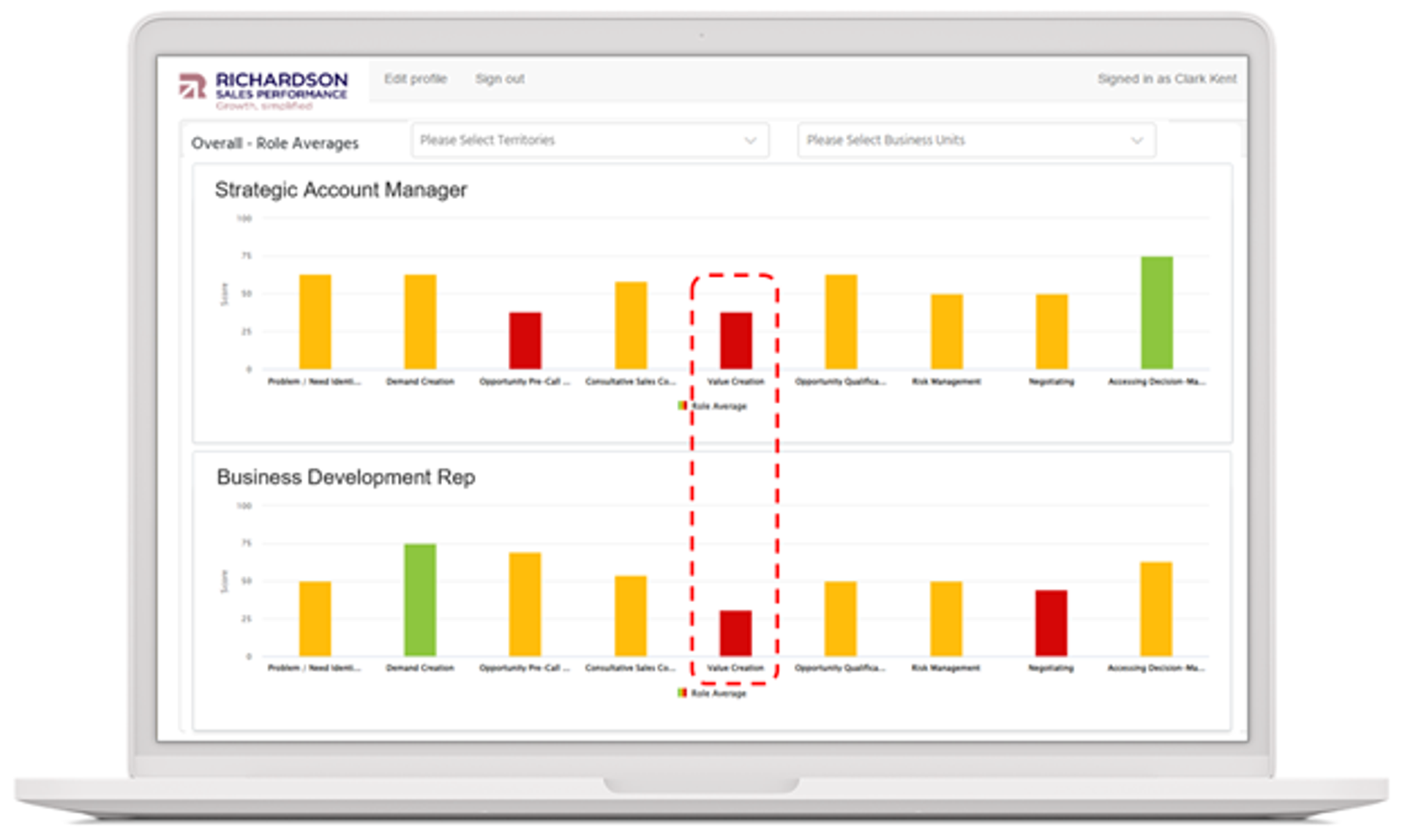 For unique gaps per team or individual, you may leave development up to the manager or individual's discretion. Providing individuals and managers with detailed reports on how they scored will be important for coaching and personal development.
Although knowledge assessments are great to identify gaps, they are not the best tool for determining the progression of development. Since they focus on knowledge, even if you were to reassess the team it doesn't provide you insight on if people are actually applying these best practices to their real-life opportunities or if it is achieving the desired business impact.
As for behavioral assessments they can provide a data point that starts to speak to how often certain behaviors are applied. This sounds helpful, but there are several factors that can make behavioral assessments problematic as bias can make interpreting results difficult. For one, some managers may be harsher judges than others or do not observe their team often enough to really know how their sellers are applying the behaviors. Other times you may have a manager who is afraid to rate anyone poorly because they want their team to look good. Determining whether you are focusing on the frequency someone demonstrates specific behaviors vs how effective they are at those behaviors (irrespective of frequency) is important for behavioral assessments as well. If you are going to use a behavioral assessment it will be important you are clearly positioning the purpose to try and combat potential bias.
There are definite benefits to assessing your team to identify gaps and prioritize development needs, but if you are looking to drive business impact as a result of your efforts, you cannot stop here.
Measure Development Progress Through Application and Business Impact
Competency development is about more than just training and learning new skills for knowledge attainment. If you want to drive real behavior change it requires a development approach that builds on mastery over time. Here at Richardson Sales Performance, we take an agile approach to competency development, with the LPAC model (Learn-Practice-Apply-Coach).
Learn – gain knowledge on what good looks like for a specific competency
Practice – practice newly learned skills
Apply – demonstrate through the real-world application with client opportunities
Coach – provide and receive coaching reinforcement
Most organizations focus solely on completion and knowledge attainment to track success, which is why so many development efforts fail.
"Focus on behavioral change, not completion statistics. Completing a digital skill-building program means nothing if it doesn't result in employees doing things differently." – Stacey Dietsch, a McKinsey Partner.
Being overly focused on measuring and coaching to a behavior vs. the outcome is a common mistake we see customers make. A specific example that we see a lot is companies setting targets for customer meetings scheduled and having managers coach to hitting that metric. Even when teams are hitting their meeting target, they are not seeing the benefits of more closed deals. Once they start to focus on the competencies of Opportunity Qualification, Decision Maker Access, and Value Creation, they being to spend time working on the right opportunities, with the right people who can make decisions by demonstrating the value they can provide. This leads to shorter sales cycles, higher win rates, and larger deal sizes.

As you look at your capability gap, be sure to determine what business metrics you need to improve so that you can align the focus of your competency development accordingly. This allows you to tie your development efforts directly to business outcomes to increase the return on your investment.
Sales Competency and Skill Assessments
Find clarity on where your team is today and where you need to go with our proprietary sales skill assessments.
Learn More
Prepare for the Change to Achieve Sustained Results with Competency Development
To reach full value realization of your efforts in changing behavior through competency development, you must create a learning culture within your organization. There are several ways you can embed competency development into the fabric of your business.

Start by aligning stakeholders on a strategic shared vision that outlines the mission and purpose of your competency development initiative. Having sponsorship in the C-Suite will reinforce the importance and commitment to the change.
The next step is creating a communication plan for change. Many companies only focus on the tactical communications of what to do and where to take learning. Communicating often and tailoring your message to each specific audience, will help them understand what's in it for them and create buy-in to support your efforts.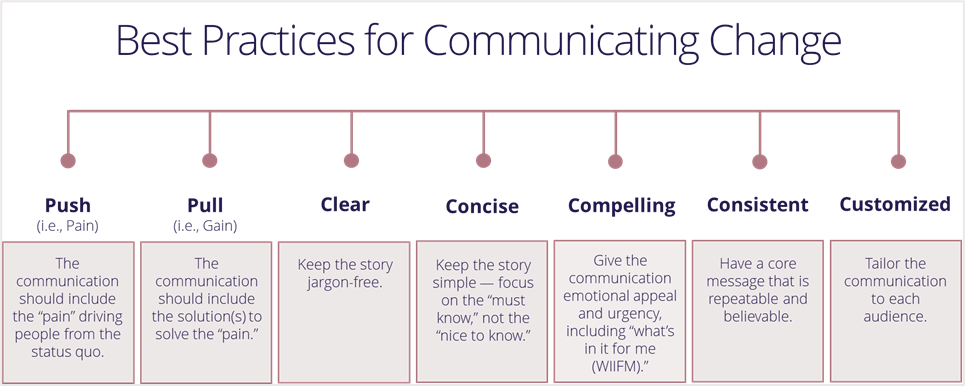 Incorporating coaching and inspection on competency development into your regular management cadence from the top down will show people this is not just the flavor of the month. Identifying early adopters to share successes and to address any resistance as early as possible will be important. Be sure to equip managers with tools to support with coaching to the right inspectable behaviors to drive competency development with their teams. For example, if the team is focused on Consensus Building, a great inspectable behavior would be the seller's use of a collaboration plan. You can track the usage of the tool by tracking it on the opportunity in CRM and can compare metrics such as win rates and sales cycle length of the deals where the tool was used vs. not. In addition, you will want to arm the managers with how to inspect the quality of the plan to understand if it was truly a built-in collaboration with the customer.
A great way to maintain positive momentum is to generate and share successes. This is where you must correlate success to business impact. It can start with quick wins, where applying new behaviors led to progressing a deal or getting access to a key stakeholder, but it will be vital that you can begin to correlate the change to business value that is quantifiable in numbers.
In order to secure your investment, you will need to institutionalize new habits through cross-departmental alignment. If sellers are focused on building capabilities with Value Creation, it will be important that marketing is also providing value-driven messaging. Building complementary capabilities across teams like sales, marketing, customer success, and product will drive better collaboration and outcomes for your business. When incorporating competency development remember how you are defining what competencies are needed to establish what good looks like for each role and be sure to hire for the new profiles. Aligning HR, recruiters, and hiring managers to ask behavioral interview questions around those competencies will help you to identify the right candidates.
Utilizing competency development to close your capability gap can be best achieved by using assessments to establish a baseline, measuring development progress through application and business impact, and preparing your organization for change for sustained results.
Get industry insights and stay up to date, subscribe to our newsletter.
Joining our community gives you access to weekly thought leadership to help guide your planning for a training initiative, inform your sales strategy, and most importantly, improve your team's performance.