Sales Methodology vs Sales Process
There is a very distinct difference between the sales process and sales methodology.
The sales process is a consistent set of trackable steps that includes stages and gates, is used for forecasting, goes from beginning to end, and is typically tied to a CRM.
Conversely, sales methodology is a set of non-linear practices (learned behaviors, tactics, and strategies) used in a dynamic way to make decisions and take actions to execute the sales process.
The Sales Process
A sales process is made up of a series of stages, activities, and verifiable outcomes. It should be developed to be customer-focused.
During the development process, each stage and activity, and metric should be established to ensure that the sales team is always acting in the best interest of the customer. This means eliminating unproductive activities and adding activities to build momentum to the close.
The sales process should be flexible and scalable so there is room in the execution of the process for good judgment.
Stages: The stages of a sales process demonstrate the progression of an opportunity. These stages should align with your CRM system and be made as simple as possible — but not simpler.
Activities: The actions and sequence that organize forward progress, establish a common language, and create the foundation for measurement and coaching to specific outcomes. Dialogue models are important as well because they reflect the critical points of interaction with your customer.
Verifiable Outcomes: The nine or ten key transition points in any sales process that predict success. Verifiable outcomes should be based on actions that the customer has taken and track to the customer's buying process.
High-impact Questions: a set of coaching questions that tie to each verifiable outcome. These questions give managers the ability to diagnose the true quality and status of an opportunity and give them direction for where to provide sales coaching.
A Sales Methodology
The sales methodology supports the sales process. Therefore all of the practices outlined in the methodology should also be customer focused.
An important part of the sales methodology is having the right tools in place to support the desired practices and behaviors. These tools include:
Account Plans
Opportunity Plans
Value Maps
Relationship Maps
Call Planners
Close Plans
Sales Process Optimization
Optimize your sales process by anchoring to verifiable outcomes and discover a proven path to improved sales team performance.
Learn More
Momentum Methodology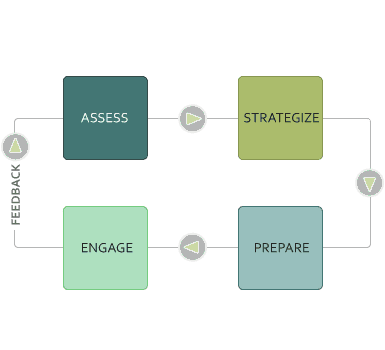 Richardson Sales Performance's Momentum Methodology is a dynamic set of practices for developing an intentional pursuit strategy to win and grow business.
When applied in sales opportunity pursuit, the methodology is used for assessing a customer relationship, developing a strategy, and taking internal and external actions to proactively build customer relationships.
As the business environment has become more complex and difficult for customers, these changes have been reflected in the customer's Buying Journey becoming more dynamic and extended.
Trusted Advisors can play a key role in helping customers navigate or simplify that complexity. An effective methodology for developing an opportunity pursuit plan provides a set of practices and tools that helps sellers build trusted advisor relationships that create value throughout the sales opportunity pursuit process.
The key difference is that a sales methodology is a collection of practices NOT a process. Each of these components of your sales strategy should work in tandem to improve the customer experience and build momentum towards the close of the sale.
Get industry insights and stay up to date, subscribe to our newsletter.
Joining our community gives you access to weekly thought leadership to help guide your planning for a training initiative, inform your sales strategy, and most importantly, improve your team's performance.