Engaging the 6 Buyer Personas of the Virtual Healthcare Sale
In recent years, sales professionals have faced an increasingly complex selling environment. Much of this complexity is due to the challenge of addressing the numerous stakeholders involved in the buying decision. According to Forrester research this is the primary challenge facing sales professionals today.
This hurdle has never been more evident than it is in the healthcare industry.
Coalescing disparate stakeholders is uniquely challenging within healthcare because the decision makers not only have different value drivers, they also have different positions within the hierarchy. This stratified structure means that every key player is subject to a different set of expectations.
Moreover, speaking to these differentiated needs has simultaneously become increasingly difficult and more important as more sales professionals and representatives attempt to connect with customers in a virtual environment. As global health concerns persist, selling virtually has become a necessity amid travel restrictions and shelter-in-place directives.
The vast and differentiated group of stakeholders in healthcare today stems, in part, from the growth of Integrated Delivery Networks. In fact, many healthcare systems have generated growth through merger and acquisition activity. Consider that the industry has seen a continued increase in "mega merger" activity in which the annual revenues of the transaction surpass $1 billion, according to research from consulting firm Kaufman Hall & Associates. With so many large players coming together, the buying decision has become more fractious.
The sales professional's challenge is to create a unified buying vision among the decision makers. Doing so means identifying the roles present within the stakeholder group and speaking to the goals and challenges of each.
Here, we offer a map for this approach. We have broken down the six key stakeholder personas common to the healthcare sale and the potential pains (critical business issues) that are unique to each.
1. CEO/President
The CEO has the most high-level pain points. Overall, they are faced with the challenge of ensuring quality patient care that meets government standards. The critical business issues that shape the way they approach this challenge are revenue growth and cost management. Additionally, they are sensitive to threats like a reduction in funding or missing quality of care metrics.
The CEO will need to see a particularly strong ROI for the solution in question. Leaders in this role are already faced with growing pressure to divest assets that are underperforming either in an operational sense or in a financial sense. This rigorous approach to selecting which areas of the business remain is also a result of emerging competitive threats from national pharmacy chains that are making aggressive moves to become the first, and only, point of contact for patients entering the healthcare system.
2. Chief Financial Officer
The Chief Financial Officer (CFO) is primarily focused on cash flow. Therefore, decreasing cash flow represents one of their greatest pain points. When considering a solution, they will evaluate the product or service based on the risks and benefits as it pertains to their ability to protect or increase cash flow. The CFO wants to drive the return on investment and the return on assets.
Investment performance, profitability, and escalating costs, especially those associated with a merger or acquisition, all represent potential pain points for a CFO. Consider that 55% of surveyed healthcare CFOs expect a recession within the next 24 months and that nearly one-third of healthcare providers have less than 30 days of cash on hand, according to research from global tax and financial advisory firm BDO. In this environment of heightened risk, sales professionals must go further to fully support the ROI of the solution. The full support of all other stakeholders holds little value if the CFO is the dissenting voice.
3. Lab Manager
The lab manager encounters pain points like limited resources, difficulty in meeting quality requirements, and exceeding budget constraints. The sales professional must be cognisant of these ever-present challenges when positioning the solution. The challenge here is to help the lab manager understand how the solution can become a value-added part of their operation by continually helping them meet the needs of the clinicians, maintain the reputation of the lab, and ease the challenges associated with a lack of skilled lab technicians.
These challenges are accelerating as the demographics of patients change. In the years spanning 2015–2025, the population of people over 65 years of age is expected to increase by 18 million, according to the American Society for Clinical Laboratory Science. This demographic change is, in part, expanding the scope of genetic tests, which now exceed 54,000 and monitor over 11,000 conditions. These numbers suggest an increasingly complicated world for lab managers. Sales professionals need to find their place in this world by placing the solution in the context of elevated expectations amid diminishing resources.
4. Medical Director
The Medical Director faces the challenge of managing reputational risk associated with clinical outcomes. At the same time, they must comply with all safety and quality requirements. Many of their decisions shape the protocols and procedures of the organisation. Therefore, one poor decision presents the risk of ripple effects throughout the operation. Despite this considerable risk, the Medical Director must push forward with evidence-based directives on a regular basis in their drive to develop continuous improvement programmes, which are critical to survival in an increasingly competitive environment.
Put simply, the role of Medical Director has changed over the decades. What was once a purely medical role has evolved into a role that also includes managerial responsibilities. These managerial responsibilities include risk management, driving a "patient-first" culture, driving operational efficiencies, and fostering cross-division communication. With such a broad range of responsibilities, the sales professional needs to consider how they can leverage the principles of evidence-based medicine to position their solution in a way that will bring organisation-wide value.
5. Clinician
Clinicians are on the frontlines of the healthcare industry. They have direct access to patients and therefore confront challenges like decreasing the risk of medical errors and managing delays due to incorrect treatments or slow intervention. Additionally, they shoulder the responsibility of documenting the patient's medical history and maintaining the medical equipment used in treatments. The clinician's ground-level access to patients means they are part of crucial measures like mortality rate, patient capacity, and 30-day readmission rates.
With such close contact to patients, it is not surprising to learn that "hospitals with the greatest clinician participation in management scored about 50 percent higher on important drivers of performance than hospitals with low levels of clinical leadership did," according to research published by McKinsey. When considering a solution, the clinician is best positioned to accurately measure the degree of impact the benefits will have to the patient. Pragmatism and practicality reign supreme in the clinician's world. Sales professionals must be able to articulate the relevance of the solution in a day-to-day environment and prove it with clinical data.
6. Procurement
Procurement professionals have a rising level of influence over buying decisions. This increasing clout is a response to escalating pressure to control costs and drive profitability. Therefore, procurement professionals experience challenges associated with the rising cost of test acquisition and consistently meeting a heightened standard of care despite fluctuating financial resources.
When approaching procurement professionals, sales professionals must embrace the value-based healthcare (VBH) model underpinning most buying decisions today. VBH measures patient and treatment results against the cost of care. This model is often paired with a value-based procurement (VBP) framework in which purchasing decisions emerge from a consideration of both outcomes delivered and the total cost of care, rather than on price alone. The benefit of this thinking is that it provides the sales professional the opportunity to position value as a function of solution effectiveness rather than as a function of price. Today, procurement professionals are moving from an approach characterised by sourcing products and devices to sourcing solutions and services. In fact, solution buying is expected to grow from 29% of purchases to 40% of purchases by 2022, according to research from Deloitte. At the same time, product buying is expected to drop from 56% to 39%. The trend is clear.
Considering the "Pain Chain"
Once a sales professional has an understanding of the personas involved in a healthcare purchase and the individual pain points of each, they can begin to understand the "pain chain."
The pain chain is a metaphor for the organisational interdependence of the critical business issues (pains) for each stakeholder in the decision making process. For example, a Medical Director's pain point is often one of several underlying reasons for a CEO's higher-level pain point. The purpose of identifying these cross-persona pain points is so that the sales representative can create a unified buying vision by demonstrating how their solution addresses each of the stakeholder pains in order to benefit the organisation.
Addressing a group of stakeholders across a stratified structure is a complex challenge. However, with an understanding of the personas, unique value drivers of each, and how those drivers flow into one another, the sales professional can deliver a structured approach to the healthcare sale.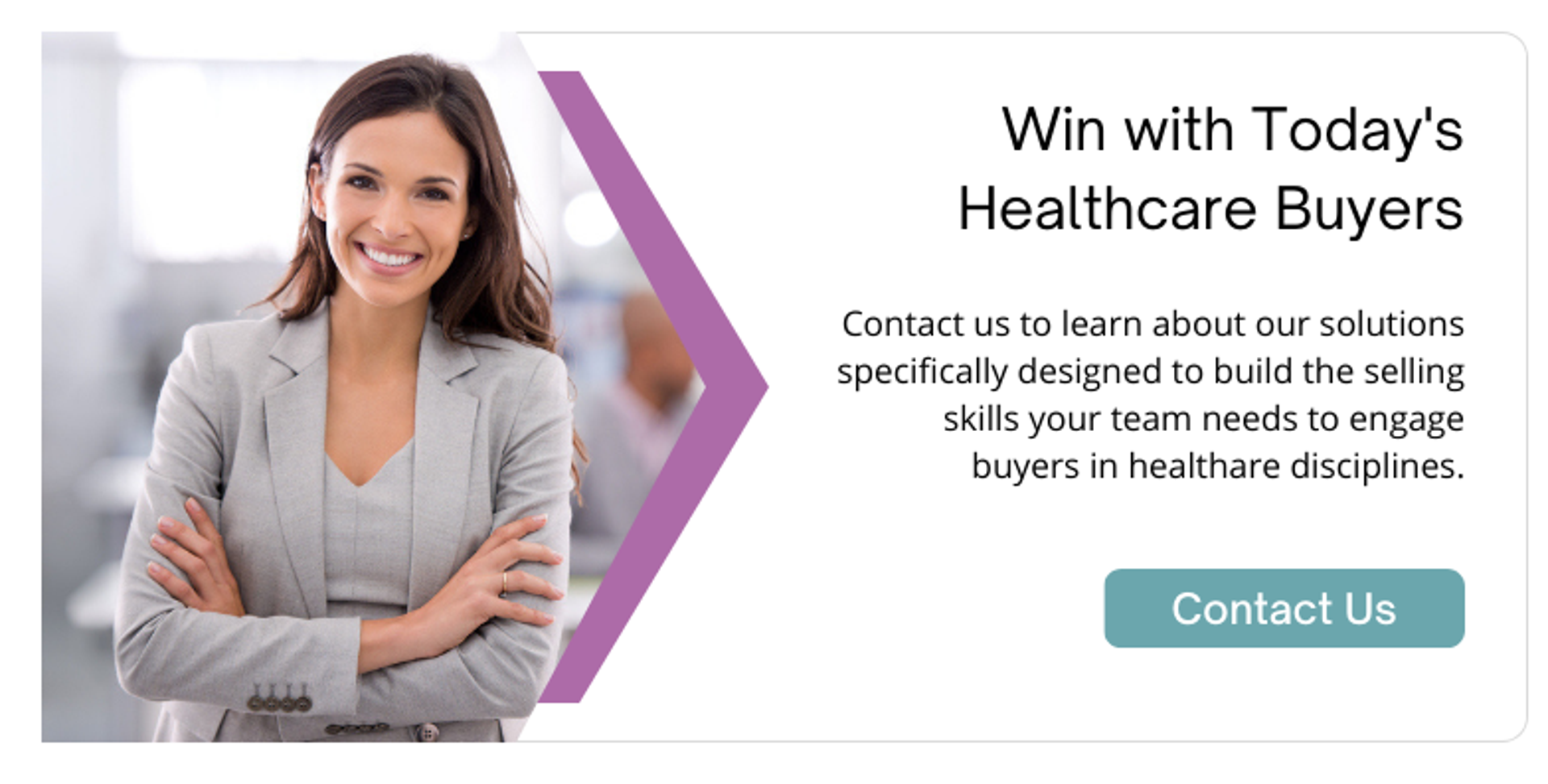 Get industry insights and stay up to date, subscribe to our newsletter.
Joining our community gives you access to weekly thought leadership to help guide your planning for a training initiative, inform your sales strategy, and most importantly, improve your team's performance.