Sales Management Capabilities Required to Compete Today
Build leadership capabilities that empower managers to be as dynamic as the sales pursuit.
The Sales Leader Might Be One Person, But They are not One Job
The modern sales organization requires a sales leader that is as dynamic as the sales pursuit.
Sales leaders must shift from one skill to another within the course of a day or even a single conversation. Doing so requires agility.
Richardson's Sprint CoachingTM training program builds the foundation for an agile sales management approach, but we know the responsibilities of sales leadership are vast, and being truly effective requires developing competencies in specific areas of leadership. That's why we're excited to announce our new suite of 11 new sales management capability-building modules.
These short, hyper-focused courses are offered as customizable add-ons to a comprehensive enterprise training solution or can be bundled independently to build leadership competencies where you need them most.
Below, we outline each of the different capability modules and describe how each connects to your strategic management goals.
Please click here to contact us to request a meeting to discuss how we can integrate these offerings into a solution that matches your team's specific needs.
Types of Sales Management Capabilities
Every sales management capability falls into one of three skill categories that link to a specific aspect of effective sales leadership, they are:
Creating a Sales Culture
Leading Sales People
Driving Sales Performance
Within these categories, there are 11 capabilities, here we explain each capability and show why they matter, and how they work.
Sales Manager Capability Model Overview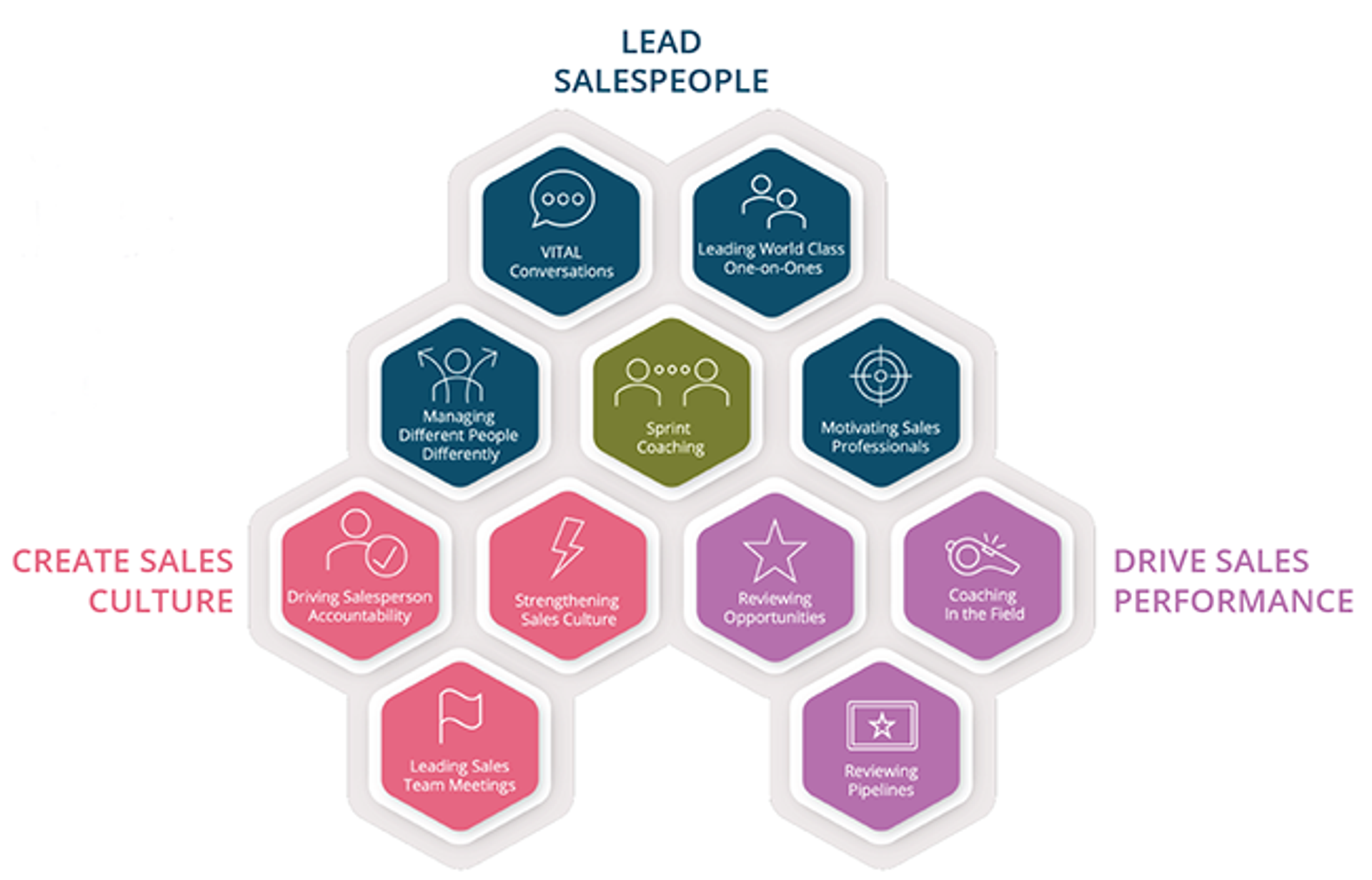 Create Sales Culture
Creating a sales culture that drives success is best achieved by following an intentional process where sales leaders focus on holding their team and themselves accountable and reinforce and validate the culture at every opportunity.
To build a strong sales culture sales managers need to develop the following capabilities:
Driving Sales Person Accountability: Assess sales realities, determine key metrics, define required accountability changes, and monitor individual results to provide clarity for sales reps and drive commitment to performance.
Leading Sales Team Meetings: Apply a structured approach to leading meetings focused on simplicity, recognition, and capability building to make the most of time spent out of the field.
Strengthening the Sales Culture: Collaborate within the sales organization to build a sales culture plan anchored in adherence to management best practices, rewards and recognition, people development, and proper utilization of systems, tools, and CRM.
Lead Salespeople
Leading salespeople requires a clear commitment to the ongoing coaching and skill development of individuals on the team with highly personalized and well-defined paths to success.
To effectively lead salespeople to their next level of success sales managers need to build the following capabilities:
Drive Sales Performance
Driving sales performance is best achieved by helping sellers make an impact where it matters most, this means they are showing up correctly in front of their customers, focusing on the opportunities that matter, and accelerating their pipeline.
To effectively drive sales performance sales managers need to build the following capabilities:
Coaching in the Field: Apply a framework for observing, supporting, and providing feedback on a sales rep's performance in live meetings.
Pipeline Management: Use a three-step approach to collaboratively track and analyze opportunities as they move through the sales process focusing on pursuing the right opportunities, accelerating sales, and closing more business.
Opportunity Review: Ensure better qualification, more accurate forecasting, better resource utilization, and more closed sales using consistent and well-executed opportunity reviews to make the seller and the team more efficient.
Building Sales Manager Capabilities with Richardson
Succeeding as a sales organization means knowing the range of capabilities sales managers need to drive performance across the team. These 11 capabilities are the answer, but they do not emerge on their own. These capabilities must be learned and developed.
Click here to contact us and start building an intentional strategy to build cohesive teams that are primed to win.
Brochure: Sales Management Curriculum
View our full listing of sales management training programs and modules.
Download
Deep & modern sales curriculum enables you to develop your individual sellers against role-based competencies while achieving consistency across teams.
Our customization approach ensures we fully reflect your unique selling environment while leveraging best-in-class training content to ensure efficiency and relevancy.
A modern delivery approach that includes live and virtual training workshops in which participants learn and practice skills complemented with a digital, blended learning journey that reinforces, sustains, and certifies desired behaviors.
Build agile selling skills within your sales teams so that they can lead customers through a new, dynamic and digital buying journey. Agile selling skills and an outcome-focused pursuit plan are the future of selling.
Our technology provides visibility into performance so that we can measure progress and deliver real-time insights.