Buying isn't linear so why is selling?
Richardson Sales Performance is proud to unveil the most innovative, forward-thinking sales methodology in the market today. It is a game-changing approach to sales standing on the shoulders of two of the most powerful selling approaches ever to exist: Solution Selling and Consultative Selling. This new methodology distills more than 40 years of experience into a single effective program to increase win rates, reduce cycle time and drive revenue.
For Who
Sales Professionals
Business Development
Account Managers
Format
Virtual instructor-led
Instructor-led
Digital Learning
Blended Learning
Duration
4-hour VILTs or in-person sessions WITH PRE AND POST DIGITAL LEARNING
Buying isn't linear, so neither is selling. Sellers need to know and execute the critical actions that drive momentum and win deals. Designed with an innovative vision for the future of selling, Sprint Selling™ delivers clarity—and empowers every seller with the confidence to know what to do, when, how, and why.
Key Elements of the Sprint Selling™ Training Program
After years of volatility and massive change in the buying/selling landscape, it's time for selling to hit its stride. Buying is fraught with risk that incites emotion that can stall or kill the deal. To win, sellers must build trust and confidence in the decision to buy in a world where customers are highly skeptical and risk adverse. Sprint Selling™ balances the need for prescription and agility by arming sellers with a formula for success and the ability to execute it.
This program teaches the critical actions sellers need to take and an agile method for executing them that includes:

CRM-Enabled Tools Help Sellers and Managers Visualize Progress Throughout the Sale
The Sprint Selling™ program includes tools and templates that can be embedded into your CRM to score the strength of an opportunity and provide visibility into how your sales professionals advance the sale over time. These tools provide an objective assessment of opportunities to guide coaching strategy and develop a plan to win.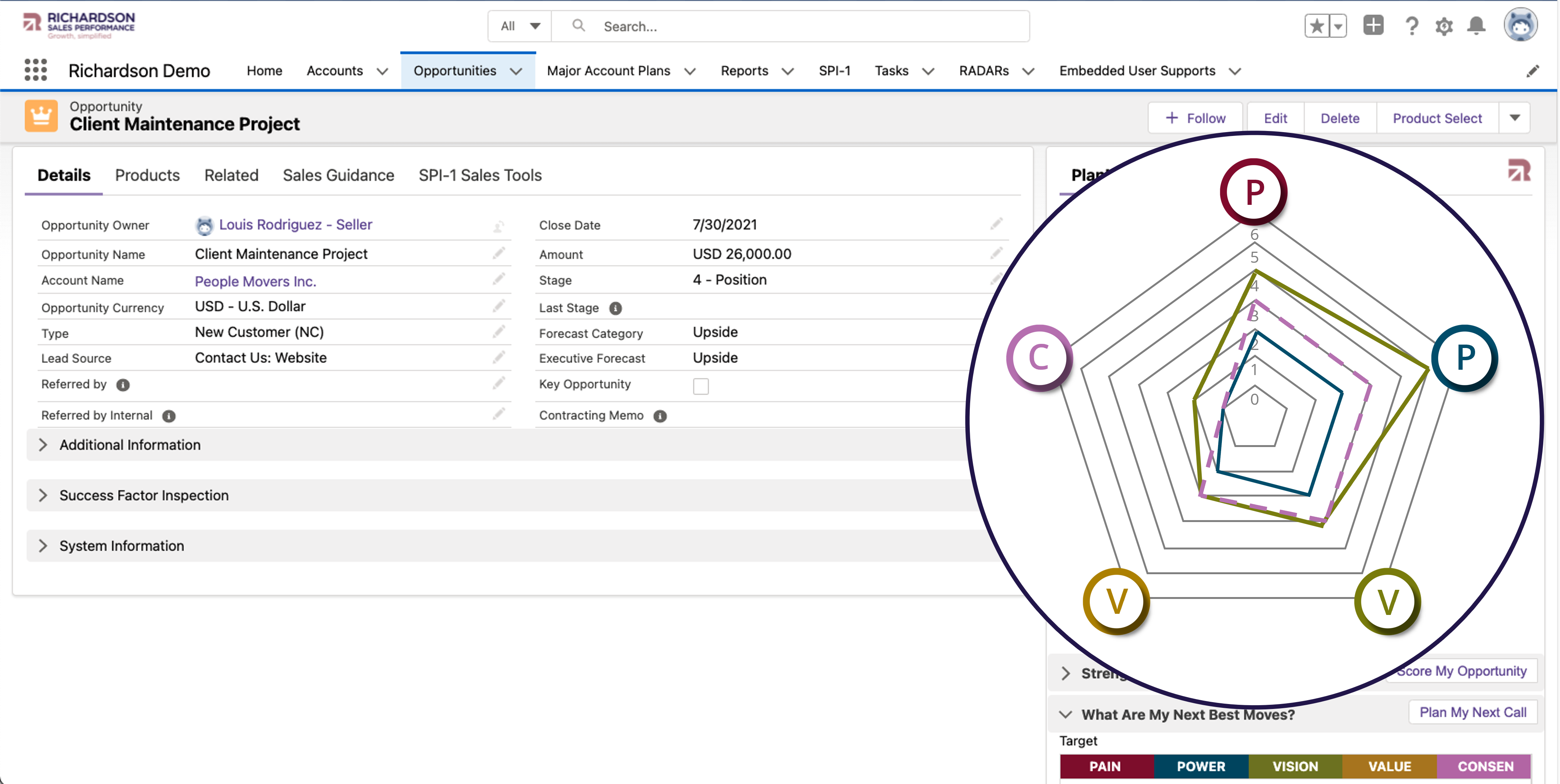 Benefits for sales professionals:
Creates the ability to objectively assess opportunities to define a plan to win
Provides clear and objective information to their sales manager, necessary for opportunity reviews
Benefits for sales managers:
Helps identify areas for improvements or the blocking points in an opportunity
Provides transparency into opportunity progress highlighting areas where managers can help team members define or adjust their plan to win
Captures actionable data to facilitate coaching conversations to continuously improve their seller's effectiveness.
Sprint Selling™ Program Brochure
Train your team to use "Sales Sprints" to build deal velocity.
Download
Key Areas of Content
Pursuit Criteria

Participants explore a universal method for planning and evaluating the progress of an opportunity. They learn that agile selling success is a function of Pain x Power x Vision x Value x Consensus. Sellers make gains in each area to stay agile in their approach while ensuring they achieve critical outcomes.

Four Key Drivers

Four key elements that define the goals sellers should work towards reaching in their customer interactions. Participants in the program learn to apply selling skills and strategically guide customer interactions to drive progress against the pursuit criteria.

Six Critical Skills

Learning the Six Critical Skills improves your sales team's ability to deliver excellence and exercise agility in customer conversations. Participants in the program learn and master key selling skills that prepare them to flex and adapt in their sales conversations to consistently deliver an exceptional customer experiences.

Selling Sprints

Selling Sprints are short bursts of activity centered around achieving the four drivers and delivering progress against the pursuit criteria. Sales teams learn how Selling Sprints follow a Prepare – Engage – Advance pattern that embraces the dynamic nature of selling and integrates specific techniques, skills, and tools to win.

CRM-enabled Workflow Tools

CRM enabled workflow tools help sales professionals and their managers gain visibility into the status of an opportunity by using these tools to objectively score their progress against the five elements of the pursuit criteria. Sales teams use these tools to visualize progress and gaps in real opportunities to maintain momentum.
Deep & modern sales curriculum enables you to develop your individual sellers against role-based competencies while achieving consistency across teams.
Our customization approach ensures we fully reflect your unique selling environment while leveraging best-in-class training content to ensure efficiency and relevancy.
A modern delivery approach that includes live and virtual training workshops in which participants learn and practice skills complemented with a digital, blended learning journey that reinforces, sustains, and certifies desired behaviors.
Build agile selling skills within your sales teams so that they can lead customers through a new, dynamic and digital buying journey. Agile selling skills and an outcome-focused pursuit plan are the future of selling.
Our technology provides visibility into performance so that we can measure progress and deliver real-time insights.