Our Philosophy
Selling with agility drives differentiation in the buying process
Recent Changes in Buying Behaviour
Changes in buyer behaviour are forcing sales teams to rethink the way they do business. Digital meetings, diverse stakeholder groups, and the need for subject matter expert participation in sales conversations are only a few of the disruptive factors causing upheaval across industries and borders.  Here we examine five of these changes in greater detail.

1.  Preference for Digital Interactions
Customers are showing a preference for digital interactions over in-person meetings. Sellers need to engage authentically to build trust and credibility. They need to prioritize collaboration and dialogue and avoid the trap of pitching one-directional information. Sellers also need to be more fluent in a multi-channel digital environment, bring data-driven insights to shape customer perceptions.
2.  Increasing Complexity
Re-evaluation of business priorities and large-scale transformation initiatives compounding an already complex buying environment. Opportunities are losing momentum and deals are taking longer to close. Sellers need to proactively guide buyers, collaboratively shaping a buying vision with a clear and superior level of return.
3.  Increased Number of Stakeholders
An increased number of stakeholders are involved in decision-making as customers are taking an enterprise approach to transforming businesses. Sellers must hone new skills aligning stakeholder interests, be fluent in working with new functions and be agile at adjusting to changing needs.
4.  Access to SMEs
Desired access to subject matter experts and implementation teams becomes paramount as the connected customer experience takes centre stage. Revenue teams need a coordinated and consistent approach and language to engage with the customer to drive efficiency, effectiveness, and the best possible customer experience.
5. Unprecedented Access to Information
Today's buyers are more informed and more prepared. They perform extensive research, and many are deciding on solutions before even engaging a salesperson or having a conversation. As a result, buyers show up with an arsenal of knowledge, as well as preconceived ideas of what they believe they need.
6.  Availability of Options
Related to the overabundance of information, the modern buyer is bombarded with opinions and options. There can be a multitude of ways to solve a particular challenge and navigating the best path can require a new sales approach.

What Does This Mean for Sales Organisations?

More Pressure. 

If buying is hard on the buyer – imagine what it's like for a seller. Sellers typically must play catch up when they enter the buyer's buying journey. The buyer already has formed a hypothesis around a solution. This hypothesis is based on the buyer's current understanding of the nature and scope of the issue, which may or may not have been accurately diagnosed. Sellers must recognise where the buyer is in their buying journey, how far along the buyer is in their thinking, and what has influenced the thinking to date. On top of that, each stakeholder may be in a different state in the journey. Situational fluency is more important than ever.
To create value, sellers need to bring insight that shapes thinking to ensure that the buyer accurately diagnoses the issue, identifies the best solution and that the solution plays to the seller's competitive strengths. This may involve reengineering the buyer's thinking around their preformed vision of the solution. Typically, a seller spends 15% of the buying cycle on deconflicting and decluttering information the buyer used to come to the preformed solution hypothesis. The co-created vision must be compelling so that the deal does not end in "no decision."
Activities need to be repeated as new players and stakeholders emerge. Sellers need to constantly check for changes and be agile in responding. Without a clear line of sight on how to agilely lead the buyer through the complexity, sellers may find themselves in a daily state of crisis – reacting to customer changes and competitor moves as they compete for the business. The result is that the seller is passive and reactive as the customer struggles through the buying journey vs. being proactive, guiding the customer through the journey and driving momentum. Given the level of complexity coupled with high buyer expectations, only those sellers operating at the highest levels of effectiveness and efficiency will prevail.
How Does a Seller Compete?
Build modern selling capabilities. 
While buyers are savvy, busy, pressured, risk-averse, and more demanding, they still need guidance to make the best business and personal decisions. Even though customers have unprecedented access to knowledge, they face the difficulty of sorting through what matters most and finding the value among all of the options. More information doesn't always translate into accurate, clearer understanding; customers still need sellers to accurately diagnose their unique situations and identify the best solutions to make an informed buying decision that drives the results that they need. 
To be truly and wholly effective and differentiated in the eyes of today's buyers, sellers need to create value in the buying experience itself — that means helping customers to better understand the true nature of a business issue and how best to address it. It is not about manipulating or controlling the customer; it's about building credibility, fostering trust, and creating value for the customer, and, in turn, creating opportunities for you as the seller.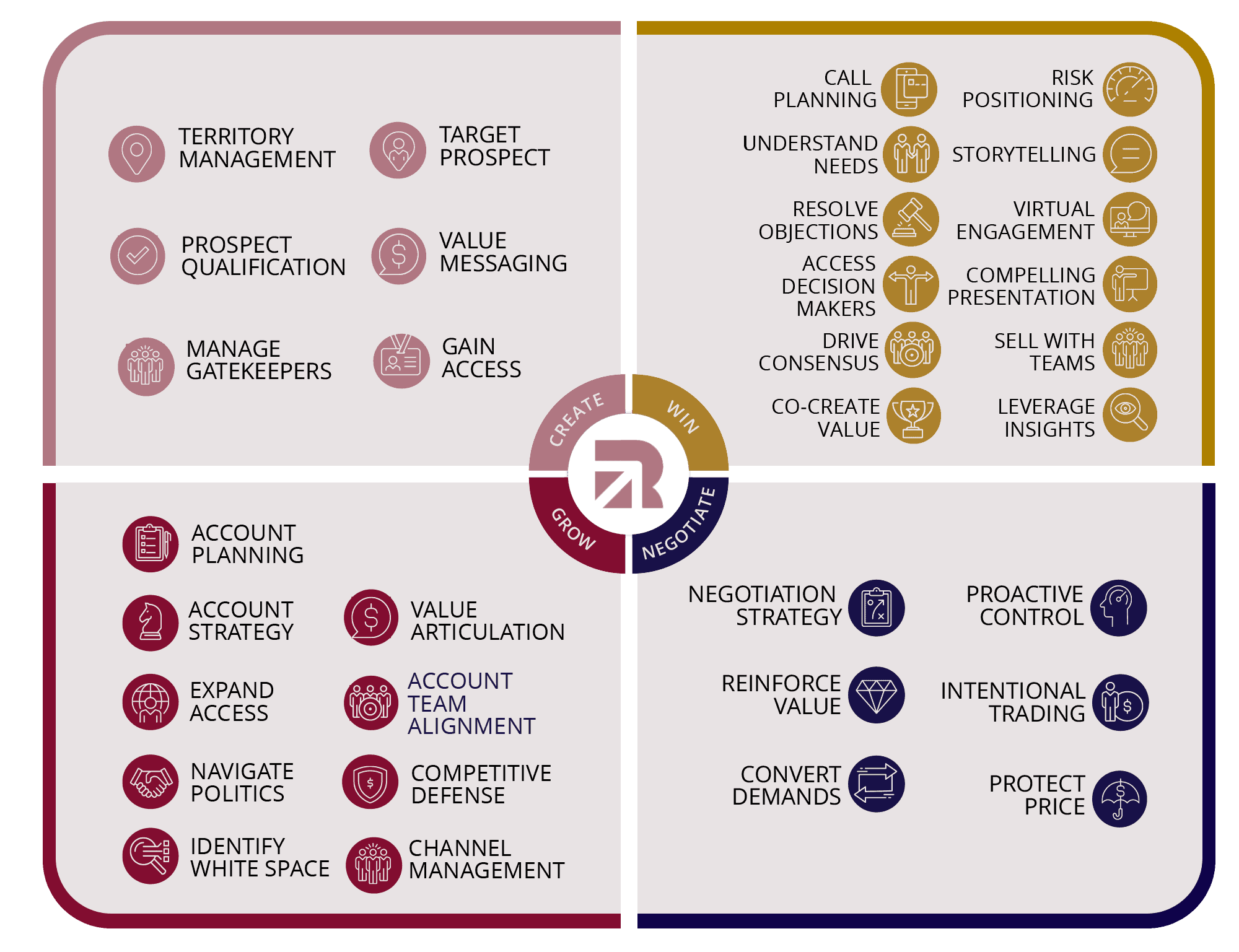 How Do You Achieve Better Selling Across Your Team at Scale?
Build agility and drive continuous improvement. 
To keep pace with changes in buyer behaviour and remain ahead of the competition, successful sales organisations must remain agile and strive for continuous improvement, never resting on the previous year or quarter's success. For the largest global sales organisations, continuous skill-building at scale is not an easy task. Identifying the right skills, the right people, the right sustainment path, and the right metrics to measure takes planning and expertise.
The Five Keys to Transforming Your Sales Organisation
1. Start at the Top
Leadership buy-in and commitment is critical. But, the demonstration of this commitment is paramount. From the vision they communicate about the change through the behaviours they display, leaders need a clear path and set of skills and activities to lead.
2. Make it Personal 
Every salesperson and sales manager comes to the table as a unique individual with strengths and gaps. Personalisation begins with giving the team visibility into their unique needs to create buy-in and engagement — it drives faster improvement. Customised, contextualised content drives immediate relevancy. And, targeted learning paths drive individual behaviour change in the field and are achievable at scale.
3. Focus on Agility
The sales process and methodology a sales organisation employs drives consistency and a common language for coaching. But, the selling skills are what drive agility in the moment with the buyer. In a world where change is constant, the most agile sales organisations are the ones that are highly skilled and can stay out in front of their buyers.
4. Plan with the End in Mind 
Sustainment and measurement strategies should be planned for at the beginning of a sales transformation initiative, no matter the size or scope. Knowing the critical business metrics you need to improve should drive the types of behaviours you seek to change. And, sustaining your transformation is the best path to realising the full potential return on investment. Thoughtfully organising a plan to keep the new learning alive and drive continuous improvement is worth the investment of time upfront.
5. Use Data to Keep Getting Better 
Using real-time data and analytics not only shows progress to achieve goals and business outcomes, but it also allows for in-the-moment adjustments for the most targeted improvement efforts. Commitment, engagement, behaviour change, and performance improvement are all measurable elements that should be tightly woven together in a data set that is not only accurate but also delivered in a way that leads to actionable insights for your business.
In this video, Richardson Sales Performance President and CEO, John Elsey, provides insight into the true path to effective and lasting sales transformation that aligns with the needs of modern buyers.
Key Features
FPO Product Key Area 4

Consectetur adipiscing elit, sed do eiusmod ut labore et dolore magna aliqua. Second column lorem ipsum dolor sit amet

FPO Product Key Area 3

Consectetur adipiscing elit, sed do eiusmod ut labore et dolore magna aliqua. Second column lorem ipsum dolor sit amet

FPO Product Key Area 1

Consectetur adipiscing elit, sed do eiusmod ut labore et dolore magna aliqua. Second column lorem ipsum dolor sit amet

FPO Product Key Area 2

Consectetur adipiscing elit, sed do eiusmod ut labore et dolore magna aliqua. Second column lorem ipsum dolor sit amet